Perhaps the only bright spot of David Moyes' doomed reign as Manchester United manager was the emergence of Adnan Januzaj. At the time, most fans believed that in a couple of seasons the Belgian winger would be donning the famed number 7 jersey which was reserved for the truly special players.
United fans believed that in Januzaj they had finally found a rightful heir to the jersey won with great success by the likes of David Beckham, Eric Cantona, and Cristiano Ronaldo. Even sweeter was the fact that were Januzaj to wear the famous number 7, it would be going to a player promoted from the youth set-up. Everyone had high hopes for Adnan.
Fast forward to three seasons later and the story hasn't quite gone the way many United fans had hoped. Not only is Januzaj not within a shout of the famed number 7 jersey, he was recently demoted from the number 11 jersey which he inherited following the retirement of another United great Ryan Giggs.
However, such was the impact that Januzaj made in his breakthrough season that many still have high hopes that a great player still lies within the baby-faced Belgian and that this talent can still be unlocked.
Redknapp enthuses about Januzaj
It is certainly a view shared by Sky Sports pundit and former Liverpool midfielder Jamie Redknapp who, when asked about Januzaj on Sky Sports, enthused about his ''God-given talent,'' and his rare gift to ''go past people as though they're not there''.
Jamie Redknapp is definitely a big Januzaj fan. As one of the studio guests on Sky Sports coverage of United's away clash against Aston Villa last season, he had questioned United's investment in Memphis Depay arguing that they had a better player in Januzaj.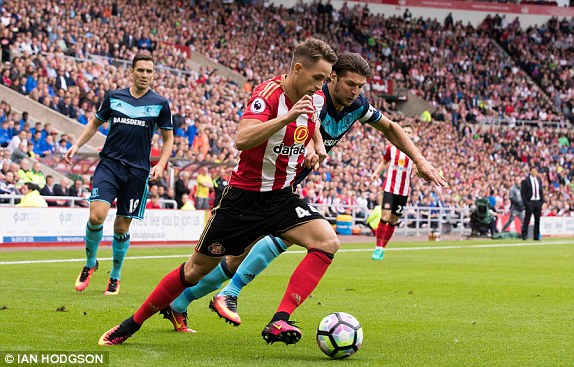 A lot of reasons have been given for Januzaj's slow progress. Some blamed the struggling team he played with under Moyes, others blamed the 'philosophy' of Louis van Gaal who succeeded Moyes as United manager and still there may be a few who would point to Jose Mourinho (the current United manager) and his youth policy.
Januzaj must take career by scruff of the neck
However way you look at it, there is a sense that now is the time for Januzaj to take his career by the hands and make the most of his great talent. When you hear former teammates and colleagues give account of the great United players like David Beckham, Ryan Giggs, and Cristiano Ronaldo and when you hear accounts of the current self-proclaimed 'god of Manchester', Zlatan Ibrahimovic, one thing that is consistently mentioned is how hard they work and how disciplined they are.
The lesson here is this, to have natural talent and ability is great but without hard work you get nowhere.
Now that Adnan has moved on a season-long loan to Sunderland to be united with the manager who gave him his breakthrough, he needs to put in the hard work to go with his talents so that while he left Old Trafford as a boy, he can return as a man.
It is a sentiment shared by Redknapp who said ''it felt like he was sort of 'blame Dortmund, blame Man Utd'" Instead, Redknapp says, Januzaj should "go and play, go and show us what you can do, this is your opportunity.''
Indeed, Januzaj can no longer afford to feel sorry for himself. At 21, this is the time to begin to get himself noticed if he is to achieve greatness. For it is not long before his career will no longer be viewed through the lenses of potential.
Against Middlesbrough in the 2-1 derby defeat, Januzaj did not quite play like a player of his talent should. There was no steely determination to grab the game by the scruff of the neck. There was no aggressive work ethic or the signs of a player desperate to prove to his home club and the world that he is good enough, that he is ready. It is easy to say he was playing in a poor side but the Belgian did not look like the standout player in a poor side, he looked like he belonged.
Januzaj only need look at Paul Pogba, another youth product for inspiration. Pogba left Manchester United to prove he was ready to play regularly for the first team and returned as the most expensive player in the world. This feat was not achieved by raw talent alone but also by hard work and a steely determination to succeed
If Adnan Januzaj can add these two elements to his game, then the number 7 jersey and more may yet be his.