The German captain Saskia Bartusiak has announced her retirement from international football, days after Germany won the Gold Medal for the first time at the 2016 Rio Olympics.
The 33-year old defender made her international debut in 2007 and won 101 caps for her country, and took over the international captaincy after Nadine Angerer retired following the 2015 FIFA Women's World Cup.
World Cup Winner
Bartusiak made her international debut in a friendly against the Netherlands in April 2007 and featured in one game of Germany's record-breaking 2007 World Cup Win – where they won the competition without conceding a single goal. The game she appeared in saw them beat Argentina 11-0, a scoreline yet to be matched.
The Gold at Rio was not Bartusiak's first Olympic medal, having helped Germany win the Bronze medal at the 2008 Games, held in Beijing where Germany beat Japan in the Bronze Medal match.
Double European Champion
More international success came the next year as Germany won the UEFA Women's Euro 2009 where Germany won after beating England 6-2 in the Final, and it was at this tournament she became a fixture of the German side.
Germany could not defend their World Cup title in 2011 – but they went on to win the UEFA Women's Euros again in 2013. And after Germany finished fourth at the 2015 World Cup, she was made the captain of Germany.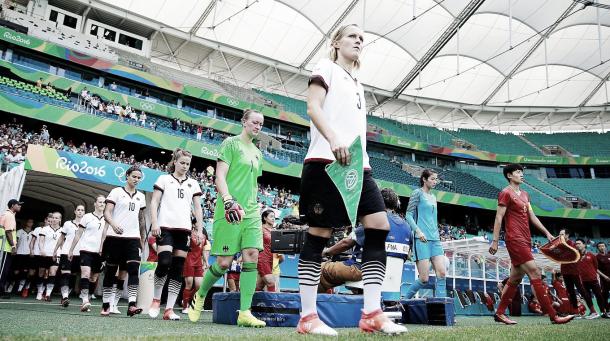 Bartusiak had made the decision to retire before the 2016 Olympics, saying that the decision had "been coming for a few months now" - telling both the departing Head Coach Silvia Neid and her replacement Steffi Jones.
Two of her three international goals came in her last two months as a national player – one against Ghana in a friendly, and the second, an 88th-minute equaliser against Australia in the Olympics Group Stage.
The Perfect Full Stop
She led Germany to the final, beating China and Canada in the knockout stage, where they faced Sweden – who had caused the major shock of knocking out four-time Olympic Gold medalists the USA. At the Final, Germany beat Sweden 2-1 at the Maracana – something the defender described as the "perfect full stop."
Bartusiak said of her time with Germany that "It was an incredible time" and that she was "part of these wonderful teams."
Neid, who is also departing the national side after the success at Rio, praised Bartusiak saying that "She was reliable, disciplined, a leader and a fighter", and that "she is the kind of person who never gives up."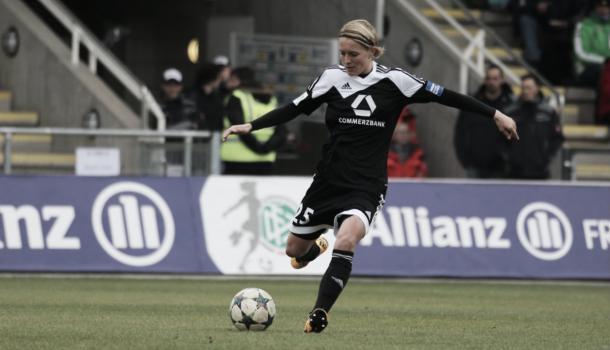 Bartusiak will continue to play for the Frauen-Bundesliga side 1. FFC Frankfurt with whom she had recently signed a contract until June 2017. Since joining them in 2005, she has won the UEFA Women's Cup three times, the Frauen-Bundesliga twice and the Frauen DFB-Pokal four times.