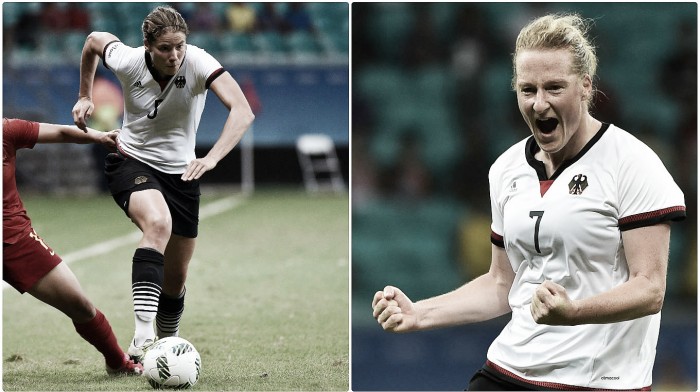 It was an unforgettable summer for two of Germany's stalwarts and with the country finally winning gold at the Olympic games, Annike Krahn and Melanie Behringer have decided to step away from the international stage.
They join fellow compatriot, Saskia Bartusiak in retiring from the national team after winning gold at the 2016 Rio Olympics, and after winning a world cup title at the 2007 FIFA Women's World Cup, two UEFA Women's European Championships titles in 2009 and 2013 and a Bronze medal at the 2008 Beijing Olympics, the pair felt that they had accomplished all that they could at the highest level with their country and that it was time to step aside at this point in their careers.
Behringer leads the way to a Gold medal
Looking back at her career, Behringer's performance at the recent Women's Football tournament in Rio came as no surprise. She was the leading goal scorer at the tournament and was named in VAVEL's Team of the Tournament due to her performances in midfield as her steady and assured role paved the way for those around her to perform as well.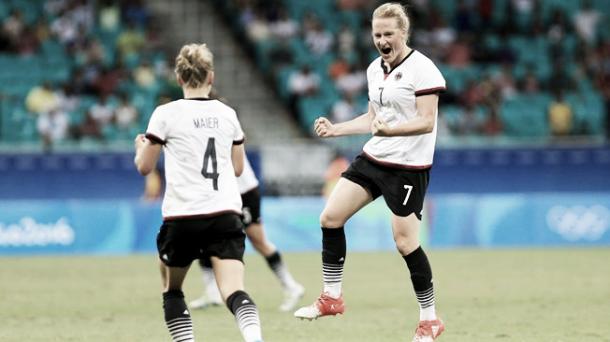 The 30-year-old began her international career in 2005 and ends this career with 123 international appearances. Along with her recent Olympic success, Behringer was involved in Germany's two European Championship titles, as well as winning World Cup titles at the U19 and the senior level as well.
When speaking to the official German national team site, Behringer reflected on her career. She stated that she had "worn the shirt for than 11 years and it gives me great pride to say that" and that she wanted to "thank everyone who made it possible for me to enjoy my journey with the national team so much and gave me support along the way" which referenced to her family, friends, training staff, fans and the players she has been with throughout the years.
Silvia Neid, Germany's now former head coach, reflected on Behringer's career, saying that she was a "commanding presence at the Olympics" and "the player of the tournament". Neid also commented that Behringer was a "real team player" and a "fantastic servant to the team".
Behringer will continue to play on at club level with Bayern Munich and hopes to win more domestic and international titles with her club in the near future.
Krahn leaves on a high
The partnership of Krahn and Bartusiak has been synonymous with Germany's back line for quite a number of years now and they were once again at the helm of another title for Germany in Rio when Krahn finally picked up a Gold medal at the Olympic games.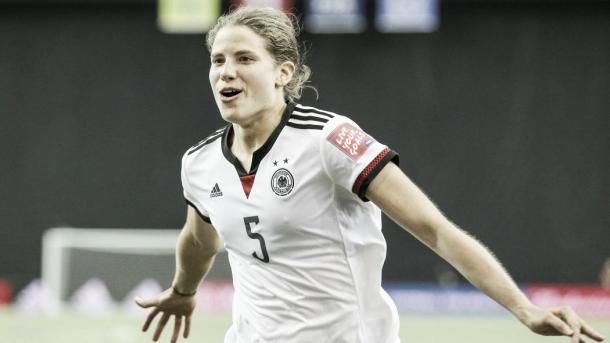 Krahn also made her international debut on in 2005, and earned 137 caps for Germany. Like Behringer, she finished her career with an Olympic Bronze medal, two European Championship titles and two World Cup titles at the U19 and senior levels.
Krahn also spoke to DFB.de and felt that there was no better way to retire than as an Olympic champion. She stated that she had had some "incredible highs in my national career, and a few lows" but that she would always be grateful for the "time and experiences" she had gained. The defender felt that "everything has to end eventually" and she knew that this was the right time to "draw a line under things".
Neid also spoke on Krahn and how her relationship with her was always one of "mutual trust" and that Krahn will be a "big loss to the team". Neid also reflected on Krahn's mentorship to the younger players and how she conducted herself off the pitch with them as well to make sure they were comfortable in the national team setup. The former head coach felt that Krahn had "deserved all of her 137 caps" and her status as the second-highest capped player currently active due to her "reliability and guidance".
Krahn, like Behringer, will also continue to play for her club team, Bayer 04 Leverkusen, and also hope to push her team for a domestic title in the upcoming season.
Quotes via DFB.de