Daniel Sturridge has admitted that he doesn't enjoy playing outside of his favoured centre-forward role after featuring on the right wing for Liverpool in recent games.
The striker scored his first goals of the campaign with a second-half brace in the Reds' EFL Cup second round win at Burton Albion, as they put five past their Championship opponents.
Those goals came off of the bench as Sturridge looked to prove to manager Jürgen Klopp that he is best-served up top, rather than being shunted out to one of the wide positions.
The England international - who moved to Merseyside in January 2013 after growing frustrated with playing out wide at Chelsea - insists his contributions are more innate as a striker.
Sturridge insists playing as striker is his "best position"
The 26-year-old, whose Liverpool record stands at 55 goals in 94 appearances in all competitions after his Burton brace, explained that it is "more difficult" for him to "play wide" because he is "a centre-forward."
"Obviously in the modern day game, you have to try to be flexible," he admitted, before defiantly adding: "But everyone knows that is my best position."
Sturridge ended last season as the club's top goalscorer with 13 goals in 25 games despite once again struggling with injuries and insisted that "everyone knows" where he enjoys "playing the most" because he is "a player who plays on instinct."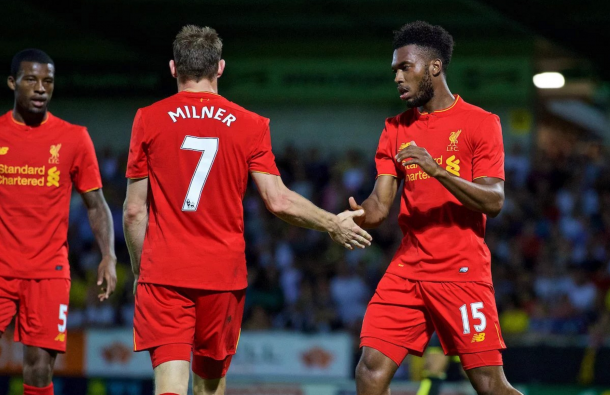 The Reds' No.15 said that when he is "in the middle" then he has "clarity on movements and things that I have been doing for years" and declared he feels more natural as a frontman because he makes decisions "on auto pilot" and "because you are used to doing them."
Sturridge said that it is "different" on the wing because "you have to worry about different things" and it is "a different way of playing."
Nevertheless, he added that he has to "do a job for the team" and said: "I am not saying I am happy to do it, I am saying I have to do a job for the team. It's a team game. If I am put in that position, then I have to play there."
Striker says he won't happily play out wide
Sturridge needed just 26 minutes on the pitch to remind supporters, and the manager, of his superlative class in front of goal at the Pirelli Stadium.
He has been ravaged by injuries in recent campaigns, which has told in Liverpool's position in the league table come May, and he feels that playing out-of-position on his return isn't helping him to find his best form.
It marked a difference to Sturridge's previous appearance, when he was below-par in the Reds' defeat at Burnley on Saturday afternoon. A lack of creativity and final ball quality meant Klopp's side failed to take advantage of having over 80 per-cent possession at Turf Moor, falling to a 2-0 defeat.
He added that "your movements are different" when playing "in positions you aren't used to" and said that "you can't play the same as if you are a centre-forward" as "everything is different."
But he reiterated that his priority is the team, saying that it's "important to give 100 per-cent" once he goes "over the white lines" and adding: "I am not making any complaints. It's football."
Sturridge also labelled it as "nice" to beat Burton, saying it was "a good game to be involved" in as Liverpool comfortably booked their place in the third round, where they will take on Derby County away from home.