Sunderland AFC manager David Moyes, has insisted that the Black Cats will take the EFL Cup seriously, despite growing frustrations over the club's growing injury list.
Growing frustration
It has been a poor start to the season on Wearside, both on and off the pitch, with the Black Cats yet to win a game, and the side still in need of signings with a week until the transfer window slams shut.
The number of injuries is becoming a ever increasing worry, with goalkeeper Vito Mannone becoming the latest victim to this stroke of bad luck. The Italian's elbow problem will be the latest on a long list of absentees ahead of Shrewsbury's visit to the Stadium of Light. Billy Jones, John O'Shea, Lee Cattermole, Jan Kirchhoff, Sebastian Larsson and Fabio Borini will all be absent, and Moyes admitted that it is growing frustration for him.
"We're just frustrated because we've lost a few senior players with injury, so it's forcing us into playing some boys before you would actually want to play them," Moyes told the Chronicle Live, and firmly stated "I think that would be the biggest frustration at the moment."
The Scotsman was adamant: "Roughly, the players we had will be the same players again. I might need to protect an odd one, but in the main it will be the same group of players."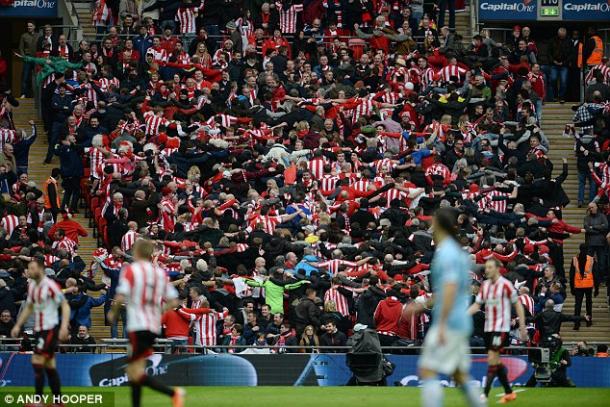 Looking to avoid a giant killing
The Black Cats have success in the League Cup in the past few seasons, with the 2014 final against Manchester City being the highlight, but Wednesday's opponents will hold bad memories for Moyes on a personal level.
Moyes was defeated by the Minnows back in January 2003, in the third round of the FA Cup but the Scotsman firmly believed that he can avoid defeat and the club can go far in this competition.
"You want to try and progress in the cups, no matter what anybody says, and you may want to give people some games, but you want to progress." Moyes told the Sunderland Echo.
He concluded: "I have always wanted to get to every cup final, in the main, the next game is always the most important one."
Sunderland AFC will take on Shrewsbury Town in the EFL Cup at the Stadium of Light on Wednesday, August 24 with kick-off at 7:45pm BST.