 For Arsenal fans, the lastest transfer window will be regarded by many as yet another summer of discontent in North London.
With particular reference to The Gunners' striker search, options for Arsene Wenger have dwindled by the day.
As names the like of Jamie Vardy, Gonzalo Higuain, Alvaro Morata and Alexandre Lacazette haven risen and fallen like the original tide of optimism around the club, it seems that finally the North Londoners are set to end their woes with the addition of Lucas Pérez from Deportivo La Coruña. But who is the forward and where might he fit into Arsenal's system?
Striker scouted by Leicester's Walsh
Wenger has appeared to have plucked Perez' name out of the thin air of the European striking pool. He does however appear to have stolen in on Ronald Koeman's advances for Everton.
With former Leicester City scout Steve Walsh - the man credited with bringing in N'Golo Kante and Riyad Mahrez to the The Foxes - having made the switch to Goodison Park also, Walsh had kept firm interest in Perez but had failed to finalise any interest.
Perhaps Claudio Ranieri would have struggled to accomodate him but in any event, interest from Walsh would indicate that the name should not be taken with the smallest pinches of salt.
Pérez well travelled across Europe
Perez, 28 in September, made his senior bow in club football with Atlético Madrid C between 2007 and 2009. That following summer he made the switch to Rayo Vallecano B, going on the turn out for the newly-promoted La Liga side.
Registered primarily with Rayo 'B' however, Perez made the move to Ukraine and Karpaty Lviv, notching 14 times in two seasons.
The forward endured a tough 6 month loan spell with Ukrainian giant Dynamo Kyiv before a further two year stint with PAOK of Greece.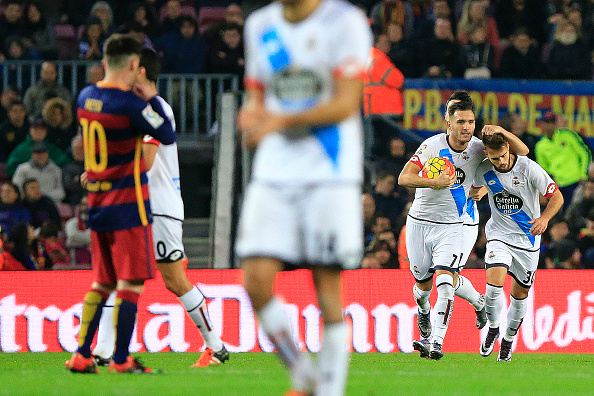 It was only last term that the forward made a name for himself. Initially being loaned to his homeclub city Deportivo for a year, he then signed a four-year contract last summer.
Last term, Pérez scored 18 times including at Camp Nou versus FC Barcelona as Depor held Luis Enrique's men to a 2-2 draw. He also scored in Deportivo's opening game of the campaign last Friday, netting the winner.
Spaniard compared to Vardy
Curiously, Lucas Pérez has been compared to one of their many missed targets, in Jamie Vardy. Strikers of a similar age, height and build, the two have a distinct turn of pace and are renowned dribblers of the ball. Pérez has a distribution level of par with Vardy also.
As with any striker of relative note, the 27 year-old also as an edgy streak to his game. In a squad that lacks fight and team ethic however, the Arsenal fanbase will not be covering their ears on hearing those sentiments.
It is believed that Walsh was alerted by Pérez as replacement option should Vardy leave this summer. In switching to the recruitment team on Merseyside, the forward was a real option to aide the replacement of Romelu Lukaku had he left - which for the moment looks unlikely.
In La Liga, Pérez has frequently played off the shoulder of the defender and also tucked behind Deportivo's front man last term Oriol Riera. Interestingly, Depor's lack of goals up front led 'Lucas' as he was known, to be pushed into a more advanced role. His versatilty could be something that ticks all the right boxes, should Arsenal play the lone striker and the supporting three, or elect to go with a shadow striker.
With Alexis Sanchez able to back up the forward line with his pace and footballing dexterity and Mesut Özil's wizardy creating the ammunition, Pérez could yet become the ace in the hole in Islington.
Despite the rather tardy nature of The Gunners' transfer dealings once again, it may yet be that Lucas Pérez becomes a very clever piece of business.
Something that Arsene Wenger is in dire need of.