This is Noel Alberto signing off here. Please follow the Manchester United - Hull City live which can be found here.
Full-Time: Chelsea 3-0 Burnley.
90'+3': Great counter again by Chelsea. Pedro finds Azpilicueta who shoots but Heaton makes a wonderful stop.
Three minutes of stoppage time.
Tarkowski booked after his tackle was the one that led to the advantage.
89': GOAL Chelsea! Advantage to Chelsea. Batshuyahi finds Pedro out wide who has tons of space. His ball is brilliant as he finds Moses who slots it home for a third.
86': Batshuyahi does well to get the ball and create some space but blasts it over the bar.
Chelsea look like they're going to see of the game right now.
83': Terry down and slow to get up.
80': Batshuyahi comes on for Diego Costa. Hazard also off as Pedro comes on.
77': Moses now comes on for Willian.
76': Moses to come on for Willian shortly.
75': A fourth corner from Burnley is the most threatening. This one is headed on twice but Courtois catches easily.
73': Third straight corner for Burnley. It's cleared away and Chelsea get the throw.
72': Burnley gets a corner and Mee gets a head to it but amounts to nothing. They do get another set of corners though.
72': Marney off for Tarkowski.
69': First corner in awhile which doesn't find Hazard. Instead it finds Oscar who hits a poor volley.
59': Willian plays another corner to Hazard. This time the Belgian cuts in on his left but sends it over.
59': Great reverse ball from Hazard to Oscar. The Brazilian's cross is nodded away for a corner.
57': Arfield off for Gudmundsson and Defour off for O'Neil.
56': Willian plays it beautifully to Hazard who volleys it which forces Heaton to save but Terry knocks it over.
56': The pressure is mounting from Chelsea to get a third. Costa has had a number of shots blocked. And now they have a corner.
52': Hazard with a great ball as Matic takes too long to make the turn to shoot. He lays it off to Costa as his shot is gathered by Heaton.
50': Willian has a free kick in a dangerous area but sends it over the bar.
47': Burnley looking more lively to start the second half, more possession and time attacking so far in the early stages.
46': Early start as George Boyd lays it off to Marney who sends it into the stands.
Second half begins.
FIRST HALF: Chelsea 2-0 Burnley.
43': Defour sends it an indirect free kick which finds the head of one of his teammates, but easy for Courtois.
42': Burnley take it from the kickoff and almost score. Great move by the Clarets sees Arfield get it in. He gives it a go and just drags it wide! A huge moment there for Burnley.
41': GOAL Chelsea! Hazard does well on the left hand side to get the ball and gives it to Costa. The Spaniard lays it off to Willian who blasts it through the legs of Heaton for the second goal.
41': Willian floats in an indirect free kick. Cahill rises above the rest but no power on the header makes it easy for Heaton.
39': Michael Keane does well to win the back in the midfield and gives it to Marney. However, the right midfielder sends into Row Z after a horrendous strike.
37': Willian links up with Oscar who cuts it back to fool the Burnley defender. He lays it off to Costa who just passes it to Heaton, should be doing better there.
34': Burnley with the ball again after a long spell of Chelsea dominance. Defour tries to send it out wide but ball goes out of play for a throw to Chelsea.
31': Oscar first in the books after a two-footed tackle on Vokes.
30': Burnley finally get the ball but Vokes loses it in the Chelsea third.
27': Willian delivers a beautiful corner as Terry gets his head to it. Heaton catches it in the end.
26': Hazard plays in Oscar who looks to set up Diego Costa but it's just behind the Spaniard before Burnley clear it.
24': Willian delivers the corner and it's knocked away by Keane. Burnley finish the clearance as Chelsea start the move all the way back with Courtois.
22': Strong defending by Michael Keane to get Diego Costa off the ball after Hazard's through ball.
17': Hazard plays a brilliant over the top ball which finds Costa but Mee recovers in the end to clear the ball. Burnley concede a throw.
15': The corner sees it just cleared out before a Cahill volley is deflected for another corner.
14': Another brilliant move by Chelsea started by Kante winning the ball in the midfield. It's worked on the right hand side by Ivanovic and Willian and eventually gets to Hazard whose shot is cleared off the line by Ben Mee for a corner.
12': The ensuing corner sees Willian lay it off too easily to Hazard. The Belgian gives it a go but the shot is blocked.
11': Chelsea once again hit Burnley on the break once again. Hazard picks it up and concede a corner.
9': GOAL Chelsea! Burnley commit but lose the ball in the midfield and Chelsea begin the counter. Hazard takes it and goes on a run and finishes it off with a low curling efford past Heaton in the bottom right hand corner.
8': Great move by Chelsea and Costa and Hazard play a give and go but Heaton smothers the ball in the end. Fantasic linkup from the two Chelsea star men.
7': Hazard lays the ball off to Ivanovic who gives it a crack but sends it into the stands. The Serbian full back scored both times - Burnley a couple seasons ago.
6': Marney concedes the first free kick after a foul on Costa.
6': Burnley looking lively early on. Mee plays the ball down to Arfield who tries to send it in but it goes right to Courtois.
3': Oscar tries to send in a cross and it goes right to Heaton, poor from the Brazilian.
1': Chelsea kickoff the match!
Burnley's XI: Heaton; Lowton, Keane, Mee; Ward, Arfield, Defour, Marney, Boyd; Vokes, Gray
Chelsea's XI: Courtois; Ivanovic, Cahill, Terry (c), Azpilicueta; Kante; Willian, Oscar, Matic, Hazard; Diego Costa
The two sides drew during their last matchup in February of 2015. Chelsea won their last three league matchups before the draw while Burnley's last win came in the League Cup in 2008 in a penalty shootout.
The Clarets lead the head-to-head over Chelsea 33-14-22. Most of the Burnley wins however, came during the early-to-mid 20th Century. Burnley won 29 of their 33 total wins - Chelsea from the 1910s-1960s. Their 2009-10 encounters were their first meetings in the league since the 1973-74 season.
It's one loss and one win so far to Sean Dyche's side. They had their chances in the opener vs Swansea City but fell 1-0 after a Leroy Fer strike on 83 minutes. They did however, stun Liverpool in their home opener at the Turf Moor 2-0, thanks to goals by Vokes and Gray.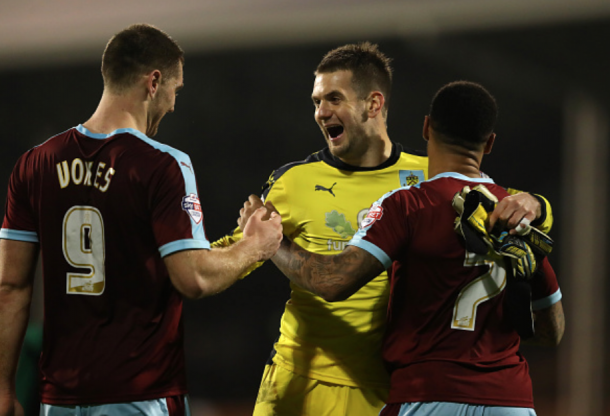 Tom Heaton is the star returnee from the Burnley side that was relegated two seasons ago. His impact cannot be doubted, coming up with big save after big save to help keep his side ahead, in the match, or level. His outstanding performances have earned him his first ever international cup for England.
If Burnley want to stay up this season, it will come at the hands of their star striker and star keeper. Gray will need to fire in likely 15+ goals if he wants to see his side stay up. His pace and strength make his a hassle to deal with and will need help from strike partner Sam Vokes to take some pressure off him.
Now, the side has spent some money, bringing in the club's most expensive transfer in Steven Defour from Anderlecht. And they also have another star striker who has already made an impact in Andre Gray. Gray was the top scorer of the Championship last season and has already gotten off the mark with a goal and assist to his name this season; both came - Liverpool.
After getting relegated two seasons ago, Sean Dyche has led Burnley back up to the Premier League once again and hopes for a better showing this time around. Last time, the team had a star striker, Danny Ings, who was poached by Liverpool as well as full-back Kieran Trippier, who was poached by Tottenham Hotspur.
Despite picking up six points and a win in the EFL Cup, not all has looked good for the Blues so far. At times, their attack has struggled, especially when behind or tied before a little Conte magic with his substitutions got the team going. In their three games, they've been tied outside of 0-0 and had to come from behind - Watford (1-0) and Bristol Rovers (2-0). In this matchup - Burnley, they should not be struggling, although, the Clarets did hold Liverpool at bay this past weekend.
Cesc Fabregas looks to work his way back into the starting lineup once again after coming off the bench the last game. His assist shows his eye for a pass that none of the other midfielders that started ahead of him had such as Nemanja Matic and N'Golo Kante in the holding midfield role followed by Oscar playing behind Costa. He'll definitely give Conte something to think of ahead of naming the starting XI this weekend.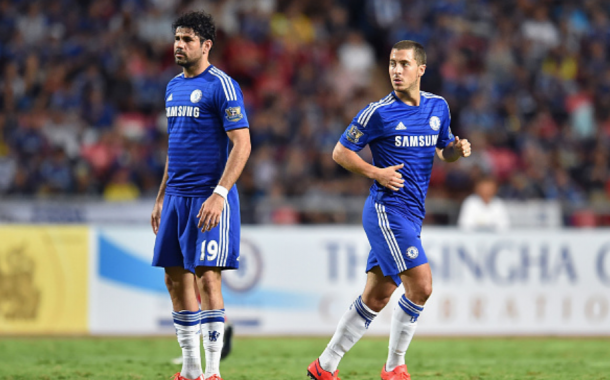 Another impact player already is Diego Costa. The Spaniard struggled in his second season at Chelsea after being one of the top scorers in the 2014-15 season, helping fire Chelsea to a Premier League title. This season, he already has two goals to his name, both game winners. His first came via the help of second striker, Michy Batshuyahi , as the Belgian came on as a substitute and assisted the 25-yard strike from Costa. The second game winner came from Cesc Fabregas, who picked out a peach of a through ball, perfectly placing it past the defense and on Costa's foot who slotted it past Gomes to defeat Watford. The two stars of that 2014-15 season are already firing, with a combined three goals and one assist so Chelsea are very much a team to watch for throughout the season.
One of the notable players so far this season is Eden Hazard. The Belgian had a rough 2015-16 season, which is not a surprise as most of the Chelsea team struggled, but found his 2014-15 form at the end of the season and at Euro 2016. The Belgian is currently showing that he's in the form that won him PFA Player of the Year in 2015 and although it is early, he'll be very much a player to watch for throughout the rest of the season.
Chelsea have a good start to their season under new manager Antonio Conte. They have two wins in two matches, though, neither have been convincing. Their first win came on the opening matchday over West Ham United, winning 2-1. Their second win came via the same score line, this time on the road vs Watford.
Hello everyone, Noel Alberto here ready to give you live commentary of one of the 3 PM fixtures in the Premier League today. I'll be giving you updates of the match-up between Chelsea and Burnley. Kick-off is set for 3 PM at Stamford Bridge. Follow for team news and a preview to the game.