 Jürgen Klopp says his ambition at Liverpool is to celebrate a major success at the end of every season, insisting that he'd love to toast silverware with "700,000 people" on a bus tour through the city.
The German signed a new deal with Liverpool in July, which will effectively keep him at the club till 2021, having only initially joined the club back in October.
It was a great statement of intent as well as a commitment from Klopp, and even more so from owners Fenway Sports Group, with chairman Tom Werner at the time saying that there was an understanding "on both sides" about their future together.
Hugely positive factor
Liverpool have had an unconvincing start to the season, starting off with a 4-3 thriller at the Emirates against Arsenal before a 2-0 loss to Burnley at Turf Moor.
The second of those games was a complete disappointment as they failed to make their dominance of the ball count and the Clarets made them pay for their mistakes.
But this was followed up by an encouraging 5-0 victory in the League Cup as Liverpool showed signs of improvement with new signing, Joel Matip making his debut for the club in an improved display all round.
In the midst of all this, Jürgen Klopp's presence has been a hugely positive factor for the club, the players and the fans as well.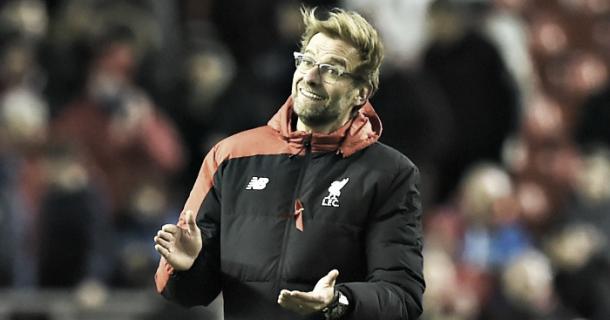 If the past is anything to go by, Klopp's title winning 2011-12 season with former employers Borussia Dortmund, started off in a similar fashion with his team losing three of their first six games and improving greatly in the latter half of that season.
Dortmund also managed to secure the DFB Pokal Cup in that same season and Klopp will be hoping to replicate that success with the Reds for the next six seasons.
Klopp spoke brightly about the future and explained how he would like to "celebrate something" each season over the next six years when speaking to Gary Lineker for BBC's new Premier League Show.
He insists doesn't want "small things" and wants to "really celebrate" something and says that he would "love to" drive through Liverpool on a bus "celebrating with 700,000 people" which "would be nice."
The German explained how it is "not important" what people think when you come, rather it is important how they fell when "you leave" a club and declares that is how "you should be judged."
He continued that it was "so easy" to sign a new contract at the club, adding: "I feel really good in this moment, and, hopefully, after six years, we will look back and think it wasn't a waste of time, it was good."
Looking for inspiration
Klopp has hailed the club's legendary former managers Bob Paisley and Bill Shankly as the club's "grandfathers" and will be looking to draw inspiration from the two pillars of the club.
The German already arrived at Anfield with a world-class reputation and has his own knowledge base and his own way of thinking and setting up his teams.
This reputation mainly comes from the passionate relationships he has been a part of in his managerial career so far with Mainz, Dortmund and now at Liverpool.
Supporters have already witnessed some amazing moments at Anfield, with the 4-3 victory against Dortmund in the Europa League being the highlight of Klopp's Liverpool stint so far, and he wiil be hoping to produce similar kind of magic over the next few years.
Klopp described the reaction to that game as the "best I've ever had" adding that he felt that "no one could stop us" in the final minutes.
Still, not every game will be a miraculous victory for Liverpool, and also it's one of the reasons why Klopp continually believes that Liverpool need to find consistency in terms of their results on the pitch.
One of Klopp's first targets is to have "memorable games" in a row. It is a primary target for him as he believes that people being unable to wait for the next game, is what "football should be all about", and he added that if "you can do this often, you will be successful."
What Klopp speaks about reminds all Liverpool fans of the fantastic campaign they enjoyed in 2013-14 when they pushed all the way for the title, devastatingly failing in the final three games.
But if Klopp can achieve all that he speaks about, then it looks almost certain that there will be many more memorable days and nights for the club in the seasons to come.
Big demands
Klopp has ambitious plans for Liverpool for the future and intends to deliver on the faith put in him by Liverpool owners.
It is important for them to keep faith in the German's methods and stand by him when things go awry or the situation is not the way the fans would want it.
The six-year deal is a huge factor and tells us a lot about how the owners want to keep Klopp at Liverpool for a long time.
If he can produce results, win some trophies along the way and of course produce special comebacks, there's no reason why he won't be able to meet the demands expected of him on Merseyside.