 Jürgen Klopp is confident that Liverpool can match up to the test of Tottenham Hotspur when they travel to White Hart Lane this Saturday.
For much of last season, Spurs challenged eventual champions Leicester City for the Premier League title before falling away to finish third behind rivals Arsenal.
Mauricio Pochettino's men have started the new campaign in strong fashion too, with a draw and a win from their first two games, but Klopp believes his players can pose a threat to the north London outfit.
It is of course the Reds' second trip to the capital having already beaten Arsenal, who finished a point ahead of Spurs in second last term, on the opening weekend, a fortnight ago.
And Klopp is hopeful their second clash in the capital in as many weeks can produce a similar outcome.
Spurs are strong, but we're strong too, declares Klopp
Speaking at his pre-match press conference at Melwood, Klopp insisted that Spurs are "absolutely convinced about their way" and "their style of play" under Pochettino.
Klopp said that they haven't changed "too much" over the summer and "have high individual quality" which gives them extra strength-in-depth.
He explained that Spurs can even afford to leave attacking midfielder Dele Alli out, which the German called "a big difference from last season", adding that in summer signing Vincent Janssen they have "a really skilled striker" and Harry Kane "can play from a No.10 position" and did "well" there in the first few games.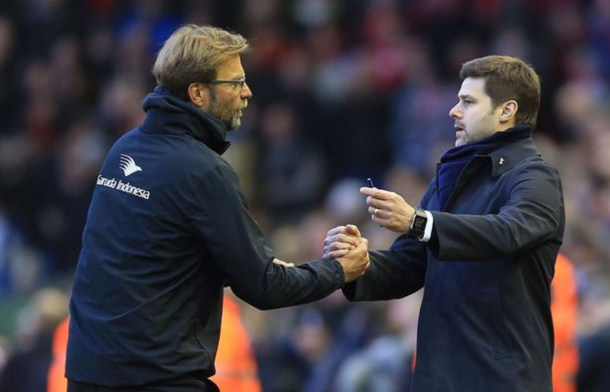 On their midfield, Klopp added that having Victor Wanyama and Eric Dier in the centre is "a little bit different" to Dier and Mousa Dembele, who is still serving a suspension.
"The rest [of the team] is very experienced and has played together [for] one-and-a-half or two years nearly," he continued, indicating that even with that considered there is still "space for development" because they "are still young."
Klopp said that this game could "be completely different" to the "last two games" between the two clubs, suggesting that the "whole situation on the pitch will be different."
He admitted that his team "need to know" that Spurs "are a pressing team" and a "high-pressure team" who "don't give away a lot of spaces."
But Klopp noted that there are still spaces to be found in between Spurs' lines and added: "I'm not too interested in where they develop but of course, we know they are strong. That's the only thing we need to know. We can be strong too, and we should show this at 12:30 on Saturday."
Klopp hails the importance of performing well and winning points early on in the season
One of the things the Reds boss is desperate to see from his side is "rhythm", a phrase he repeatedly mentioned to reporters throughout his press conference.
In the search for consistency, he made only a few changes for their EFL Cup victory against Burton Albion on Tuesday night, a strong side strolling to a 5-0 victory - and the third round - in Staffordshire.
Explaining further his team selection, Klopp insisted that attaining rhythm is "the most important thing in this early stage of the season" and that it isn't "about rest" for his players.
He added that this is because there is "no intensity" and that the players "recover in hours", so "at this moment" it is not difficult for them to play two games within four days.
Klopp declared that his line-up was only in order to win the game but acknowledged that with a couple of players who didn't have a "perfect pre-season" they had to consider whether it made sense to leave them out with "fresh, high-quality players on the bench."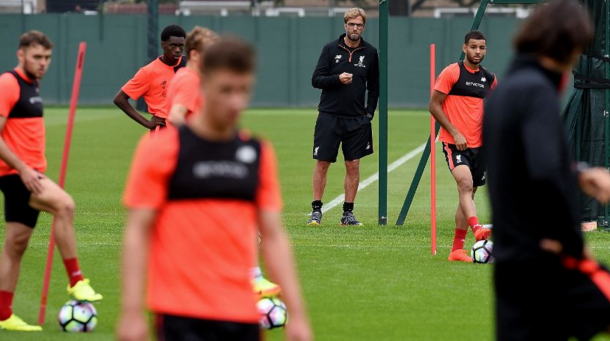 Klopp said that they had such a situation on Tuesday and "could bring in Emre [Can] and bring in Divock [Origi]" although he noted that the pair are "now a little bit in doubt" for their trip to Spurs.
He also suggested that they "could bring in Joel Matip" which "made absolute sense" because his team was only thinking about their rhythm, rather than the opponent.
Klopp also spoke about the upcoming international break, and suggested that they will disrupt his side's rhythm because they "play all over the world" and have to deal with "the travel they have to do."
But he accepted that it is "the same for all teams" so they can't "moan about it" even though it's "not perfect", as he continued: "We need to use this moment in the season to get rhythm and to answer the questions we still have in our game."
He insisted that they are stronger as a team compared to "matches from last season in February" but said that doesn't show through because it's "not easy to show in this moment" without "the rhythm" and the "knowledge of each way."
Klopp said that even pre-season means the squad can't be fuly ready, even with "a lot of pre-season games" because they are "different to Premier League games."
He concluded: "All teams are in the same situation but we need to collect points in this moment to have a really good base for the moment when the league starts with all teams in [their] best shape."