 Manchester United will go into the highly-anticipated Premier League tie with a fully fit squad while the same unfortunately can't be said about Hull City who still only have 13 first team players available; it hasn't exactly affected their form, however.
After winning their opening two games both teams will be eager to keep a 100% record intact going into the international break. So lets have a look at United's potential starting XI going into the Saturday clash.
The Defence
Goalkeeper - David De Gea: No suprise at all about this one, David De Gea will start tomorrow evening. The Spaniard is arguably the best goalkeeper in the world at the moment and his track record in England backs up that claim perfectly. He isn't expected to be as busy as he's needed to be in the past under Jose Mourinho after the Portugese manager strengthened United's defence during the summer by bringing in Eric Bailly however he's as reliable as they come when called into action.
De Gea was unlucky to concede in the 3-1 win at Bournemouth after full-back Adam Smith fired an unstoppable effort into the top corner that even Peter Schmeichel in his prime wouldn't of kept out, however, he did keep a clean sheet against Southampton while also having a 100% claim success to his name so far in the league.
Right-back - Antonio Valencia: After impressing Jose Mourinho throughout pre-season and then carrying his form over to the start of the season, Antonio Valencia has surpassed Matteo Darmian in the right-back ranks at United and looks better than ever. The Ecuadorian is evidently full of confidence since Mourinho's arrival seen as though he is now instructed to do what he does best and run up and down the wing, a trait limited under Louis van Gaal's structured shape.
Considering the form Valencia has been in so far this season it's very unlikely that his position is under threat considering his only rival Matteo Darmian hasn't even been in the squad for both opening fixtures. A number of United's goals so far this season have come from Antonio Valencia crossing the ball into the danger area so if he's got players like Ibrahimovic and Pogba to aim for his much improved deliveries will be crucial this season.
Centre-back - Eric Bailly: Eric Bailly has been faultless so far in a United shirt and even though Chris Smalling is still waiting in the wings to come back into the team I think Mourinho will be more than happy to stick with the same back line for the time being. The 22-year-old has been awarded the Man of the Match award in two of United's three competitive games after showing similarities to United great Nemanja Vidic with a strong aerial presence and composure on the ball.
Despite only playing 45 competitive matches before his move the Old Trafford he's looked like a player who's been in the team for years and seen as though he's only 22 it means things can only get better. What's most impressive is that Bailly can't actually speak English yet so to communicate with his partner Daley Blind must be a disadvantage however he'sdealing with the situation in a perfect manner so far, almost certain starter.
Centre-back - Daley Blind: The Dutch midfielder turned centre-back enjoyed a great season last term playing alongside Chris Smalling and only conceding a league-low of 35 goals, Blind isn't your typical defender strength and height wise however he's one of the smartest players around and his reading of the game fully makes up for the physical flaws. He's gone from a player almost certainly out of the door this summer due to Mourinho's liking of physical players to one of the first names on the team sheet this season and has justified that managerial decision perfectly.
It was never going to be easy for Eric Bailly to fit straight into the United team however Daley Blind's comforting attitude and leadership qualities has seemingly not just benefitted the player himself but also has a positive effect on others around him like Bailly for example. Similarly to the Ivorian's situation, Chris Smalling will be eagerly waiting on the bench to get his first chance under the new manager however at the moment it looks like the bond Bailly and Blind are creating at the back is very strong and as long as United aren't conceding goals then why would anything be changed?
Left-back - Luke Shaw: Having Luke Shaw back in the team every week is like watching a new signing in action, it's said too much but it's true. His desire to bomb forward with the ball along with his fantastic defensive ability suggests that he could easily be one of the best left-backs in the world in years to come while he arguably is up there with the leagues' best right now despite us not even seeing the best of him yet due to injury.
The 21-year-old will be key for United tomorrow when trying the contain the inform Robert Snodgrass, a man who has scored in two of Hull's three games so far the season as well as a Man of the Match perfromance against the champions Leicester City. Shaw perfectly demonstrated his attacking ability last week against Southampton by winning the penalty which led to a second goal for the Red Devils so if he can stay injury-free this year he'll be a key player in Mourinho's set-up for years to come.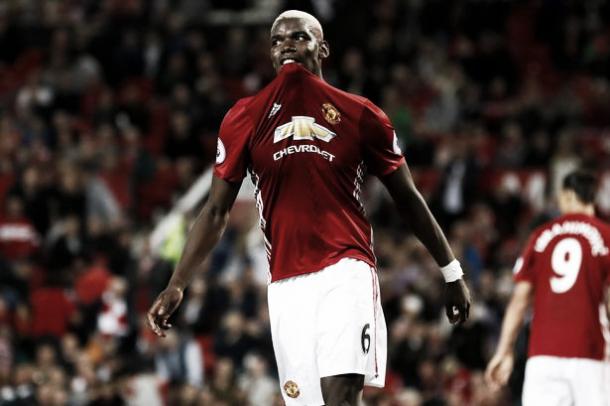 The Midfield
Centre-midfield - Marouane Fellaini: There would be shock if you included this man's name into my team prediction at the start of season because over the three seasons he's been at the club he hasn't really been a fan favourite and was widely expected to be shown the door by Mourinho this summer. However, after a phone call from the new manager reiterating his desire to keep the big Belgian it looks like Fellaini is set to be an important squad player this season and already looks like a new player under new guidance after three impressive performances this season.
There is still time for Fellaini to save his United career and if he continues to play like he has been doing he will no doubt be finally seen as a valued squad member by the United faithful. Playing alongside such a world-class midfielder like Paul Pogba is going to almost certainly bring the best out of Fellaini this season so as long as he continues to perform in the deeper midfield role then he's going to be a regular in the team this season.
Centre-midfield - Paul Pogba: There isn't much to say about Paul Pogba's place in the Manchester United starting XI, if he's fit he's going to play and an indication of that it the fact that he wasn't fully fit against Southampton yet still played 90 minutes and put in a Man of the Match-worthy performance. The reality is that even if Paul does have an off-week he's still likely to get put into the side for league games simply because you can't pay a world-record fee of £89m for a footballer and bench him so there should be no questions asked about his place in the side, especially if he's living up to his price tag.
Pogba's creativity will be crucial against a Hull City team that will almost certainly sit back and invite pressure so a player like Michael Carrick wouldn't be the most efficient choice for the game due to his tendancy to slow the tempo of games down when needed. Another option other than Pogba would be Ander Herrera due to the Spaniard being one of United's more creative midfielders however it'd be more likely for Herrera to replace Fellaini over Pogba.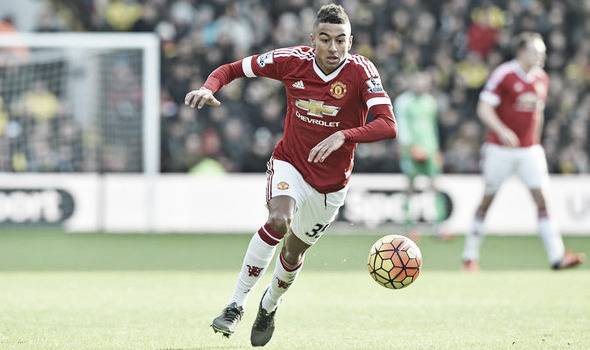 The Attack
Right-Midfielder - Jesse Lingard: Lingard burst onto the first-team scene last season under Louis van Gaal and has been a regular starter for over a year now, a minor injury in the Community Shield match has meant that Juan Mata's been playing in right-midfield however now that the Manchester-born winger is back to full fitness it is expected that he'll jump straight back into the team.
Despite spending £26m to bring talented playmaker Henrikh Mkhitaryan to the club in the summer, Jose Mourinho has left the Armenian on the bench for all three of United's competitive fixtures this season however if Hull City sit back as expected then the Portugese manager might be tempted to give 'Mkhi' his first competitive start in a Manchester United shirt in order to get more pace and attacking creativity. Jesse Lingard also has excellent creative traits, however, which is why Mourinho is likely to opt for him.
Left-Midfielder - Anthony Martial: Anthony Martial hasn't had the easiest of starts to the season, the young Frenchman definitely hasn't seemed like himself in United's fixtures so far despite bagging two assists at Bournemouth. It's confusing why this is the case really; maybe it's to do with the shirt number debacle, or maybe he's still recovering from Euro 2016 where he made brief appearances. Even though Martial hasn't looked fully up to stratch yet I think a good run of games will do he good and he'll be back scoring goals galore in no time.
It'd be somewhat risky to put in a low-in-confidence Memphis right now when Mourinho is trying to get a fixed starting lineup for the league season and also to drop Martial would just lower his morale even more so the logical thing to do would be the start United's #11 and I think that's what will happen. His pace and confidence on the ball should prove vital when trying to break down Hull's sturn defence and on paper he really should be putting Elmohamady on toast, on time will tell though.
Centre-Forward - Wayne Rooney: Wayne Rooney hasn't been in the best of form over the past few seasons at United but David Moyes, Louis van Gaal and now Jose Mourinho all seem hesistant to drop England's record goalscorer so for this reason it's not probably what a lot of United fans necessarily want but he's going to start. The main reason being because he's the club and country's captain and also just four goals away from being the club record goalscorer, as well as this, on his day Rooney is one of a kind and plays a huge part.
Now that young attacking midfielder Andreas Pereira has gone out to Spain on loan there aren't even many alternative first team names to back-up Wayne Rooney in that position so it's unlikely he'll get dropped anytime soon.
Striker - Zlatan Ibrahimovic: The big Swede was the first player on my team sheet and I wouldn't be suprised if he was the first on Mourinho's as well, with four goals in his first three games for United including a brace last week against Southampton it's pretty clear that Ibrahimovic will lead the Manchester United line for the foreseeable future. The self-proclaimed 'God of Manchester' arrived at Old Trafford already with a huge reputation for scoring goals and a massive ego and now has proven all the people doubting his ability to cope with the English game wrong.
He isn't the quickest of forwards but with the pace of Martial and Lingard on each wing and the deliveries of Shaw and Valencia he is a lethal asset to the United team will play a huge part in breaking down the Hull City defence. If Ibrahimovic was to find the net at the KCOM Stadium he'll break a 91-year-old record at Manchester United by scoring a goal in each of his first four appearances for the club set by Jimmy Hanson in both the 1924/25 and 1925/26 seasons so United's main man will be more up for it than ever.