After Rooney darted down the right and crossed through Livermore's legs, and the young gun who can do no wrong, Rashford finished it off from just two yards out. It's late, but great for United. I've been Noel Alberto, I hope you've enjoyed!
FT: Hull City 0-1 Manchester United - Rashford 90+2'.
GOAL! RASHFORD HAS SURELY WON IT AT THE DEATH!
90+2': Meyler almost wins it for Hull, but his shot flies narrowly over from 20 yards!
90+1': Four minutes added on.
88': Pogba almost wins it! He gets space on the edge of the area and curls wide.
86': It's all United, but Hull are still standing strong. Not long to go now..
83': Davis' defending is exemplary! He continues to thwart United, then Jakupovic does similar with a reflex save. Maguire on for Hernandez in the closing stages.
80': That was almost it! A driving run from Rashford sees him work the space to shoot, only for his curling effort to be hooked out of the bottom corner by Jakupovic.
79': That clear cut chance in these final minutes is yet to fall for either side, as we enter the final 10 minutes.
75': Rooney volleys inches wide at one end, as Hull march back up the other and Huddlestone's deflected shot goes inches wide.
73': Strong calls from the United supporters for handball behind the Hull goal, but Jon Moss waves away the appeals.
72': Ibrahimovic lines up a central free-kick 30 yards out, but it's straight into the feet of the wall.
71': Change for United, and it's Marcus Rashford who replaces Juan Mata. Can the youngster prove to be the difference?
68': It remains 0-0 at the KCOM Stadium, but United's pressure is continuing to force Hull further back.
62': United win a corner after Pogba's pass is deflected to Ibra who then lashes at it and sends it wide after a touch.
60': Martial goes for goal and just sends it wide. He'll come off for Mkhitaryan.
Mkhitaryan looks ready to come on and it seems Martial will be the one to make way.
58': Valencia whips in a cross but Jakupovic takes it out of the air before Ibrahimovic can get a touch.
50': Foul on United.
49': Shaw's ball is deflected and loops. Rooney gets his head to it but Jakupovic gathers.
48': Maloney comes on for Snodgrass.
47': Maloney looks to come on for Snodgrass.
46': Snodgrass is down near the touchline as United go on the attack.
Hull City kicks off to start the second half.
First half ends: Hull City 0-0 Manchester United
45'+2': Great defending from Blind as he sees Bailly out of position and covers for him. Hernandez gets the shot away but de Gea saves.
45'+1': Free kick for United and Ibrahimovic is just offside and his back heel effort finds the side netting as the flag is raised.
45': Pogba going for a fancy turn but is fouled by Snodgrass.
43': Valencia's cross finds the head of Mata who hits a flashing header as it rises but still easy for Jakupovic.
41': Good defending from Elmohamady there. Rooney plays Shaw through but the Egyptian holds off the young Englishman for a goal kick.
37': Mata with a couple stepovers and sends it at the keeper. Jakupovic gets a touch and Rooney shoots but his ball is cleared off the line.
36': Meyler sends in the cross and Hernandez gets his head on to it but it's right at de Gea.
34': Mata takes the free kick and curls it but easy for Jakupovic.
33': Mata with a smart turn after the pass from Rooney. He wins the free kick at the edge of the area.
32': Pogba gives it a crack from distance but Jakupovic is not tested.
31': Rooney gives the ball away to Snodgrass and now play is reversed to Robertson. His pass is poor as he gives away a throw to United.
30': Hull holding their ground well so far. Robertson and Davies doing well to deal with the balls in the penalty area.
29': United have possession as Snodgrass jogs back onto the pitch as Hull fans applause.
28': Snodgrass getting checked on after slamming into the post after his run at the back post on Robertson's ball. He's up and walking before the stretchers comes back on.
26': Hull threatening again as Huddlestone delivers a peach of a ball to Robertson who has loads of space. The left-back delivers a delightful ball as Snodgrass makes the run goal side but Shaw just gets the slightest touch on it to prevent it from finding the back of the net as de Gea gathers.
24': Snodgrass' effort curls just wide! De Gea looked dead out of water or confident it was going wide.
23': Huddlestone plays it through to Diomande. Fellaini fouls him after nipping him on the heel and is given the first booking of the game.
22': Pogba plays an angled ball and it's cleared away once again. The defense of Hull playing just a bit too deep.
20': Hull defensively sound so far. Sam Clucas doing a great job getting into the space where Rooney is, disturbing passes and players that are there so far.
19': Valencia's cross finds Ibrahimovic. His shot is blocked and tries to pass it to Rooney but is cleared away.
18': Valencia gives the ball away to Davies who then gives it ot Meyler. Meyler feeds it to Hernandez but is fouled.
16': Corner to United. Bailly moves up and finds Mata who then releases Valencia. The cross is blocked. Mata's corner is short of the first man as it is cleared away.
11': Hull look good after they thought there was a foul on a United player on Clucas. They get the ball out to the left-hand side and try a cross but it's cleared away.
10': Martial sends in a curling cross after cutting in from the left. Ibrahimovic gets his head to it but just sends it over.
9': Foul on Hull as United take the free kick from near the halfway line quickly.
7': Rooney tries a cross to find Ibrahimovic though Mata was central. The cross is cleared away by Hull.
6': Snodgrass' free-kick is blocked by the wall then Huddlestone's effort is into the stands.
5': Hull working their way into the game with a nice spell of possession and then Fellaini concedes a free kick after a foul.
3': Pogba goes for a long-range effort but it does not leave the ground, really poor.
2': Valencia sends in a cross and Ibrahimovic goes for a scorpion touch but it is eventually cleared away.
We have kicked off at the KCOM!
Hull's XI: Jakupovic; Elmohamady, Livermore, Davies, Robertson; Huddlestone, Clucas, Meyler, Snodgrass; Diomande, Hernandez
United's XI is unchanged from the last League game: De Gea; Valencia, Blind, Bailly, Shaw; Fellaini, Pogba; Mata, Rooney, Martial; Ibrahimovic
Last year, Anthony Martial was United's top scorer in all competitions with a mere 17 goals. That number is tiny compared to what other United top scorers have put up in the past. Goalscoring was a problem last year under van Gaal but that is unlikely to be the case this year as Ibrahimovic will be the main man. The Swede is ruthless and clinical in front of goal and also delivers a bit of magic with some of his goals. With four goals in all competitive matches so far with United in three games and five goals if you include his goal in a friendly, he will be the catalyst for this United attack.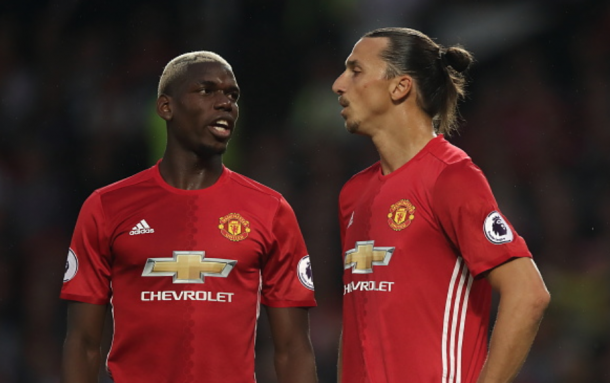 Both Pogba and Ibrahimovic will be carrying a lot of pressure on their shoulders. Pogba because he is the world's most expensive player and is a midfielder that left United under Sir Alex Ferguson. He also is the type of midfielder that United has been lacking for years, especially the end of the Ferguson era and will help bring a swagger back to United along with the Swede.
It was also two wins from two games for Mourinho's side. They kicked off their season with a 3-1 win at AFC Bournemouth where Juan Mata, Wayne Rooney, and Ibrahimovic all found the back of the net. Then Pogba made his debut in the first team this past game, the home opener vs Southampton, where the side won 2-0 thanks to an Ibrahimovic brace.
Under Mourinho, the club already has one title under their belt, winning the FA Community Shield over Leicester City. Goals by Jesse Lingard and Zlatan Ibrahimovic helped carry the side to a victory where the Portuguese manager dedicated it to former boss van Gaal for getting them into the competition by winning the FA Cup.
The final signing he made was the one that was rumored all summer and finally came to fruition a few weeks ago in Paul Pogba. The French midfielder became the most expensive player in the world, getting sold from Juventus for 89 million pounds.
His next two signings were to strengthen the attack by signing Zlatan Ibrahimovic on a free from PSG as well as Henrikh Mkhitaryan from Borussia Dortmund for just over 30 million pounds.
Jose Mourinho was named the new manager of United and quickly started making his moves in the transfer window early to ensure they adapted to his high-intensity system. His first signing was Villarreal's Eric Bailly. Bailly is a center back who is both quick and strong, something United needed as Daley Blind did not fit the bill.
Meanwhile in Manchester, the doom and gloom came at the end of last season with Louis van Gaal before his departure from the club. After a stunning 3-2 loss at West Ham United on the second to last league game of the season, it was all but guaranteed that United would not see UEFA Champions League football for the second time in three seasons, with the first coming when David Moyes was sacked before the end of his lone season with the club when they finished in seventh. The 1-1 draw with Swansea City was just enough for the blue side of Manchester, Manchester City, get the elusive fourth place spot for Champions League football despite United's win over AFC Bournemouth. A win in the FA Cup saw van Gaal get silverware but was not enough to save his job.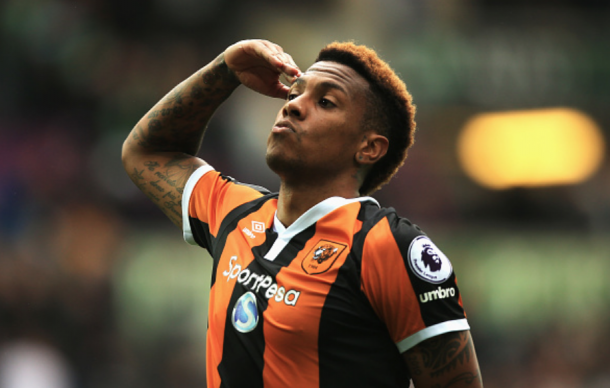 Abel Hernandez is the man who holds the key to Hull's season. After a disappointing first campaign in the Premier League which saw his side get relegated, he's already showing he has a lot more to offer in England's top-flight. He'll need to score plenty of goals if he wants his side to stay up.
More good news is continuing to come out from the KCOM as the takeover from a Chinese consortium is moving closer and closer since the club wanted to put it on hold until the end of the transfer window and players are slowly but surely getting healthier. With the takeover coming soon, it looks all but set the Phelan is going to take over the managerial role.
It was the bright, positive start to the season Hull had hoped for after the summer sun turned into clouds and storms of darkness. Things had gotten even better for them the following week, making it two for two in the win column with a 2-0 road over Swansea City. Goals by Hernandez and Shaun Maloney helped the club to a second straight win.
Despite all the doom and gloom that came along with the name Hull City, the team started out brightly with a 2-1 win over defending Premier League champions Leicester City. Adama Diomande scored the opener on a bicycle kick, with both him and fellow strike partner Abel Hernandez going up at the same time for it, but the goal was awarded to him after originally being credited to Hernandez. Despite a Mahrez penalty that leveled the score, Robert Snodgrass' hard work in the midfield helped the team set up for a game-winning goal scored by him.
Once Bruce left, rumors began circulating for Hull to find a new manager with a few weeks before they opened up the Premier League season. Names such as Bernd Schuster, Neil Warnock, and Gianfranco Zola came up to manage the team, but the club was left in the hands of caretaker Dave Phelan. Phelan was left with only 13 fully fit senior team players to start the season after the club had not signed anyone during the transfer window. Notable names such as first-choice keeper Allan McGregor, Alex Bruce, son of former manager Steve Bruce, and Michael Dawson
After the win though, then-manager Steve Bruce was unsure if he would be the manager at the time Hull kicked off their Premier League season against defending champions Leicester City. Bruce was unsure about his job safety due to potential new owners at the club who may have wanted him to be replaced. Not too long after interviewing for the England National Team job after the team's poor showing at Euro 2016, Bruce left the club. A breakdown in his relationship with vice chairman Ehab Allam was one of the reasons for his departure.
The summer began on a bright note for the Tigers after winning the Championship Playoff Final to get back into the Premier League, a 1-0 win over Sheffield Wednesday thanks to a brilliant strike from Mohamed Diame, who is now no longer with the club. They escaped their Playoff Semifinal tie with Derby County , winning 3-2 on aggregate as the Rams could not find a third away goal at Hull to level the proceedings.
To much of everyone's shock, Hull City find themselves joint top of the table with six points along with the big guns of the league such as United, Manchester City, and Chelsea. In every pundits' league standings, Hull City sat bottom of the table due to their poor summer.
Hello everyone, Noel Alberto here to give you live commentary and updates of an early unbeaten top of the table showdown between Hull City and Manchester United. The match is set to kickoff at 5:30 PM GMT at the KCOM Stadium in Hull, England. Follow along for team news and a preview to the match.