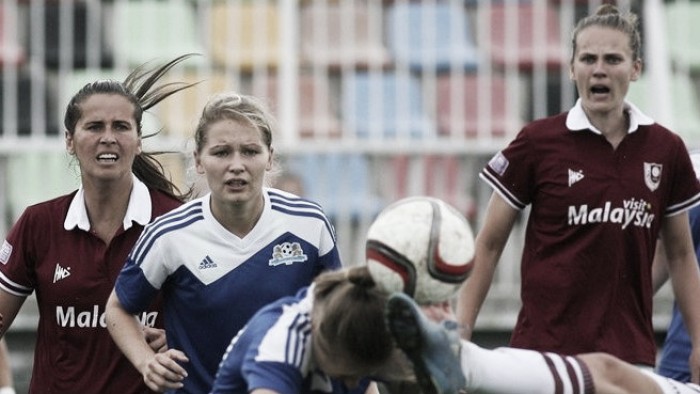 Group 1
Cypriot side Apollon Limassol reached the Round of 32 after beating Kosovan side Hajvalia 1-0. With the result in the group earlier in the day, they knew that they would qualify with a victory. However, it looked like they wouldn't get the required win. That was until the 89th minute when Rachel Cuschieri scored the winner that saw them reach the Round of 32 for the sixth time in the past seven seasons.
In the earlier tie, KÍ Klaksvík drew with the Greek side PAOK. The Faroe Islands side is the only team to participate in every single edition of the Champions League had lost their opening tie, whilst PAOK had drawn their first. It was PAOK who took the lead in the first half through Tatiana Georgiou, before KÍ equalised early in the second half through Rannvá Andreasen.
Group 2
Belgian side Standard Liège bounced back from their opening defeat with an emphatic win against Macedonian club ŽFK Dragon 2014. They took the lead in the fifth minute through Zoë Van Eynde and three minutes later, Dragon's keeper Olgica Arsova scored an own goal. A first half hat-trick from Sanne Schoenmakers saw Standard have a 5-0 lead at half-time. Two goals from Davinia Vanmechelen, two more from Schoenmakers and one goal each from Julie Biesmans and Sarah Wijnants saw them secure an 11-0 win.
Belarusian club FC Minsk reached the Round of 32 with 5-0 win over the Croatian club Osijek. Osijek had won their opening game 14-1, but they failed to win their second game and no longer are able to reach the next round. Two goals from Emueje Ogbiagbevha gave Minsk a 2-0 lead at half-time, whilst Ogbiagbevha completed her hat-trick in the second half. A brace from Yuliya Duben saw Minsk secure a 5-0 win.
Minsk secured their Round of 32 place due to their better head-to-head record against Osijek and Standard, two teams on three points.
Group 3
Icelandic club Breiðablik picked up a 5-0 win over NSA Sofia to eliminate the Bulgarian side. They took the lead in the 34th minute through Svava Gudmundsdóttir and they added two goals late on in the first half through Berglind Thorvaldsdóttir and Fanndís Fridriksdóttir.
In the second half, substitutes Esther Arnarsdóttir and Selma Sól Magnúsdóttir secured the 5-0 win to move up into first place.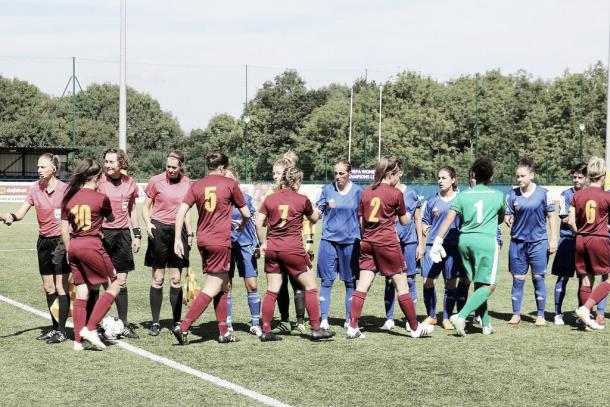 The Serbian club Spartak Subotica beat hosts Cardiff Met in an epic game. Cardiff took the lead in the 27th minute through Lily Agg before Spartak equalised in the 44th minute through Alex Quincey. However, Agg scored her second in first-half stoppage time to give them a half-time lead of 2-1.
Early in the second half, Spartak equalised once again through Tseng Shu-O before Tijana Filipovíc secured them a 3-2 win to see them move up into second.
Group 4
Romania's Olimpia Cluj picked up an impressive 10-0 win over Breznica, knocking out the Montenegrin club. Cluj produced a stunning first half performance to give them an 8-0 lead at half-time, with Loredana Popa scoring a hat-trick, Alexandra Lunca scoring four and Ştefania Vătafu scoring. They scored twice more in the second half with Vătafu scoring her second and Mara Bâtea getting their tenth goal. It was Popa's second hat-trick of the qualifying campaign.
Polish club Medyk Konin picked up a narrow win over Pärnu JK to knock out the Estonian club. The only goal of the game came in the 19th minute when Aleksandra Sikora scored.
The results see Cluj and Konin both on six points, setting up a final game clash to decide qualification. Due to an inferior goal difference, Konin has to win.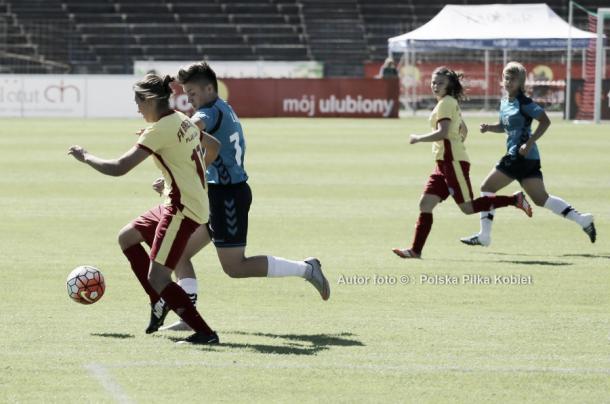 Group 5
The Swiss club Zürich beat Vllanzia to eliminate the Albanian club. They took the lead in the sixth minute through Patricia Willi's penalty, but they had to wait until late on in the second half for them to secure the win. Seraina Piubel and Willi scored to give them a 3-0 win.
Slovakia and Slovenia met in an epic game that saw Slovan Bratislava knocked out who ended the game with nine players. The Slovak club Bratislava took the lead in the ninth minute through Martina Šurnovská, but two minutes later Evelina Kos equalised. Ompurje took the lead in the 17th minute through Monika Conjar to give them a half-time lead.
Bratislava was reduced to 10 players in the 63rd minute when their captain Alexadra Hollá was shown her second yellow card. Pomurje scored twice in the final ten minutes through Tjaša Tibaut and Špela Kolbl – whilst Alexandra Tóthová received a second yellow card.
The results see Pomurje and Zürich level on points and facing a final day showdown to decide a qualification. Zürich needs to win to finish first.
Group 6
Ramat Hasharon kept their chances of qualification alive by beating Zhytlobud Kharkiv 1-0. The only goal of the game came in the 72nd minute when Denali Murnan scored.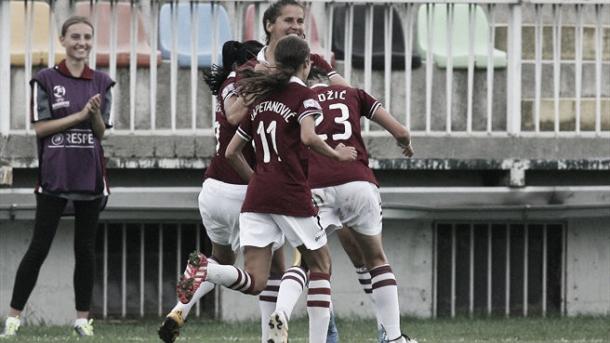 SFK Sarajevo 2000 remain top of the group after beating Rīgas Futbol skola, a result that saw the Latvian side eliminated. Two goals from Armisa Kuć gave Sarajevo a 2-0 half-time lead, and Melisa Hasanbegović scored in second-half stoppage time.
Sarajevo will qualify if they fail to lose, but if Sarajevo loses Kharkiv will qualify if they win – unless Ramat wins.
Group 7
Kazhak club BIIK-Kazygurt beat ARF Criuleni to keep their qualification hopes alive and knocking out the Moldovan club. Gulnara Gabelia and Svetlana Bortnikova scored to give BIIK a 2-0 lead at half-time. Midway through the second half Gabelia scored her second to secure a 3-0 win.
The Group 7 hosts' Wexford Youths lost to Lithuanian club Gintra Universitetas. Dovilė Gailevičiūtė gave Gintra an early lead before Lauren Dwyer equalised in the 62nd minute. But four minutes later, Dwyer conceded a penalty and was shown a red card – but Ana Alekperova missed the spot kick. Wexford had to win to have a chance of qualifying, but it was Gintra who scored the winner in second-half stoppage time through Tetyana Kozyrenko.
BIIK and Gintra meet on the final day to decide who wins the group.
Group 8
Norwegian club Avaldsnes beat Futebol Benfica 6-1 to remain top of the group. Avaldsnes raced to an early 3-0 lead when Hólmfrídur Magnúsdóttir scored twice and Hege Hansen got their third. Benfica pulled a goal back through Mafalda, but goals from Hansen, Elise Thorsnes and Bruna Benites completed the 6-1 win.
Finnish side PK-35 Vantaa picked up the crucial win against Northern Irish club Newry City to keep their qualification hopes alive. PK-35 took the lead in the tenth minute through Ronja Ikonen before second-half substitute Eveliina Parikka.
With Avaldsnes and PK-35 playing each other on the final day, whoever wins that will reach the Round of 32.
Group 9
A stunning second-half performance saw Twente thrash Maltese club Hibernians 9-0. They had led 3-0 at half-time through goals from Ellen Jansen, Kristina Erman and an own goal from Hibernians' captain Dionne Tonna. A hat-trick from Lineth Beerensteyn, another from Jansen and goals from Maruschka Waldus and Sabrine Ellouzi secured an emphatic win.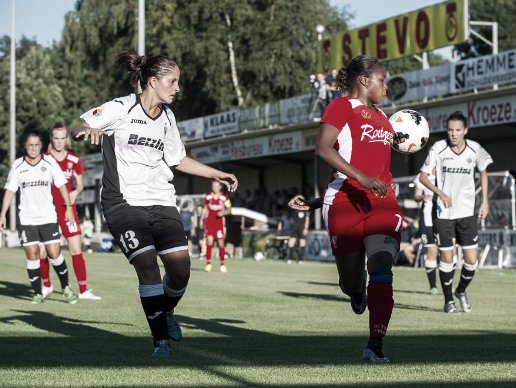 Hungarian club Ferencváros kept their qualification hopes alive by beating the Turkish club Konak Belediyespor. After a goalless first half, goals from Agnes Nagy and Evelin Fenyvesi saw the Hungarian club a 2-0 win.
If Twente fails to lose their final game against Belediyespor, they will qualify. However, if Twente loses, Belediyespor will qualify unless Ferencváros beat Hibernians.