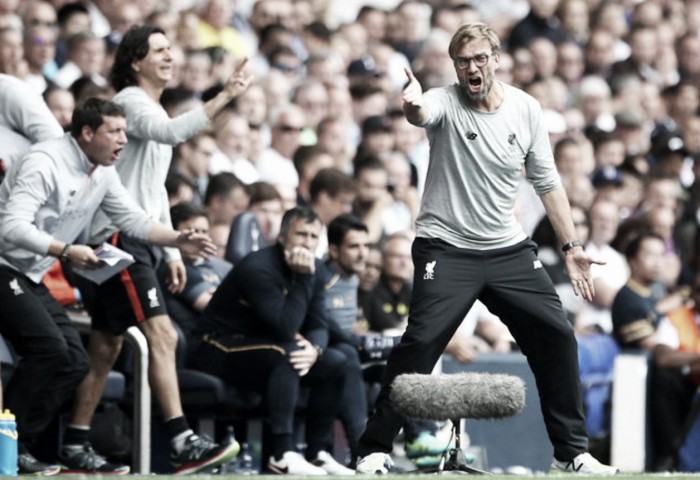 Jürgen Klopp revealed his disappointment at Liverpool's 1-1 Premier League draw with Tottenham Hotspur on Saturday as he bemoaned the wastefulness of his side.
James Milner's well-taken penalty gave the visitors a deserved lead at half-time, with Philippe Coutinho having earlier spurned a couple of decent opportunities to put Liverpool ahead.
Though they had opportunities to extend their advantage after the break, Sadio Mane having a goal contentiously ruled out and Joel Matip hitting the crossbar with a header, the visitors could not hold out for the win.
Danny Rose's late strike, squeezed between Simon Mignolet and the goalkeeper's near post, drew Spurs level as both sides were forced to settle for a point going into the international break.
We showed well we can play says Klopp
The German told reporters afterwards that he felt "a little bit disappointed" despite taking a point away from Spurs, explaining: "When we played like this then I think we could have won the game, but it is like it is."
Klopp admitted that his side must "accept" what happened and that they "made one mistake in and around their goal" while Mignolet also made "a wonderful save" to deny Toby Alderweireld's header at a corner.
But he felt that there were "not plenty more chances" for "a football-playing team" and "a good side like Tottenham" at home, which Klopp believes says "a lot" about their defending.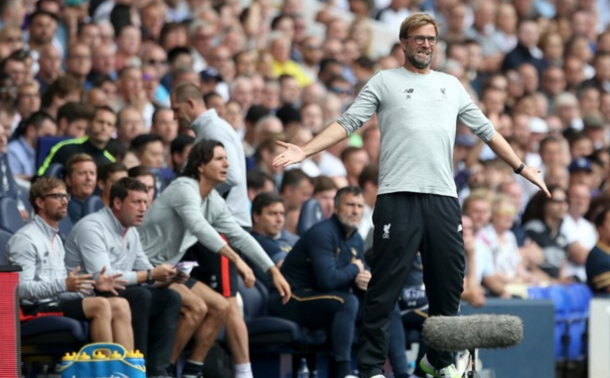 Despite being pleased with how his side limited Spurs to few opportunities, he rued the fact his side "had chances" and "even had one in the 92nd minute" which "in the end, unfortunately, was not a chance."
"This game showed again what we can do, how we can play," Klopp continued, insisting it was not "only about pressing and things like this" although he praised his side for pressing and executing their game plan "really well."
He lauded his team for being "really flexible in offensive defending" and for the way in which they "played football" and had "wonderful moments with passing" and "the direction" in their game.
Klopp continued: "Yes I wish we would have won it, but now we have to accept the point and that's no problem because it's Tottenham. They scored a goal and they could have won the game too."
He admitted that they "have to accept it" because equally Alderweireld's header going in would have made it "the same game but with two goals for Tottenham" and instead chose to focus on the positives.
He said that Liverpool's performance "showed again" that they can "be really good" which he called upon they to "show in each game", saying if they do then "everything will be good."
Amount of chances we created is "a good sign"
Many focused on the improvements Liverpool have made since their last trip to White Hart Lane, which marked Klopp's first game in charge of the club back in October.
But he acknowledged that, despite an improved display, the feeling they come away with is actually worse because they should have claimed the full three points.
"In the end, today feels worse than last time I was here," he said, pinpointing Mignolet's "really good game" on their last visit and joking that he "saved our lives" to preserve a point.
By comparison, Klopp felt like his 'keeper only had to make "one good save" on this occasion - although he called it "a brilliant save" to deny Alderweireld - and said Liverpool were "more in the game" overall.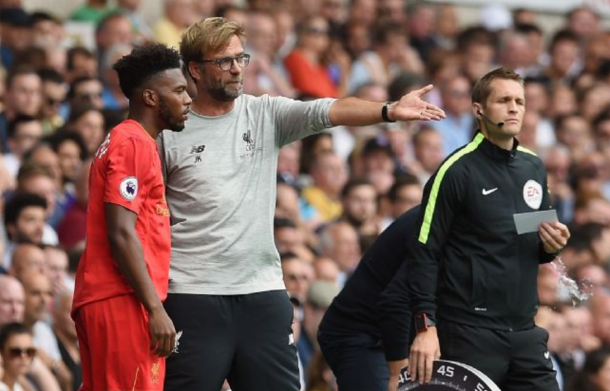 The manager then reiterated that in the "moments and situations" which they created chances, the players "know they should score" as he criticised their failure to be clinical.
He admitted that they would not have won "four or five [nil]" because Spurs are "a really good defending team" who have "played together [a long time]" and so have the understanding and organisation which makes it "difficult to create one chance" against them.
He therefore described it as "a good sign" that they "had a few" against Mauricio Pochettino's side away from home, but said: "At the end, that's all that we take for our future to analyse when we [the players and management team] meet again in 10 days. In the end we have to accept [it]. Whatever I could say now would not change the result."
"We will build on this base"
Although Klopp admitted he hoped to have more than four points out of Liverpool's first three fixtures, he believes they have plenty to work with going forward.
He looked back to the defeat at Burnley a week ago, calling it "the wrong sign in the wrong moment" after they were "on a good way" following a thrilling win at Arsenal on the opening-weekend.
But the Reds boss suggested they "played real football" at Burnley, only missing "the last pass" which meant that they "didn't create the number of clear chances" that they did against Tottenham, citing it as their "mistake."
He said that their post-match analysis revealed that they "could not believe big the opportunities [to score] would have been with one more pass" at Burnley and said it was "hard to take" as a result.
Klopp says that because it is "an early moment in the season" and they have "not had the easiest start" which means they don't need to panic, adding: "Sitting here with four points after three games is not what I wanted, but this is our base and we will build on this base."