Manchester United left-back Luke Shaw says that celebrating Marcus Rashford's last minute winner against Hull City at the KCOM Stadium was the best feeling he has ever had on a football pitch.
It was an unreal feeling to celebrate Rashford's winner, says Shaw
It was turning out to be a frustrating day for the Red Devils as they missed a multitude of chances, coupled with great defending from the hosts but Rashford was on hand to put the ball in the net after a Wayne Rooney cross in injury time.
The celebrations that ensued afterwards was unforgettable and Shaw shared his excitement and emotions afterwards, declaring that he had never experienced a moment like it during a match.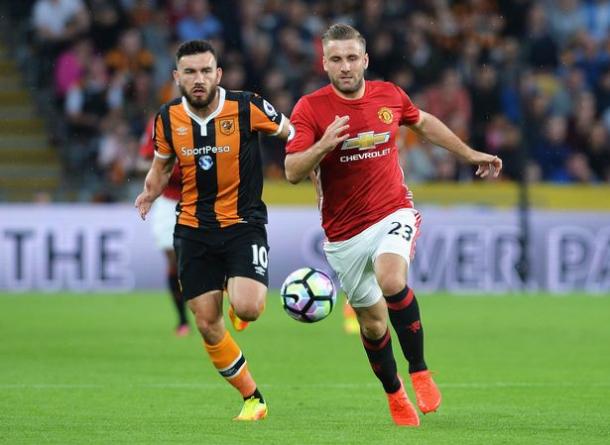 Speaking to MUTV after the game, Shaw said "I loved it" when Rashford scored the winner and thought "emotion-wise, that was the best I've ever felt on a pitch" as the winner meant so much to the players after having to work so hard to get it. The left-back continued on to congratulate the United fans who were so happy with the win saying "they were unbelievable today."
Shaw went on to say that "it was an unreal feeling" as it was like the old days with the defender saying he was talking to some of the players in the dressing room and they said "it was like taking them back to the old days" when United used to score many late goals. The defender says that he "loved it and hopefully there's more to come" as there is no feeling like a late winner.
Shaw admits he didn't think the team was going to score a winner
United knew that coming into the game that it was a must-win game for them in order to keep pace with the other frontrunners at the top of the Premier League table. It didn't look good with the amount of chances that the team was missing and Shaw admits he wasn't always confident that they would win the game.
Shaw said that "maybe we're not going to manage to break them down" which would have been a have been a huge shame given how dominant the team was for the whole game. The defender went on to say that "luckily Marcus ended up in the right place at the right time" to get such a crucial winner that sends the players into the International break in good spirits.