 Sunderland AFC manager David Moyes, believes that fatigue is what cost his side, as they drew 1-1 with Southampton.
Lacking that fitness
It hasn't been the start to his Stadium of Light tenure that Moyes would have hoped for, but with the 1-0 win over Shrewsbury Town under their belts, there was new found confidence going to the St Mary's Stadium.
It looked to be heading towards their first league win of the season after Jermain Defoe's strike in the 80th minute, however a late equaliser from Jay Rodriguez denied three points, and Moyes blamed their tiredness for not been able to see out the contest.
"It was really tough in the opening period, we never really got to grips with Southampton," Moyes told Sky Sports and believes that "They started well, maybe [because] we've nearly ended up playing all our players in the midweek game and they didn't have a game. That showed in the early part in the game and in the end part."
Moyes adamant in his post-match press conference "We're having difficult days and difficult weeks getting players on the pitch," but still believes that "Considering we've played near enough the same players as on Sunday and midweek we've done remarkable to play the three games and get a point."
The Scotsman concluded his point, saying: "We're just finding it tough last ten minutes of the games to get players in the conditioning and maybe haven't quite got enough to make the difference off the bench."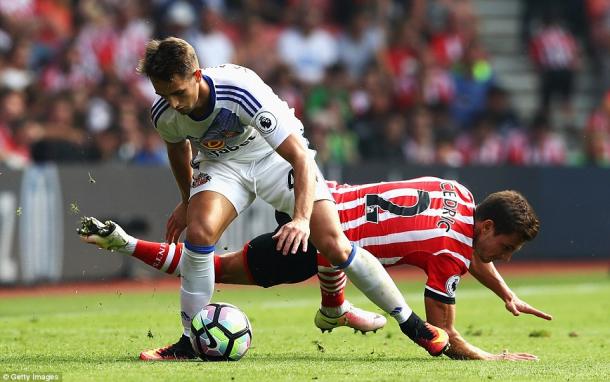 Not feeling confident
Yesterday's contest saw the debut of full-back Javier Manquillo, who became Moyes' fifth signing of the summer, but with deadline day around the corner, Moyes admitted that he is not confident of any new faces arriving on Wearside in the coming days.
Moyes admitted: "I felt confident yesterday, I don't feel quite so confident today," but was firm in the belief "We will try to make some additions because we definitely need it."
Sunderland AFC will take on Everton at the Stadium of Light on Monday, September 12 with kick-off at 8pm BST.