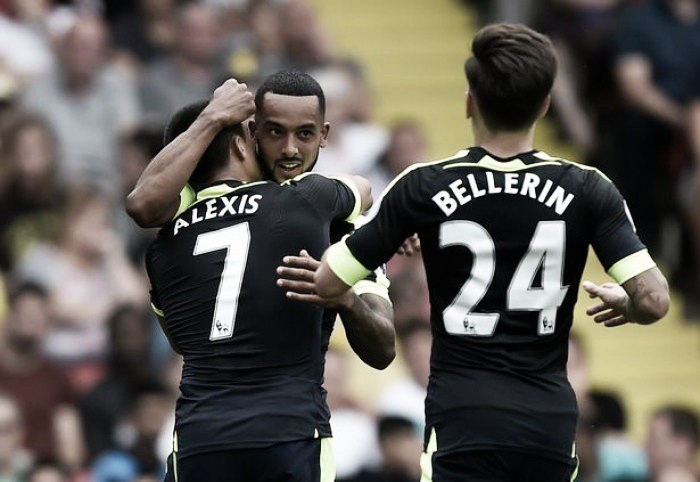 When you consider "how to play the Arsenal way" you often think of short, fluid passing movements through the centre of the pitch in an attempt to break down the opposing defence.
Watford defenders left lost and bemused
Very rarely do you see the modern Arsenal side look to exploit the flanks in their quest for goals, yet this was their area of choice against a lost Watford team. With Walter Mazzarri's starting eleven beginning with a typically Italian style of three central defenders, the likes of Younes Kaboul, Christian Kabasele and Sebastian Prodl were given an early question as it became clear that Arsenal were not going to play with a specific centre forward.
This posed the problem of whether the defenders come out of their natural positions to play tight on the shoulders of the attacking midfielders, or hold their line and allow Arsenal's creative talents room to express themselves.
Whatever the defensive trio attempted, it was one of those days where Arsenal were able to exploit every decision. When one defender came out of position and played tight on the Arsenal player with the ball, it created room for runners to move into space and put the rest of the Hornets defence under pressure. When the trio held their line, they appeared uncertain of what players to pick up, allowing the visitors far too much time and space.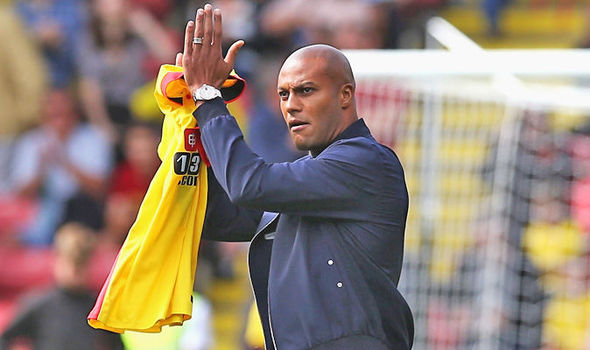 From narrow to wide
Alexis Sanchez and Theo Walcott found great success on the flanks for the Gunners. Sanchez won an early penalty following a Walcott cross, before the pair linked again as the Englishman found the Chilean star at the back post who bundled in after seemingly getting his feet in the wrong position. Walcott himself also had a handful of opportunities tucking into the right channel, a similar area to where Sanchez found Mesut Ozil to head home the Arsenal third.
With the game almost dead and buried at half-time, Arsenal took their foot off the gas. Watford had no choice but to attack and their renewed confidence put a shaky Arsenal defence under pressure. If it were not for Petr Cech's heroics the hosts would have been right back in the game. Questions may be asked of Arsene Wenger's second half approach. Eventually he was proved right to shut up shop and defend, though the change of tactic could have resulted in disastrous consequences had Watford taking the chances that came their way.