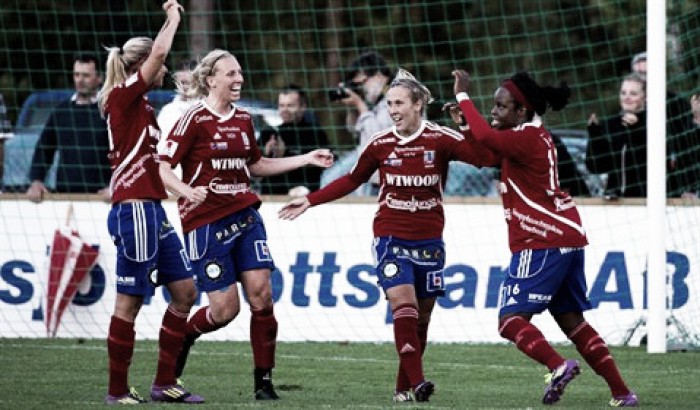 The Damallsvenskan continues on in Week 14 and the table has some finely poised battles awaiting the teams in this round. After featuring in the Svenska Cupen final, which FC Rosengård was victorious in, both they and Linköpings FC will be back in action in the league as they both vie to finish as the champions of Sweden at the end of the season.
On the other sid eof the equation, four teams are locked in scramble to avoid relegation. Vittsjö GIK and Kristianstads DFF are three points and two points away from the relegation zone, respectively, while Mallbackens IF and Umeå IK are currently the two bottom teams in the league and could be potentially relegated if they do not find a way to pick up points consistently from here on out.
Vittsjö and Umeå face off in a potential six-pointer
As previously mentioned, Vittsjö currently sits three points away from the relegation zone and they will do their chances of avoiding relegation a world of good if they manage to beat Umeå at home in the last match of Week 14 on Sunday. Vittsjö are currently on a truly awful run of form, having not won a game since winning the reverse fixture against Umeå back in May.
This run of form since then has seen them pick up three draws and three loses, leaving them not entirely comfortable and knowing that any more slip ups will see them slide into the bottom two spots in the Damallsvenskan. Vittsjö will look to Sandra Adolffson to add to her three goals this season and hope that their defense will stop conceding so many goals especially this weekend when they need all three points.
Umeå have not fared any better than their upcoming opponents although they did manage to produce two wins in their last four games. Unfortunately for them, those wins came in the midst of eight losses out of the ten previous matches which is why they find themselves right at the foot of the table.
Umeå have it in them to score goals, but like their competition this weekend, it's preventing goal that has been a serious issue for them and why they have continued to lose games. If Nigerian Rita Chikwelu and Sweden's Hanna Sandstrom can continue on finding goals, Umeå may have a chance this weekend. Ultimately, between these two teams, it will come down to who will concede the least amount of goals to determine the winner.
Linköpings have a straight forward home match
The top two teams return to league action this week after their cup efforts and they face two particularly tricky opponents. Linköpings start off first, half an hour before league leaders Rosengård, against Kvarnsvedens IK and most think that Linköpings should win this match at home against their visitors. Linköpings are on a run of five wins in five in the league and they will expect to continue that run as they chase down the current frontrunners.
The dynamic duo at the front, Swedish international Stina Blackstenius and Denmark's Pernille Harder, are at the forefront of all Linköpings has done so far this season with eleven and thirteen goals respectively. Magdalena Ericsson has also been in good form at the back for Linköpings and has also pitched in with two goals so far this season.
Kvarnsvedens do not inspire much confidence heading into this match. Their last two wins, in Week 13, came against relegation candidates Umeå but apart from that, Kvarnsvedens have lost six times and drawn twice as the season has progressed. Kvarnsvedens' leaky defense will see them severely tested by Linköpings front line and as they have not managed to shut up shop well so far this season.
Many observers feel that they will not be able to overcome Linköpings' attacking threat and thus, see them try to not be drawn into a relegation scrap since they are only three points away from the relegation zone. Malawan Tabita Chawinga has been a revelation for Kvarnsvedens, scoring seven goals in 13 appearances, and they will need Chawinga to try and find a way past the likes of Ericsson and Samuelsson if Kvarnsvedens hope to get anything out of this match.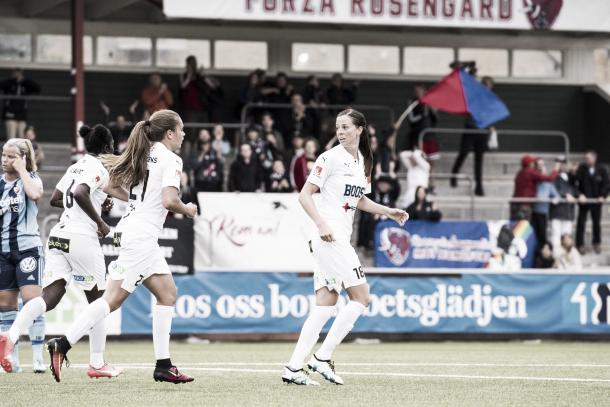 Rosengård face a potential banana skin in Örebro
Rosengård are coming off fresh from winning the Svenska Cupen against league rivals Linköpings and will want to take the good play they displayed in the final to the league this Friday when tye travel to face KIFF Örebro DFF in Örebro. With the likes of Lotta Schelin joining an already start-studded line up at Rosengård, alongside Marta, Ella Masar and Lieke Martens, many feel that Rosengård can not only make a push for the title but maintain their lead at the top of the table right until the very end.
At the back, Emma Berglund has been imperious and marshalled her fellow defenders well while Anita Asante has justified the calls for her to be reintroduced to the England fold, particularly after the performance she gave in defensive midfield against Linköpings this past weekend. However, Rosengård have managed to drop points to mid table teams especially when they face those teams away from home and this is why Örebro could end up springing an upset on Friday.
Örebro themselves come into this match up with mixed results over the last five games which have seen them pick up eight points out of a possible fifteen. Anna Björk Kristjánsdóttir has been in stellar form and will need to be again at the back for Örebro when they face the likes of Marta and company.
The midfield of Verónica Pérez and Elin Johansson have also provided a much needed spark to the team while the returning Lisa Dahlkvist will also add to that midfield. Up front, Canadian international, Melissa Tancredi, could prove to be a potential thorn in Rosengård's side. The target forward has netted three times in nine appearances for the home side and will look to add to her goal tally against the much-vaunted league leaders.
Djurgårdens vs Piteå has plenty of intrigue
Djurgårdens IF welcome Piteå IF in Week 14 as the home side try and catch up to the team currently in fourth. Djurgårdens lost the reverse fixture and have only managed one win their last five matches. They can however, take heart in the fact that they managed a very solid two-all draw away to Rosengård in their last outing and will want to use that performance as a platform to shoot up the Damallsvenskan.
Forward Mia Jalkerud has been leading the way for Djurgårdens, notching seven goals in her thirteen appearances so far this season and she will want to continue finding the back of the net against the visitors this weekend. Djurgårdens have also tried to stay miserly in defense and led by Dutch defender Michaela van der Bulk, have damaged to do so for the most part.
Piteå are no strangers to finding a win in tough circumstances which is why they currently sit fourth in the table and one point away from third. They are currently on a run of three wins in five matches, with their two losses coming against close defeats against the two runaway leaders of the pack.
Piteå do not score many goals but they do have a solid back line that is led by Norwegian defender June Pedersen, who has also managed to score two goals this season. At the front, Piteå will need Klara Grahn and Elin Bragnum to find some form in front of goal and produce more than the three goals a piece that they have managed.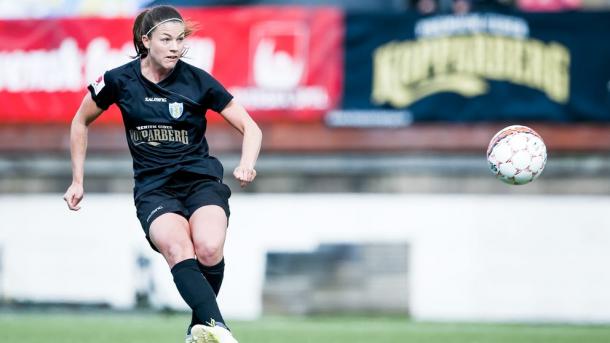 Göteborg should win against Mallbackens
IFK Göteborg welcome Mallbackens IF in what should be a straight forward win for the home side against second-from bottom Mallbackens. Göteborg are currently trying to seprate themselves from the middle of the pack and currently lie in fifth with a game in hand on fourth placed Piteå. A win this week will push them closer to the teams above them in the standings and position themselves well to leap into third if other results fall in their favour.
The home side have only managed one win in five and have some disappointing results in that series especially the back-to-back draws against Vittsjö. Göteborg will be pleased with the form of Pauline Hammarlund who has six goals in twelve for the season and will be hoping that the striker continues to find the back of the net.
Mallbackens are in all sorts of trouble and find themselves two points away from safety after thirteen matches. With only two wins since May, albeit two very good wins, sees them in the relegation zone and fighting for survival.
Scottish forward Zoe Ness seems to be the only threat Mallbackens have in front of goal and they continually concede them at the other end which makes their task all the more difficult. Away to Göteborg will not make their fight for survival any easier and many expect them to falter against the former giants of the Swedish game.
Kristianstads face tough test against Eskilstuna
Kristianstads DFF are the home team this week as they face off against Eskilstuna United FF. Kristianstads have managed three wins in their last five matches and are hoping to find another three points now to give themselves some breathing room away from the relegation zone.
Danish midfielder Johanna Rasmussen has been the pick of the bunch for Kristianstads with four goals in thirteen appearances and the midfielder will need all of her skill to get past her opponents this week. Given the right time and space, Rasmussen can punish any team and she will be hoping to do that to Eskilstuna.
Eskilstuna, currently in third, will know that a win against Kristianstads will put them within nine points of second albeit having played a game more. After a startling three losses in a row, Esklistuna have picked themselves up again and used their matches against two of the weaker sides in the division in Vittsjö and Umeå to bounce back again.
At the heart of everything good that Eskilstuna has achieved this season has been Mimmi Larsson's performances. The Swedish striker has seven goals so far this season and will look to add to that against a fragile Kristianstads back line.