Arsenal have completed the £17.1m signing of Lucas Pérez from Deportivo La Coruña.
The 27-year-old Spaniard scored 17 league goals in 37 games last season and joins on a long-term deal.
Gunners move for well-travelled forward
Following a summer of discontent in North London, The Gunners have finally made an addition to their attacking line.
The Spanish forward made his senior bow in club football with Atlético Madrid C between 2007 and 2009. That following summer he made the switch to Rayo Vallecano B, going on the turn out for the newly-promoted La Liga side.
Registered primarily with Rayo 'B' however, Pérez made the move to Ukraine and Karpaty Lviv, notching 14 times in two seasons. The forward endured a tough six-month loan spell with Ukrainian giants Dynamo Kyiv before a further two year stint with PAOK of Greece.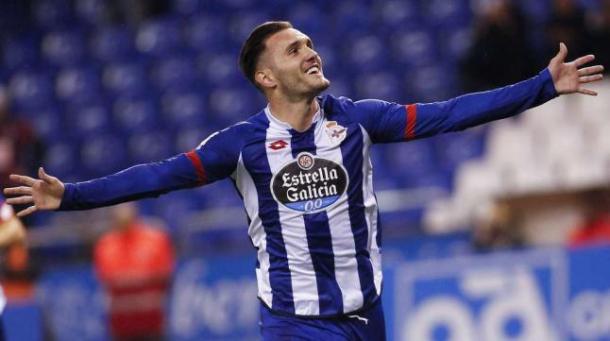 Pérez is currently uncapped by his country but during last season's prolific spell, he equalled Brazilian forward Bebeto's club record of scoring seven goals in successive games for Depor. He also adds to Arsenal's significant Spanish-speaking contingent at the club.
The forward was reported to have been turned down by Gunners' boss Arsene Wenger earlier in the summer to focus on other targets, but following Everton's interest in the player, Arsenal have returned to complete a deal for the man that has been compared to Jamie Vardy.
Perez has 'a good eye for goal'
Speaking of his delight of signing Pérez, Wenger stated, "He's not only a goalscorer, he's a guy who combines well with partners, who can give a good final ball an makes good runs."
The Arsenal boss continued, "He's got a good eye for goal and had an outstanding season last year."
Pérez will begin training with the squad on Tuesday and could make his debut versus Southampton a week on Saturday.