France manager Didier Deschamps has urged Anthony Martial to be more consistent and show his quality on a more regular basis ahead of Les Bleus' international matches against Italy and Belarus.
Martial has looked off the pace at the start of the season
Martial has started the season very slowly for Manchester United. Despite getting two assists in three games in the Premier League he has, at times, looked short of confidence which is a huge shame given how well he performed last season for the Red Devils.
The striker has now got a chance to get his confidence back on international duty with France. and Deschamps has called on him to show what he is made of over a long period of time.
Deschamps said "Anthony started the season very early" and also has played in a system that is "slightly different to ours" so this can be confusing for the striker as he gets used playing both well. The French boss though also feels that Martial "needs to be more consistent, despite his qualities" as he can unplayable one game and then not do much the next game.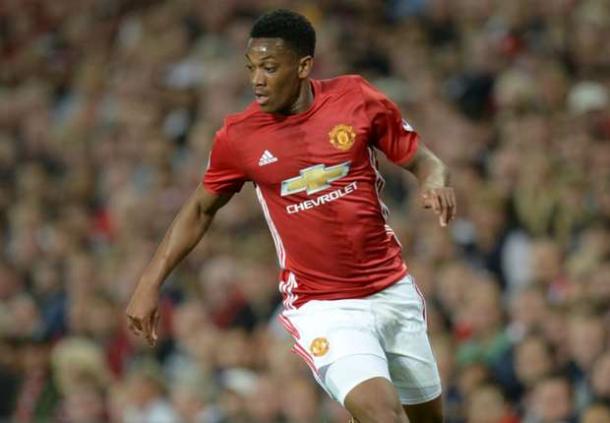 Deschamps wants Martial to show what he is made of more often
Deschamps continued on to explain that Martial "can make a difference in a game because he's fast and powerful" which a lot of defenders don't like to face every game but he admits "he has to maintain a certain level" just not for one performance but for "some weeks, some months" then he will be seen as one of the best players in the world.
At the European championships in the summer, Martial did not play much and Deschamps believes the reason for this was that he was "a little unfit" because he had played "the most last season" than all of the other players in the squad. The manager says that he told Martial this "so he is aware" but for him to improve he "must push himself a little harder sometimes."
The danger that Martial faces at United is that Jose Mourinho has so many players in the squad that are fighting for places in the starting eleven and if he doesn't improve his performances he could be dropped. The hope though is that he will gain confidence during the break and come back and hit the ground running at a crucial stage of the season for the club.