After profiling the title and relegation races in WSL 1 it's only right to examine the four teams eyeing promotion from WSL 2.
Huish Park, home of WSL 1 football?
After an almost slow start to the season Yeovil got over their opening night defeat to derby rivals, Bristol. Four matches in 13 days in April saw the Lady Glovers take ten points from a potential twelve to glide up the WSL 2 table before lapping the two teams ahead of them to reach the summit. The Somerset side have been unmoved since match week five and have gone about their business in a commanding fashion, winning games and happy to be shot at.
Having finished the 2015 season fourth behind Reading, Doncaster and Everton, Yeovil were keen to put right the mistakes they'd made in a year when the Royals and Belles had run riot.
When in form Yeovil can cause any team in the league a headache but have consistently had problems with settling into matches, starting slow and not really finding their feet until the second-half has seen them drop valuable points this season. One of the strongest teams in the league, unlike other promotion hopefuls, Jamie Sherwood can boast a full and experienced squad, the Lady Glovers needing not to bring in loanees.
Sherwood has continued to strengthen throughout the season, bringing in more strength in depth across the pitch. Even without enigmatic winger Sarah Wiltshire, Yeovil shouldn't be left struggling in front of goal, with Ann-Marie Heatherson, Helen Bleazard, Atlanta Primus and Lucy Quinn all well capable of converting their chances.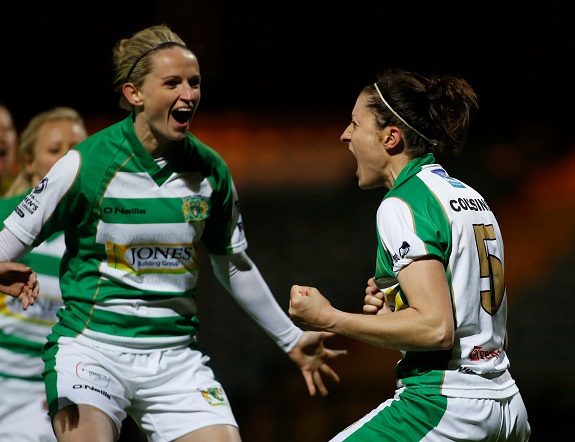 A draw against tricky Sheffield this weekend has reduced their lead at the top of the pile and the chasing pack will be licking their lips at the chance of leap-frogging the Glovers. A potentially decisive home tie against Everton in sat between a London Bees double-header before Yeovil finish their season at home to Sheffield. With the WSL newcomers penchant for slipping up the top teams, Yeovil will want promotion secured before they face stubborn Sheffield.
Vixens looking to boomerang
Bristol City were most people's favourite for promotion following their relegation, the west country club having had progressively worse and worse seasons in WSL 1 as they saw their best players depart for greener pastures. Following a dismal and depressing 2015 Bristol came crashing into WSL 2 with thud, a far cry from the team that romped to the UWCL quarter finals at the end of 2014.
With a predominately young team, the Vixens have struggled with injuries to key and experienced players throughout the year. A bigger problem lies in the fact that most of their goals have come from Chelsea loanees, Millie Farrow, Rosella Ayane and Jodie Brett three of their top four goalscorers – whilst their attack is bolstered this year, they'll be short-handed should they return to WSL 1. There are plenty of goals to be had in the Bristol team but players have been in and out of the squad, halted by injuries, unable to contribute from the treatment table.
Willie Kirk knows how to get the best out of his squad and although not the oldest, the players come together well as a unit and play beyond their years, propelling their team forward. Not always the best on the road, the Stoke Gifford has become somewhat of a fortress for Bristol, only having lost one game at home all year.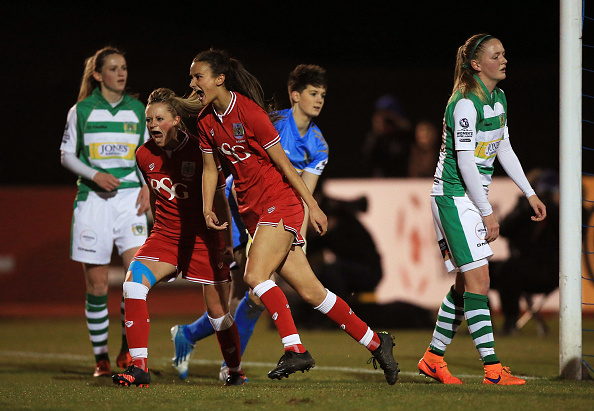 Another team that shot to the top at the start of the year, Bristol have been a constant fixture in the top four, a well-conditioned and tactically astute side anything other than promotion will seem like a failure for the Vixens.
Their run-in starts with their last two home games first to Watford then a Durham team who'll be looking to cause an upset. A month later Bristol will be back in action against an Everton side that will be gunning for promotion but Bristol will travel to Widnes looking to settle the score after their narrow defeat to the Blue Girls last weekend. The Vixens will wrap up their season away to Oxford and will be willing to leave it all on the pitch if it means a quick return to the top flight.
Toffees left with a sticky run-in
The third team looking to go head-to-head with the best in the country next season is Everton, the Blue Girls failing to bounce back into WSL 1 after their 2014 relegation. Third place finishers in 2015, 14 points behind both Reading and Doncaster, the Toffees paid the price of seven draws last term.
Firmly in the top three all year, Everton were a good shout for promotion until they began to stumble after the mid-season break, back-to-back losses against lowly Watford and Sheffield left the Blue Girls rocking. Having lost ground on the top two, Everton jump-started their promotion push with a reminder of just what they're capable of with a commanding 3-0 win over Yeovil but then a narrow win over Oxford was followed by draws against Sheffield and Durham.
Back on track with their recent win over Bristol, Everton have closed the gap on the top two, two points behind second-place Bristol but with a game in hand, the Toffees will push the Vixens all the way to the finish line.
Much like Bristol, Everton have a noticeably young squad, however most have been capped for their respective countries and their quality shows through. Composed and slick when on top, Everton can be a handful for any team but when under the cosh the players begin panic and lose their heads. A calm and experienced head or two would make a tangible difference in a squad that is technically proficient.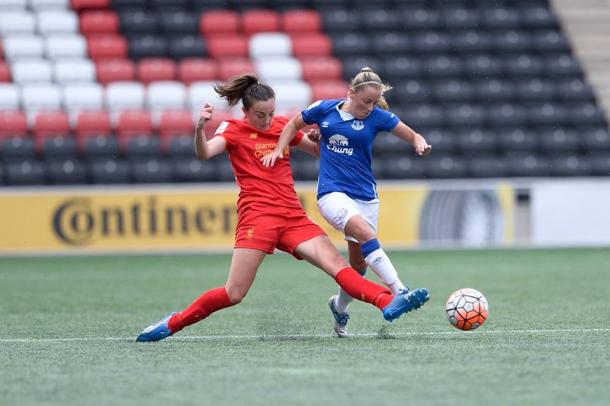 During the summer widow Andy Spence was quick to bring in more firepower, Chloe Kelly and Rosella Ayane, boosting the attack, the backline still scant. Ayane and Kelly have already been stealing headlines with their goals but much like Bristol, Everton will be left short without them next season.
With a game in hand over the top two, Everton's run-in isn't for the fainthearted, travelling to Oxford's Northcourt home before away trips to Yeovil and Durham before welcoming Bristol to the Select Security. The Toffees end their season away to the London Bees, but may have already missed out on a chance to return to the top-flight if they slip up against any of the other three vying for promotion.
Durham looking to cause an… wait, Durham?!
The last of the four teams to have not been out of the top four this season is Northern most outfit, Durham. One of the surprise packages of the year, founded just three years ago the Wildcats have been going from strength to strength, season after season, adding and strengthening. Steady improvement coupled with a healthy social media campaign has seen the babes of WSL draw strong numbers to cheer on an increasingly impressive side.
Currently fourth with the same number of wins as Everton, the fifth highest scoring side in WSL 2 with the joint second meanest defence, Durham are not a side to be taken lightly. With a good mix of youth, experience and old fashioned Northern grit, the Wildcats play good football with the confidence of an established team.
The only team in the top four not to have dropped points to Sheffield (despite a cup loss in Dronfield), most of Durham's dropped points have come at the hands of the teams above them – a loss to Aston Villa and a draw against London Bees the only exceptions. Comfortable both home and away, Durham's biggest problem is not being alert enough to danger from the opposition and getting out-played when left surprised. Able to dig in and fight until the end, Durham's chances of finishing in the top two aren't the best but they're by no means out of the race and whilst they might not be a team to go up they could yet affect who does.
Like Everton, with one game over the top two and just one point adrift of the Blue Girls (and three behind Bristol) Durham's run-in is polarised at both ends of the table. Away and home ties against Millwall sandwich a trip to Bristol, a home clash against Everton and a trip to Berkhamsted. A win over Bristol or Everton would see them upset the odds but the Wildcats aren't in WSL just to make up the numbers and will be quietly looking at the top two spots.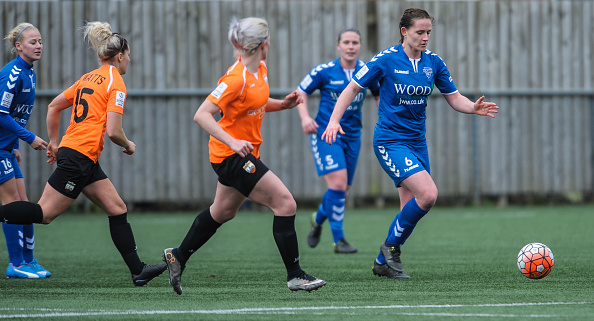 So who's going up?
Going on a limb… Sheffield. Okay, maybe not. Although now in touching distance from the chasing pack, Yeovil seem like the real deal, still with ample room for error it's hard to imagine them not going up. However, if it comes down to a last-day race to the finish line, they should be left shocked by Sheffield.
In all likelihood Durham will end up taking vital points off of either Bristol or Everton but given their goal-difference and just how much the Vixens and Blue Girls want it, it's hard to see the Wildcats rubbing shoulders with WSL 1 teams in 2017.
Between Bristol and Everton it becomes a flip of a coin, both have shown their strengths and weaknesses, strong attacks, mean defences, young composed players with a keen understanding of the game. One team will return to the top tier whilst the other is left to lick their wounds and ready themselves for trying again next Winter. On paper, the only difference in the fractionally easier nature of Bristol's run-in.
An added bonus
Whichever two do emerge victorious and ascend to WSL 1 they will be given an added bonus in the shape of the Spring Series, both sides will get to test their mettle against every WSL 1 team. As Doncaster have proved, there's a world of difference between the two tiers and it can be jarring to play the best in the country. The two promoted teams will have a chance of going head-to-head with every other WSL 1 team without fear of relegation, unexpected weaknesses will be exposed and managers will have time to strengthen and add before the 2017 season gets underway.