The dust has settled, and Swansea City's summer transfer business has been concluded.
Swansea spent approximately £32.5m on Borja Baston, Fernando Llorente, Leroy Fer, Alfie Mawson and Mike van der Hoorn.
The Welsh side also recuperated around £42m, through the sales of Andre Ayew, Ashley Williams, Alberto Paloschi and Eder, with several more leaving the club on loan.
What did Swansea do well?
Last season, there was a clear problem going forward. The strikers just weren't good enough. Francesco Guidolin tried to solve that by bringing Paloschi in January, but he never settled in Wales. Bafetimbi Gomis and Eder were just pitiful, it's no surprise the pair have left.
Bringing in Baston and Llorente is fantastic business. Swansea have two actually-good-at-football strikers in their squad for the first time in the Premier League.
Baston should start the majority of games, with Llorente coming off the bench if the Swans need a goal or if the former is unfit. It's a good dynamic, which should yield good results. Baston's non-penalty goals and his goal conversion numbers are impressive, but a pass accuracy of just under 70% isn't favourable at Swansea.
For the record, Gomis recorded 80% pass completion, but you could put Baston's inferior numbers down to him playing for Eibar, a team that completed 69% of their team's passes, compared to Swansea's 81%.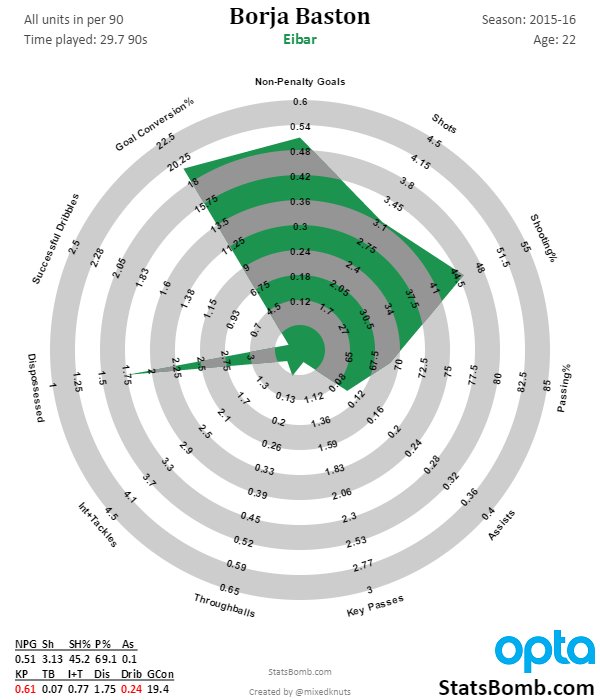 In a vacuum, £4m for Barnsley's Mawson is also good news for Swansea fans. He looks like a young, promising English talent, but with Williams' departure, the club definitely needed more of an experienced, dependable centre-back profile.
The numbers problem
In the five seasons Swansea have been in the Premier League, they have scored 42, 46, 54, 47 and 44 goals in each season. It's hard to imagine Swansea reaching these levels this season.
It's optimistic, but let's say Baston and Llorente combine for 20 league goals this season. (Wilfried Bony bagged 16 in 2013/14 for reference) Then say Gylfi Sigurdsson repeats last season's fantastic total of 11. That's being idealistic with 31 goals, but where do the other ten-or-so come from?
Fer fortunately has scored both of Swansea's goals this season, but there's nothing to suggest his scoring record will continue. Last season, Swansea's four wingers of Jefferson Montero, Modou Barrow, Wayne Routledge and Nathan Dyer scored just four goals between them all season.
To the defence, Kyle Naughton hasn't scored a single league goal since 2011, although his shots per game has gone up from last season's 0.3, to this season's 1.7. It's a small sample size, but interesting nonetheless.
Neither Neil Taylor or Jordi Amat have scored a Premier League goal yet in their careers, and Federico Fernandez has just one to his name. Jack Cork also has just two Premier League goals to his name in Swansea colours.
On their own, these numbers aren't horrific, but manageable. That can be done, but combined with a weaker defence than last season and it's tough to be optimistic. Losing Williams and promoting Amat, combined with Stephen Kingsley and Naughton getting more minutes will surely result in more goals conceded than fans would like.
Kingsley is an exciting talent, and Naughton is very good on the ball (as illustrated below) but the Scot is only young and thus is prone to poor decision making, and Naughton's defensive game hasn't progressed as much as everyone would like. These are both evident through the two goals Hull City scored in their 2-0 win over Swansea.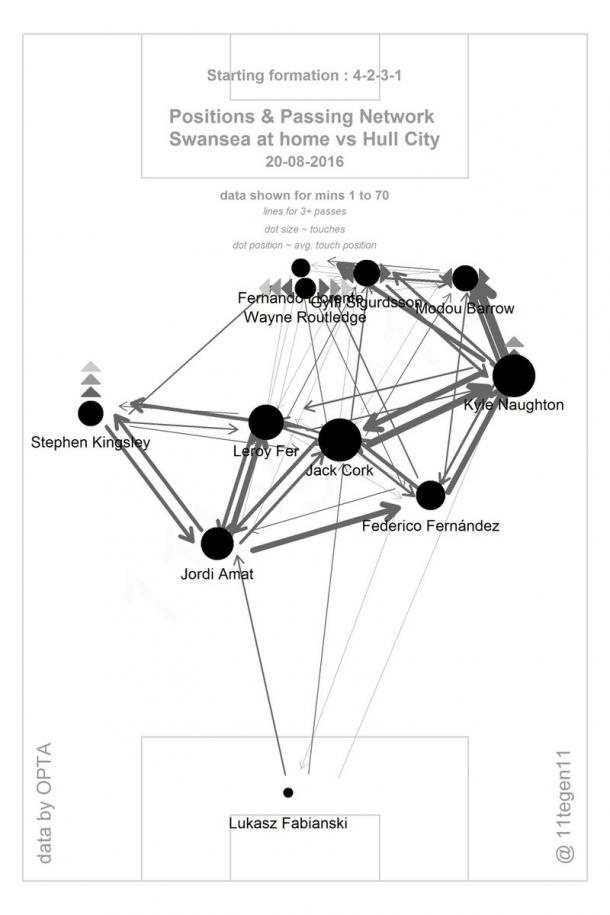 This is exactly why so many were petitioning for Swansea to sign a wide-forward this offseason. Well, that, and because Routledge is still starting for the club despite being far from good enough in 2016.
Chairman Huw Jenkins even seemed to agree, there was a lot of speculation around Swansea's interest in Nacer Chadli. There was also a reported bid for FC Twente's Hakim Ziyech, who was highlighted as a possible target last week. Both players moved clubs this summer.
It's also interesting that Jenkins today mentioned that the club will see a "significant loss" in the accounts for last year, possibly as an excuse for why only Southampton had a larger net profit in transfers this summer.
What's next?
With just three points from their opening three games, and the next five league fixtures against Chelsea, Southampton, Manchester City, Liverpool and Arsenal it's not too pessimistic to assume that Swansea will be in the relegation zone come mid-October.
It won't be the end of the world, but morale will be low. Even more so if Baston hasn't opened his Swansea account by then. The lack of reinforcements have put a lot of pressure on a player who missed pre-season and has never played football outside of Spain to perform.
Swansea do have a habit of performing when people least expect them to though, so there's every chance the Welsh side could pick up a few good results in the next couple of weeks and everything will look rosy. One thing's for certain though, this is the most precarious Swansea have looked since they were promoted to the Premier League.