For Arsenal fans the transfer window was once again a timid and drawn out experience. The club got players in the positions they wanted but it was a period that could, and should have been a less frustrating one for all involved. The Gunners never seem to like to do business early but the Granit Xhaka deal was completed back in May, and he's already showing just how important he can be to the team.
We await to see how Shkodran Mustafi and Lucas Perez do after their arrivals this week but Xhaka has made an instant impact since signing for the club from German outfit Borussia Mönchengladbach.
The Swiss midfielder seems as though he's already adapted well to Premier League life, but despite the addition of a defender and a forward, Xhaka could well be the Gunners most pivotal signing in recent years. That's especially if he continues to put in performances that supporters have been longing for in midfield for a number of years now.
A complete midfielder
Since arriving at the Emirates, Xhaka has been compared to many of Arsenal's previous midfield enforcers. However in many ways the Swiss is what the Gunners have been missing since the days of Patrick Vieira and Gilberto Silva, the midfield wall that took no nonsense and helped the club on its way to an unbeaten Premier League campaign.
It may be a bold statement to compare two Arsenal legends to a player that has only been at the club for a couple of months, but it is easy to see why he's being compared.
Fans got a glimpse of his quality at the recent European Championships in France where he starred for Switzerland, and he's carried that form into the first few weeks of the season where at Watford last weekend he was excellent.
He provided a stable platform from which Arsenal were able to go forward, and because of that there was a freedom away from home which was refreshing to see when sometimes Wenger's men have struggled to break down teams of Watford's quality.
It is no coincidence that since Xhaka has come into the starting line-up after the defeat to Liverpool on the opening day that Arsenal have looked significantly better and more composed in all areas of play.
If you exclude goals, because that's not an important aspect of his game, he is more or less the complete midfielder. He's tall and well built and his physical play is just as good as his technical game.
Against Watford, he broke up the play with relative ease and was able to turn over possession in his teams favour on a regular basis. The quality of his display was backed up by the stats as he made five ball recoveries, four successful tackles and two interceptions. He's a player that doesn't just look assured and composed in possession, but he's happy to do the dirty work too.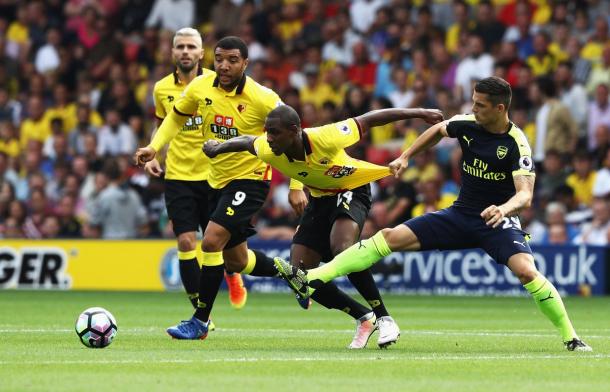 One aspect that many Arsenal fans probably weren't familiar with before he joined was the range of his passing. He had high pass completion rates at the Euros but since arriving in North London, his passing rather than his defensive contribution has arguably been the most impressive part of his game.
In the game with Watford his range of passing was superb, one that any midfielder in the game would most likely be happy watching back on a YouTube compilation the morning after. He finished with a success rate of 87.3%, a hugely impressive display of passing that hasn't been seen at Arsenal since a certain Cesc Fabregas was in red and white.
Speaking of Fabregas, Xhaka has comparative leadership skills at such a young age, captaining Mönchengladbach last season despite being just 23-years young. It is a skill that was clearly important when Wenger swooped for him, but he really is the complete midfielder and he looks set to bed into that Arsenal midfield for a number of years.
Different to other

midfielders

A massive reason in why Xhaka has made such an impact since signing for the club is because he's different to any other midfielder at Arsenal at the moment, such is the all-roundness of his game.

Santi Cazorla was very impressive at the weekend, opening the scoring from the penalty spot whilst showing why he's become such a good midfielder from a deeper role, rather than in an advanced one when he first joined Arsenal. However his injury last season meant supporters hardly saw him in action.

The Spaniard's lack of defensive nous since playing in that position has been an area of concern too, as it has with Aaron Ramsey and Jack Wilshere before his loan move to Bournemouth yesterday. With Xhaka though you are guaranteed to get positional and defensive discipline when it matters most, something that is hugely significant in why he's what Arsenal have been missing.

It is hard to cast aside Francis Coquelin's contribution to the team since he came out of nowhere a year and a half ago to slot into that midfield role. However last season a hint of inconsistency came into his play along with an injury and that has made Xhaka's arrival this summer even more significant.

Mohammed Elneny's form when he joined in January was excellent, but like the names mentioned above, he doesn't quite have the stand-out qualities Xhaka has. He's a different player, and gives Wenger an option he hasn't had for a lengthy period of time.
Potential with Arsenal
Xhaka's potential at Arsenal is hugely exciting but this season there is plenty to be encouraged about with him in the team. Coquelin and Elneny are both mentioned above and his partnership alongside either one of them in the bigger games this season could be absolutely crucial.
In previous season's Wenger hasn't had the option of playing two more defensive minded players in midfield away from home against teams that like to attack. However this season the manager has lots of options that should prove invaluable in bigger games.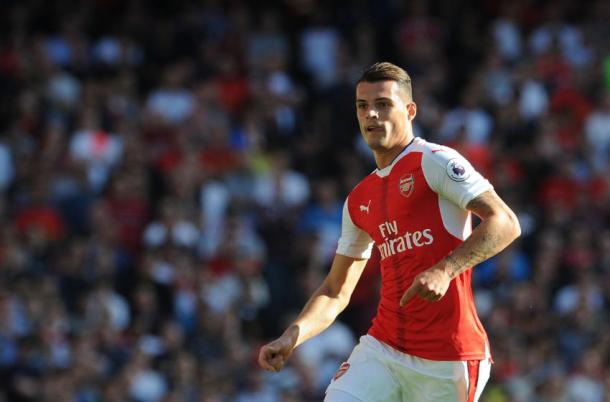 His contribution in attacking situations will also be valuable too. We have yet to see him play with Olivier Giroud but if his long balls are anything to by then they could link-up very nicely this season with the French striker looking to hold the ball up as he does so well. He also has the potential to work well with Perez, with long balls in behind for him or the wingers to run onto being something to look forward to this season.
It is clear that the Swiss midfielder is a player that Arsenal have been lacking for a while, but the qualities he brings is certain to offer the team a whole host of different dimensions, something which hasn't been apparent in his new side for far too long.
Young players often get over hyped but Xhaka has the world at this feet and the evidence is overwhelming that he's only going to improve Arsenal as a team.