The 2015-16 season, and 2016 as a whole, was the year of the underdog.
Leicester City's title triumph in England set the tone perfect for Euro 2016, where Portugal were victorious in a tournament which featured surprise runs from Wales and Iceland.
We had lower scale successes too though: Manchester City's adventure to the UEFA Champions League semi-finals, Rostov coming within two points of being Russia's Leicester, and CD Leganés' promotion taking them to the top flight of Spanish football for the first time in their history.
In Germany, we had another big achievement too; this in the women's game. SC Sand, enjoying just their second season back in the top flight, went on an incredible run to the DFB Pokal der Frauen final, beating league champions Bayern Munich in the last four.
In a sport that is slowly having money pumped into it, the big names in the game are benefiting. They are well ahead of their lower mid-table counterparts, making the success of Sand even more applause-worthy.
What did their run mean for the Frauen-Bundesliga though? USV Jena are one of several teams who go into the new season without targets of breaking into the top two, but they aren't one of the relegation contenders either.
In the men's game, they'd be one of the names mentioned with regards to nicking a European spot, but there aren't seven available in this division.
Instead, defender Rachel Melhado says the aims are taking one game at a time - and perhaps, with this attitude, they can wander down the path opened up to them by trailblazers Sand.
'Our focus is to put 100 per cent into every game, one at a time'
Bayer Leverkusen are first up this weekend for Jena in a rather kind opening fixture. B04 finished one place above the drop zone last year, and Melhado and co. will be confident of starting with a win.
"Our aim heading into this season is to start just as strong as we would like to finish," Melhado exclusively told VAVEL UK.
"Finishing at the top of the table is a goal all teams in the Bundesliga strive and work towards, but for us our biggest focus will be to make sure we put 100% into each and every game, one game at a time."
Jena have done that well over the years, finishing strongly in the top flight every year since promotion in 2008. Last year's sixth place finish was their second best in history, setting them up perfectly for an attempt to be the underdogs of 2016-17.
When asked if Sand's season gives teams like Jena belief that they can achieve new heights themselves, "absolutely" was the reply.
"That's the great thing about this league; no matter where you sit in the table for that week anything can happen because all teams have the ability to compete with one another."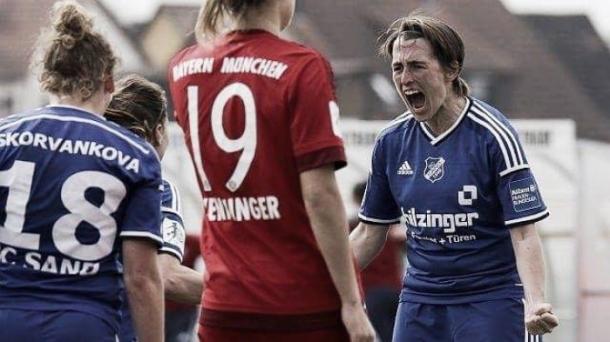 Sand have certainly shown their ability to compete in recent years and, starting this weekend, they will be looking to build on last season's positives to record a new best ever finish.
"The main strengths for us this year are that we have had so many changes," Melhado said.
New signings made, new contracts penned, and several changes to the way the club will be run this year mean Jena head into the new season with breaths of fresh air all over the park.
"Change is always good and this year we plan on utilising those changes to the best of our ability."
Melhado believes the positives from all these changes have been seen already too: "We have incorporated girls from our younger programs that have brought great talent, enthusiasm, and work ethic to our squad."
She continued: "Combine that with the experience we already have in our girls and I know we will see a lot of great things from both sides of our team."
It's the experience that will help Jena the most this year, with Melhado admitting that "staying focused in every game" was a weakness for the team last year.
"There are always games in a season that are "must wins" and those in the past have been our hardest games to overcome," the defender admitted.
However, with so much to be different in 2016-17, Jena will hope this is too.
Contrasting styles, but not conflicting
Something that makes Jena so unique is their multiculturalism. This is a club that has German, Belgian Czech, Portuguese, New Zealand, Dutch, Croatian and - thanks to Melhado - Canadian players on the books.
While for some teams, taking in all these different lifestyles and heritages to make one group may be difficult, it isn't for Jena.
"I believe it has a very positive effect on the team. It allows us all to be open to different cultures and backgrounds and from there work to build a culture of our own," Melhado explained.
In a footballing sense, it has it's benefits too: "It brings a whole different side to the game because you are able to see the various styles in each player from country to country, and how actions are differentiated from person to person on and off the pitch.
"It's also a cool thing to see because we are all so used to the way we were brought up to play, and now we all have to be able to conform our own styles in order to adapt to the style here in Germany."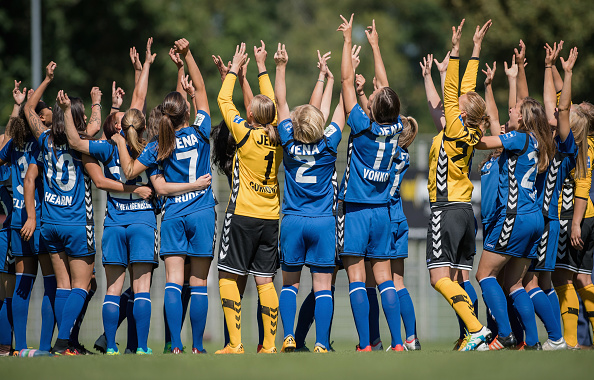 Melhado herself is still adapting to the Frauen-Bundesliga, having arrived in the league just 18 months ago. The defender was signed by Herforder SV in February last year, before moving to Jena in the summer.
Before the move to Europe, the Canadian was playing for Seattle Sounders in the second division in America - the now defunct USL W-League.
"For me I found the styles to be completely different," she explained when comparing the States to her current home.
"In America, there is a big emphasis on being faster and stronger with a more "direct" style of play, whereas here in Germany I believe the big emphasis is on being smarter and more technical with more of a "build up" style.
"Both leagues are amazing leagues to play in that host some of the best players in the world; I'm just fortunate to have the opportunity to experience both and incorporate them into my style."
Canada in the back of the mind; Jena at the front
Still only 23-years-old, experiencing adapting and playing in some of the best countries for women's football in the world, Melhado continues to grow and develop as a footballer.
She was an integral part of Jena's side last year as they recorded their best ever finish, playing 18 games in a strong campaign, and regularly playing in one of the best leagues in the world is not a bad way to stake a claim for an international call-up.
Melhado made her debut for Canada in 2013 - incidentally, against Germany - but has not been involved in the picture since.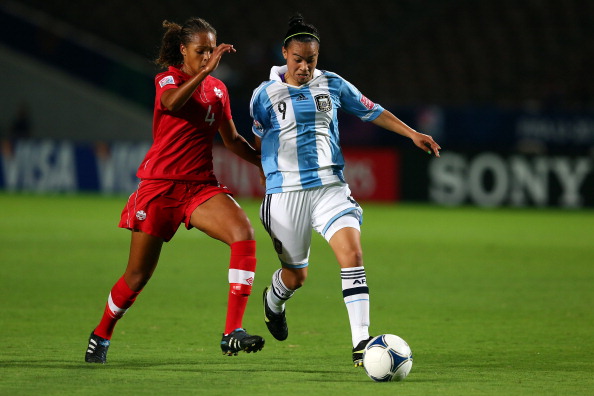 However, time is on her side, and with her club career very healthy, the door is still open for her to get another chance with her country.
When asked whether she has a recall in mind as she plays for her club, Melhado confessed: "I think having a taste of the national team and all it has to offer is something that will always be in the back of my mind, as it would be for any young player.
"Representing your home nation is a great honour and always leaves you wanting more."
However, as the new season beckons, Canada is not the focus right now.
"With that being said, my main focus and commitment is to my team here in Jena.
"I am dedicated to growing and being the best player I can be for my team. I am willing to let that take me as far as can be, whether that is back to the national team or not.
"At the end of the day I still have a job to do here in Jena and that remains my number one focus."