The 2016-17 Frauen Bundesliga season begins this weekend and it promises to be another exciting campaign overall. The top teams have have seen some big changes while the rest of the league have tried to keep up with the leading pack.
The league welcomes newcomers MSV Duisburg, Borussia Mönchengladbach from the second division and we will see how the newly promoted team will deal with European elite like Bayern Munich, VfL Wolfsburg and 1. FFC Frankfurt.
Newcomers Duisburg welcome Essen
Newly promoted MSV Duisburg kick the league off at home against SGS Essen on Saturday afternoon. Duisburg finished first in the second division without losing a game all season long. Their aim will be to stay in the division for many years to come and they can start with a win against Essen this weekend. Manager Inka Grings has brought in reinforcements for her side but the main player should be Linda Bresonik and against Essen, Bresonik will need to be at her very best.
Essen come into the new campaign with a new manager, Daniel Kraus. The side finished in fifth place last season and have not finished lower than that since they joined the Frauen-Bundesliga. Their aim will be to move higher up the table and hopefully play in European competition in the future. On Saturday, look for the play of Japanese international midfielder Kozue Ando who has signed a contract extension at Essen. The midfielder could cause Dusiburg all sorts of problems if given the space to operate and she does not need much to make her opponents pay.
The champions start out against Freiburg
Heavy favourites Bayern Munich will have a tough start to their season as they host SC Freiburg. Bayern come into the season in good standing with most of their championship winning squad still in place. Captain Melanie Behringer is coming off winning an Olympic Gold medal in the summer and will look to take that form into this match on Saturday. New signings Simone Laudehr and Verena Faißt could prove to be vital against Freiburg and young star Sara Däbritz will look to exploit any space that Freiburg afford her.
Freiburg know what kind of challenge they are facing this weekend and will probably look to stay compact and let Bayern come to them since the champions tend to play a defensive style. If they can catch Bayern on the break or combine well in transition, Freiburg will have a chance. Lina Magull who has extended her loan at Freiburg, will be key to anything Freiburg will want to do and if she plays well, Freiburg have every chance of causing an upset in the first week.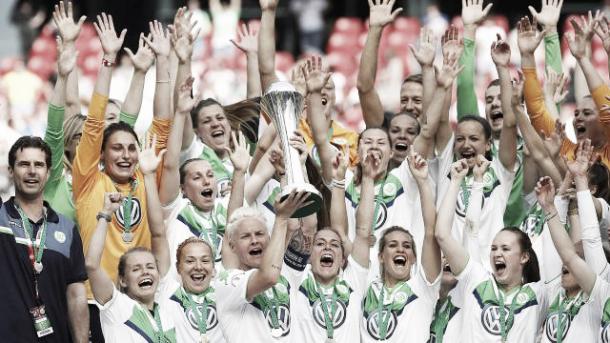 'The Wolves' are in Sand for the weekend
When the fixture list was announced, SC Sand were probably hoping to avoid Germany's top three teams but unfortunately for them, they host VfL Wolfsburg in their first match of the season. Sand finished in ninth last season and will not be vastly improved if they have any hope of defeating a team as talented as Wolfsburg. Despite their league finish, Sand did manage some incredible wins last season; defeating Wolfsburg in front of their home fans and eliminating Bayern in the DFB Pokal. Also considering that new coach Colin Bell is a storied fixture of the Frauen-Bundesliga, expect an intriguing battle against the two teams.
Wolfsburg themselves spent the pre-season strengthening even further. Their goal clearly is to win the league again and win the UEFA Women's Champions League after falling short last year and losing on penalties. The biggest transfer for Wolfsburg is the arrival of Anja Mittag. Mittag had a downturn during her time with Paris Saint-Germain but if any team can help the German striker rediscover her magic, it's this team and Mittag will certainly be hoping to hit the ground running against SC Sand.
Newly promoted Gladbach will have a baptism of fire
1. FFC Frankfurt could probably have not wished for a better opening match. Although Gladbach are newly promoted and may be an unknown, Frankfurt will want to put on a strong performance against them as they start their journey to break the stranglehold that Bayern and Wolfsburg have at the top of the table. Frankfurt have lost many known faces to league rivals or other European teams, in particular Dzsenifer Marozsán, Simone Laudehr and Emily Van Egmond but they are still a very capable side. They still have the veteran leadership of Saskia Bartusiak and will look to their captain to lead the way against Gladbach.
As the new faces of the league, Gladbach can come into this match with no fear. Not many people expect them to win this match and it could be this underdog narrative that could be used by their manager Mike Schmalenberg to inspire his troops to an unlikely three points. The club has a lot of unfamiliar faces to Frauen-Bundesliga observers but they did finish their previous season unbeaten so there is clearly something there that could give Frankfurt something to ponder on.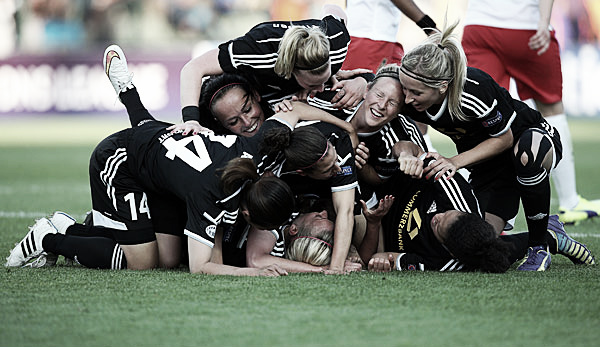 Two teams who have to do better meet in the first match
TSG 1899 Hoffenheim and 1. FFC Turbine Potsdam meet in their first match of the season and both teams will want to start off on the right foot. Hoffenheim finished the previous season in eighth and will be looking to push on from that, starting with a win against Potsdam. The team that had a good defensive record last season has mostly stayed the same and with some experienced personnel joining the club this summer, Hoffenheim will be look to add goals to their defensive stability and push forward up the table.
Potsdam is a conundrum. Long-time manager Bernd Schröder has left the club but the rumoured turmoil behind the scenes still lingers. The once great German club finished in a disappointing seventh place and will nto want a repeat of that. New manager Matthias Rudolph will be under pressure to produce results immediately and he can alleviate some of that pressure by getting an away win in Hoffenheim on Sunday.
Underachievers Leverkusen look to rise to the occassion
​The last match of Week 1 sees Bayern 04 Leverkusen hosts FF USV Jena. Leverkusen have the players with potential to do better than their tenth place finish last season, it's just a matter of players like new signings Nina Ehegötz realising that potential. So far, manager Thomas Obliers has failed to bring out the best of his team and will be under scrutiny this season to avoid another disappointing league finish. He can overcome this by winning against a solid Jena outfit.
Jena will come into this match in full confidence. The team finished sixth last season and new manager Christian Franz-Pohlmann will want to build on a team he knows can move higher up the table. Marquee singing Patricia Hanebeck will be key this Sunday to lead a young Jena side and although Franz-Pohlmann claims that remaining in the Frauen-Bundesliga is his team's ultimate goal, Jena have enough in them to cause problems for most teams in the league and a win against Leverkusen will give them the confidence going forward to play spoiler all season long.