September 2, 2013. Arsenal fans were once more left agitated as transfer deadline day neared its climax, however, just when they thought their squad was set in stone, the final hour produced a sincere moment of thrill. It is easy to recall the moment, as Sky Sports covered Arsenal's interest in Real Madrid's Mesut Özil from the moment that the interest went public.
With 20 minutes left on the deadline day clock, it was confirmed that Arsenal had indeed completed the signing of the German playmaker for a price of £42.5 million – the club's transfer record. Fans gathered outside of the Emirates to get the news the moment that it was confirmed, as a massive rush of excitement and emotion was released into the air in North London.
There was no surprise that Özil had generated such a hype around the football club – looking back – as he became the most expensive German player in history, however his £42.5m price tag has proven to be a bargain, as three years on, Özil has shown the club exactly why they invested such a heavy amount in to bringing him to the club.
Özil was arguably the first player of World Class calibre to join Arsenal, considering the former world class players at the club made a name for themselves there. The German's rise to the top was fuelled by his youthful spark and the individuality that he has always produced in his football, trademark to him and something many have never seen before.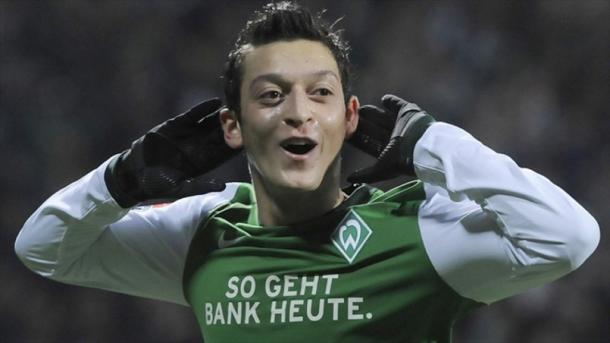 A relatively short road to the top
Born in Gelsenkirchen, Özil's professional career started in the city with Schalke. In 2006, Özil was promoted from Schalke's youth team to the first team. He spent two years developing at the top level, during this short period, Özil caught the eye of Thomas Schaaf, the former manager of Werder Bremen. At the tender age of 19, he left the home comforts of Schalke a made the trip north to Bremen in 2008.
It was the work of Werder Bremen that should essentially be praised for the rise of Özil, as their trust in such a young player proved to be pivotal to his success. Playing predominantly in the central attacking role, the playmaker secured a total of 108 matches in total for Bremen, in this time he contributed to 71 goals in all competitions, breaking down into 16 goals and a remarkable 55 assists.
Teaching the world his name on the international stage
Known today as 'the king of assists', Mesut has always been notorious for his phenomenal vision, paired with an instinctive ability when dispatching the ball to build an attack.
It was his attacking prowess that gifted him a career changing move to European giants, Real Madrid. It began on the biggest stage of them all, the World Cup in South Africa. It was evident that Özil's time at Werder Bremen had forced people to turn their heads towards the direction for the talent he had – it was unable to be ignored.
At the age of 21, Özil had earned his trust with national team manager, Joachim Löw. Özil played a part in all of Germany's matches at the World Cup, scoring once and assisting three times. His only goal in the tournament was a match winner, a stunning strike against Ghana that really heated the hype surrounding him.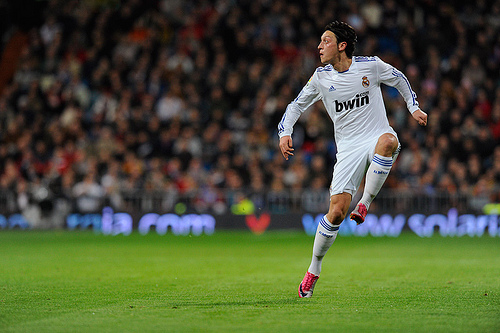 Talent unable to be ignored
His individual success at the tournament captured the attention of many clubs around Europe, however one could not be ignored – Real Madrid.
Özil was purchased by Madrid after the tournament for a fee of £15m. It was an investment that was completely returned by the German on the pitch, as he made a name for himself in world football.
From his confident swagger in midfield on the world stage, to his confidence in playing amongst undeniably some of the world's best players. Following his move to Madrid, former coach, Schaaf hailed the playmaker as 'sensational' with reference to his desire to achieve from such a young age.
Özil fulfilled his expectations in attack at Real Mdrid - just as he did at Werder Bremen - registering 81 assists during his two and a half years at the club, he also scored 27 goals in his 159 matches representing Madrid in all competitions.
Özil was heavily credited by his Real Madrid manager also, as Jose Mourinho praised the midfielder's unique style of play that he believed that no player could recreate.
"Özil is unique. There is no copy of him, not even a bad copy."
To the disappointment of the fans and his teammates at Real Madrid, Özil departed the club in 2013 as he set his sights on a new, completely different challenge in England – Arsenal.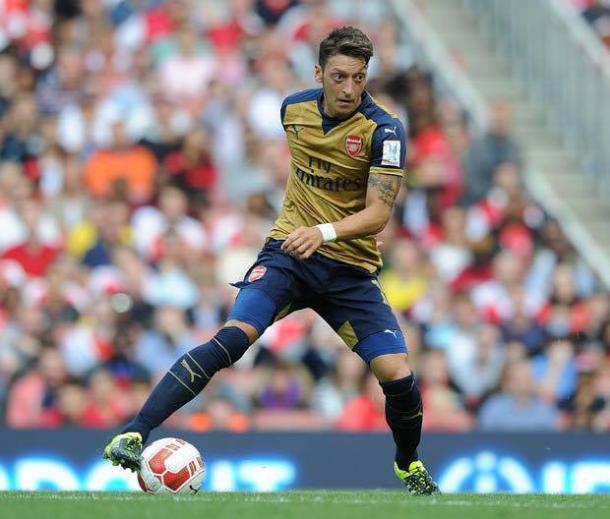 Arsenal's star man
The story of Özil and Arsenal is not yet complete, but the tale continues to get more and more thrilling as the German admitted that he is playing his best football with the Gunners in North London. September 2 was a memorable day for Arsenal football club, as was it for Özil. After some confusion regarding his future at Real Madrid, Özil confirmed that it was Arsene Wenger's trust in the then 24-year-old that made it hard for him to refuse Arsenal, as they came knocking late on deadline day.
It was always going to be a challenge for Özil, his laidback approach in matches was never going to be possible in the ambushing nature of the Premier League.
The top division in England is unforgiving and cruel, particularly on expensive players. Özil cost Arsenal £42.5m, breaking their all-time transfer record, and fuelling the media to prepare to pounce upon his potential failure. It seemed as if any stumble along the path that Özil took at Arsenal was magnified by the media, as he was highly criticised for his playing style.
At the time – and to this day – it would seem that through the eyes of the media, it simply isn't acceptable for a central midfielder in England to not be fully charged ready to cover miles of ground in a match, withstanding tackles and even flying into them themselves. The German does not have that in his locker, and so he was the perfect target for poaching in the press.
Despite all the pressure, on top of injuries, Özil used it to motivate himself. He never showed any sign of wishing to escape the nightmare of adjusting to the Premier League, playing his own game, and tweaking with some of his former weaknesses in order to be fully adaptable to playing in England.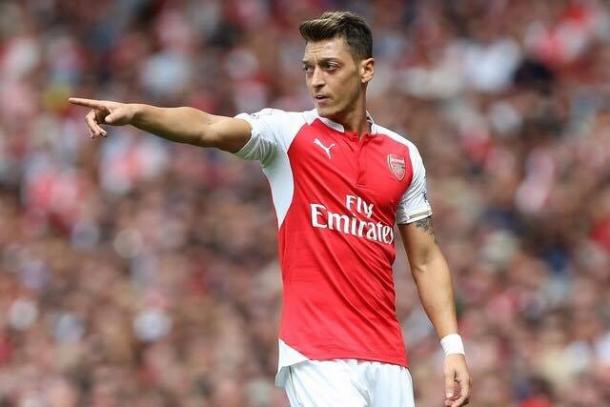 Resisting pressure
The criticism has toned down huge amounts since his rise to untouchable form last season. He is still somewhat underappreciated for the unseen work that he does for the club, whether it be the numerous occasions in which his created chances aren't converted, or his passes aren't received as graciously as he rehearses them to be in his head.
A good sign of being a threat in the Premier League is when comparisons are formed. Upcoming talents from rival teams are often compared to Özil, as he acts as a benchmark for others in the league to aspire to reach. Last season placed Özil miles ahead of fellow creators in the league, as he registered 19 Premier League assists, six more than anyone else in the league.
September 2 celebrated Özil's third year at the club, his fourth season. While this milestone may not seem too significant, it is the longest period that Özil has ever spent at a club in his career, indicating that despite Arsenal's continual buffering in the league and around Europe, Özil is comfortable and determined to take the club further.
The German has had a formidable career so far, however looking at his current form, and Arsenal's activity in the transfer window, it could be that the best is yet to come from the German. Arsenal fans will be toasting to the idea of another three years with Özil at the club, contract talks between club and player are ongoing, but it would be fair to say that Mesut Özil has found his amenity at Arsenal.