Jürgen Klopp has revealed that Liverpool have made "special arrangements" to ensure that Philippe Coutinho is back from international duty in time to play against Leicester City.
The Reds take on the reigning Premier League champions in their first fixture at the redeveloped Anfield next Saturday, with 11 of their first-team players representing their countries in the week beforehand.
Coutinho, however, will have racked up significantly more miles than his teammates by the squad's due return date to training at their Melwood base.
The playmaker has already featured off of the bench in Brazil's convincing 3-0 win over Ecuador on Thursday and could help make up the starting eleven in their World Cup qualifier against Colombia in the sauntering heat of Manaus on Tuesday.
The 24-year-old was initially expected to report back on Merseyside on Thursday night, giving him just one training session before the clash with Leicester, but Liverpool boss Klopp revealed they have specifically ensured an early return to avoid such a situation.
Asked whether he had any ill-feeling towards the organisation of the international break, the Reds boss said that he doesn't "get frustrated" by things out of his control and declared: "Actually, I don't think any manager in this moment is happy about the international break."
Reds boss acknowledges frustrations of international break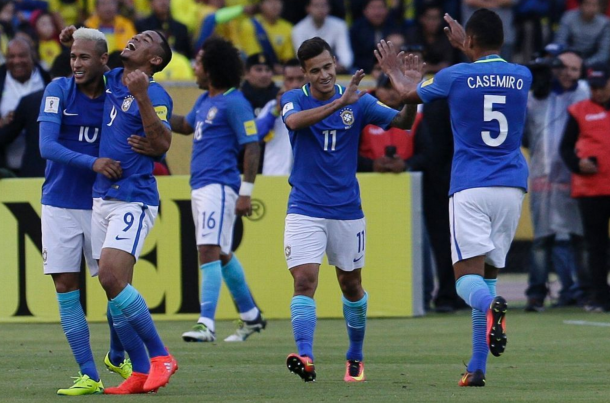 Klopp revealed that Coutinho is now coming back on "Thursday morning at 9am" though only because they have made "a few special arrangements with flights", otherwise the No.10 would have returned later on Thursday which the manager insisted "nobody wants."
"But we cannot change [the situation] so why should I complain?" questioned Klopp, although he reiterated his frustrations that it is "not the best moment in the season" to be forced to be "splitting the squad again."
Coutinho, who has scored twice so far in the league this season, will total up around 12,000 miles on his travels - far more than any of his 10 other international teammates.
Adam Lallana and Jordan Henderson will start for Sam Allardyce's first game as England manager away at Slovakia on Sunday, with Daniel Sturridge and Nathaniel Clyne both benched, before returning to Merseyside a few days later.
Sadio Mane is due back around a similar date after featuring for 66 minutes in Senegal's 2-0 African Nations Cup qualifier against Namibia on Saturday.
The in-form winger worryingly limped off with what appeared to be a knee injury, with Liverpool waiting for Mane to return to England before they can assess the extent of the problem.
Elsewhere, Estonia captain Ragnar Klavan, Georginio Wijnaldum of the Netherlands and Belgium duo Simon Mignolet and Divock Origi face fixtures on Tuesday - but will be back well in time to train for the visit of Claudio Ranieri's Leicester.
The rest of the Reds' squad - including Danny Ings, James Milner, Alberto Moreno and Joel Matip - will also be available having featured in a behind-closed-doors friendly defeat to Huddersfield Town on Friday.