Week 14 in the Damallsvenskan saw a continuation of the battle for first against the two top teams. FC Rosengård still lead the table but Linköpings FC are not far behind and still have a game in hand over the league leaders. The race for the title looks like it will go right down to the wire.
Linköping win with style
Linköpings welcomed Kvarnsvedens IK this weekend and the second-placed team made sure to send out a warning to their title rivals by thumping the visitors with an 8-0 win. Stina Blackstenius got things started with her first of three on the day in the second minute of the match. Ten minutes later Blackstenius doubled Linköpings' lead and then Pernille Harder, with a brace, Jessica Samuelsson, Janni Arth Jensen and Emilia Larsson all get on the score sheet for Linköpings.
Blackstenius and Harder also continued their personal battle to be the Damallsvenskan's top goal scorer and Harder currently leads the charts with 15 while Blackstenius has 14. Linköpings know that they have the advantage in the title race if they win their game in hand, and in the form they currently are in, not many would bet against them.
Rosengård maintain the pace
FC Rosengård were away to eighth place KIF Örebro DFF but they had not trouble getting all three points to stay on top of the Damallsvenskan for now. A two goal win with goals by Amanda Ilestedt and Lieke Martens in the 38th and 67th minutes were enough for the away side to win at Örebro.
New signing Lotta Schelin continues to fit in well with her new teammates and she helped set up Ilestedt's goal in the 38th minute. The pressure is truly on for Rosengård and they know that until Linköping play their game in hand, the leaders cannot afford to slip up at any point so they'll continue to push for consecutive wins for the rest of the season.
Örebro are five points away from the relegation zone but they know that they cannot continue to drop points if they want to stay out fo a relegation battle. They will need to pick themselves up for their next match and try to get at least one point from that match to stay away from the relegation zone.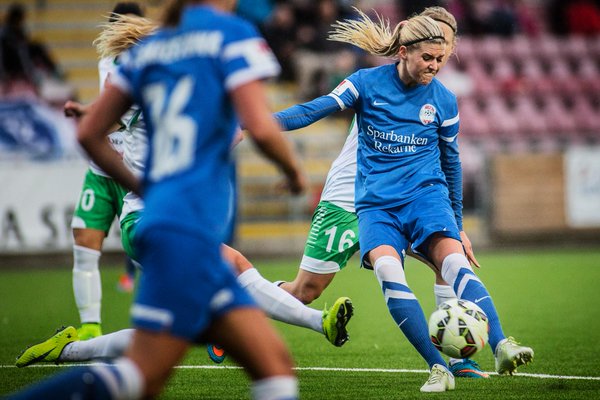 Eskilstuna remain in third
A one-nil win away to Kristianstads DFF was enough for Eskilstuna United DFF this weekend to stay in third, three points ahead of their nearest team and twelve points off of Linköpings in second. Marija Banusic got the only goal of the game in the 5th minute and Eskilstuna were unable to breach Kristianstads any further even though they did try. Kristianstads now find themselves two points away from the relegation zone and for them, that is far too close for comfort. They will need to find a way to pick up points and hope that those below them continue to drop points so that they remain in the Damallsvenskan for another season.
Djurgårdens and Piteå end all square
Djurgårdens IF FF could only settle for a 1-1 all draw against Piteå IF as they bid to move up the table. Michaela van den Bulk started things off with a goal in the sixth minute for Djurgårdens but the home side could not hold off Piteå for long and the away side found the equaliser through Irma Helin in the 21st minute.
Both teams tired to break the deadlock but neither side could find a telling finish to get all three points on the day. Djurgårdens remain in sixth, four points away from Piteå in fourth, but most importantly, they have stretched their lead over the teams in the relegation zone to nine points.
Vittsjo make short work of Umeå
Vittsjo GIK were expected to win against Umeå IK FF and the home side duly obliged with a 5-0 win over the bottom-placed side. Clara Markstedt, with two goals, Emmi Alanen, Sandra Adolfsson and Linda Sällström all got on the score sheet for Vittsjo. Vittsjo are in seventh after moving above Örebro in the table and continue to put in a solid campaign so far this season. Although Umeå are currently on the wrong end of the table, they are only two points away from safety and if they can somehow manage a run of good form within the next few weeks, they could easily climb out of the bottom and into safety.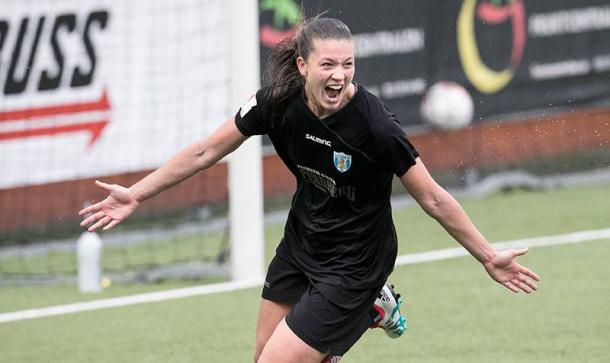 Göteborg have no trouble against Mallbackens
Göteborg FC​ hosted Mallbackens if Sunne this weekend and had no problem seeing off their visitors with a 4-0 win. Pauline Hammarlund started things off in the 43rd minute and teh half ended with a one goal lead for Göteborg. In the second half, the home side poured it on and Sara Lindén proceeded to get a brace in the 68th and 74th minutes of the match. Annahita Bakhtiari then finished off the scoring in the 83rd minute to give Göteborg a decisive win against the second-from-bottom side.
Göteborg are not far off from third and currently have a game in hand ont hose above them while Mallbackens are two points away from the team nearest to them in the table. As with Umeå, Mallbackens have the opportunity to move away from the relegation zone if they can put together a run of form as they are also only two points away from safety.