The Frauen-Bundesliga began this weekend and it started off with some potentially season-changing results as all twelve teams saw action this weekend.
As it is only the first match day of the season, we do not want to read too much into the results but a team like 1. FFC Frankfurt will take heart at what the weekend results have given them.
Frankfurt top the table for now
By the time Frankfurt opened their season against Borussia Mönchengladbach, they were aware that last season's champions Bayern Munich had dropped points in their season opener and that there was an opportunity to top the table if they won their match and other results went their way.
Mandy Islacker wasted no time as she gave Frankfurt the lead in the first minute of the match against the newly promoted Gladbach. This was the first of Islacker's three on the day as Frankfurt run out as eight-nil winners against Gladbach. Fresh off her Olympic success, Sophie Schmidt also added to the score line and a brace from Ana-Maria Crnogorčević, and goals by Marith Prießen and Lise Munk finished of the scoring in the second hal for Frankfurt.
Gladbach stood no chance against the quality that Frankfurt still possess, especially after going down so early and after the first goal, they seemed to crumble and lose confidence in themselves. This might not have been a game that most expected Gladbach to win so they must forget this match quickly and focus on the future if they want to remain int he Frauen-Bundesliga.
Bayern drop points against Freiburg
Bayern head coach Thomas Wörle could only wonder what could have been as his team failed to convert their numerous chances against SC Freiburg. Instead the current champions could only manage a one-all draw with Freiburg after wasting chance after chance during the match. Melanie Behringer opened the scoring in the 51st minute after Freiburg conceded a penalty but the visiting team continued to probe for a goal and got it in the 79' minute when Hasret Kayikci headed home the equaliser from close range.
Full credit must go to Freiburg goalkeeper Laura Benkarth who had to come up with some big saves to keep her team in the game and eventually come away from Munich with a great point for them.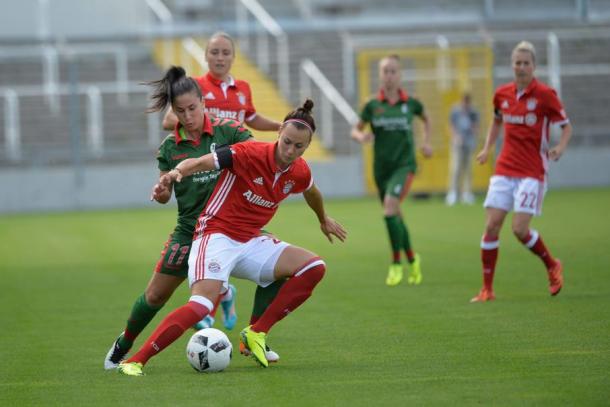 Wolfsburg fare no better against Sand
The other title contender VfL Wolfsburg could not find a way past a resilient SC Sand and could only come away from that match with a nil-nil draw. It was not what Ralf Kellermann Kellerman and his team were hoping for especially after seeing Bayern drop points the day before but as their rivals before them, Wolfsburg could not convert their chances and even the substitutions Tessa Wullaert and new signing Anja Mittag could not change the score line for Wolfsburg.
Sand will be delighted with their home draw against a team as strong as Wolfsburg and head coach Colin Bell will be pleased to see how well his team to follow his tactical instructions to the best of his ability to prevent Wolfsburg from finding the back of the net.
Duisburg powerless against Essen
MSV Duisburg knew that this season would not be as easy for them as their previous season had been as they are now plying their trade in the top division and SGS Essen made sure to remind them of that after Duisburg held firm for 45 minutes. Lea Schüller found the back of the net for Essen during injury time of the first half and in the second half, Linda Dallmann and Jacqueline Klasen added to the score line to give Essen a solid 3-0 win over Duisburg.
The win leaves Essen in second place after one round of matches while Duisburg are at the bottom of the table and hoping to bounce back next week against a tough Freiburg side.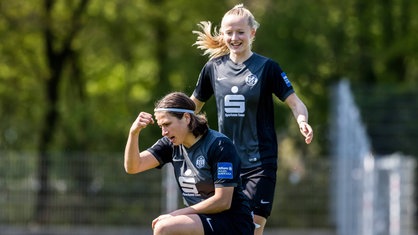 Postdam start well against Hoffenheim
In a season where Turbine Potsdam are aiming to return to the top of Germany's football elite, the away side did themselves no harm by defeating 1899 Hoffenheim by three goals to nil. Tabea Kemme hwo enjoyed a great Olympic tournament with Germany, winning a Gold medal in the process, scored the first and last goals of the game in the 50th and 83rd minutes of the game. Felicitas Rauch also managed to grab herself a goal in between those two Kemme goals to round off the scoring for Potsdam. Potsdam sit in third while Hoffenheim find themselves in tenth, tied on points with Duisburg after one match.
Jena carry their good form from last season into this one
USV Jena opened their account for the season by getting a solid two-nil win over Bayer 04 Leverkusen. Lucie Voňková was the only scorer on the day and grabbed her goals in the seventh and 65th minutes of the match. It wa sno more than what Christian Franz-Pohlmann's side deserved and they will use this win to build some confidence before their next match at home against Bayern.
Leverkusen continue to confound and this was definitely not the start that their fans had hoped for. Their next match will prove to be even more difficult as they welcome Wolfsburg who will be looking to start off their season right by getting a big win against Leverkusen next week.