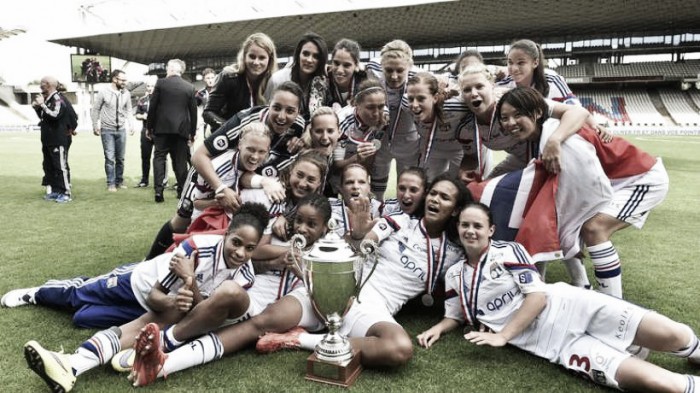 One week before the Division 1 Féminine is set to kick off, we look at the teams this season and where they will end up once the season ends. Quite a few transfers have happened during the summer and many names synonymous with French football have departed to start their own new chapters in life. As it has been for the past few season, Olympique Lyonnais are the standard and it is up to everyone else to match them and even try to topple the French giants this season.
Lyon are champions for the eighth time in a row
The 2015-2016 season saw Olympique Lyonnais win yet another D1 Féminine title as they finished three points ahead of perennial title contenders Paris Saint-Germain. In fact, the Lyon outfit managed to finish the season with the triple, after also winning the Coup de France Féminine and the 2015 UEFA Women's Champions League, accomplishing this feat for the first time in their history. PSG will look to their 5-0 drubbing at the hands of Lyon as the turning point in the race for the title. If they had managed to win that game, they would have had every chance of finally winning the league title for teh first time in their history.
Elsewhere, La Roche ESOF, VGA Saint-Maur and Nîmes Métropole Gard could not stay in the first division after being promoted and found themselves preparing for second division football once again. ASPTT Albi continued their remarkable story and now face a third straight season in the first division after staying out of the relegation zone at the end of the season.
Lyon players also dominated the statistics charts with Ada Hegerberg finishing the season as the top scorer with 33 goals while Camille Abily ended her season with a league leading 13 assists.
ASPTT Albi
ASPTT Albi have no championship aspirations this season. Their goal is to stay in the D1 and continue to stabilise their club within the division. The team finished on 45 points in the last season, seven away from the relegation zone but only six points away from a mid-table finish. Led by French midfielder Tatiana Solane and coached by David Welferinger, the Albi side has every reason to believe that they can finish higher up the table this season. If they can find a way to stop conceding the amount of goals they have done in the past, they will definitely climb up the table and they have looked to address that by signing Canadian goalkeeper Gabrielle Lambert.
FC Girondins de Bordeaux
​Newly promoted Girondins de Bordeaux will be facing a difficult task in staying in the top flight of French football. A relative unknown to most fans, Bordeaux could look to the example set by Albi and try to keep their aim as simply to stay in the league. Led by head coach Jérôme Dauba, Bordeaux have managed to work their way up from the lower divisions until they finished first in the Division 2 Féminine and gained promotion to the top tier. Players like Juliette Loumagne will be needed to produce the goals for Bordeuax while Dauba will be hoping his team can stay compact enough in each match to not concede too many goals.
EA Guingamp
Guingamp ended their previous season in eighth place and look on course to try and repeat that feat once again. Guingamp features a lot of young players and it will be their enthusiasm and lack of fearlessness that head coach Sarah M'Barek will rely on to keep the team away from a relegation battle. Guingamp has lost the services of Clarisse Le Bihan who will now feature for Montpellier H.S.C. so it will fall the likes of Nigerian Desire Oparanozie to keep her goal scoring efforts going after nabbing 11 goals for Guingamp last season.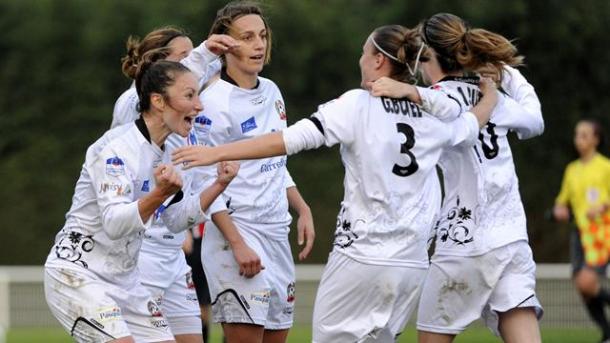 FCF Juvisy
After finishing fourth in the previous season, Juvisy will be looking to finish higher and quite possibly end up in a champions league spot at the end of the season. The talent is there to make that type of push, all that is left is finding a way to get points off the top three teams in France. Led by captain and French international Gaëtane Thiney who will be partnered with Kadidiatou Diani up top, Juvisy can push forward and take the next leap in their overall development. US forward Tatiana Coleman has also proven to be great asset for the team and will be called upon to take the next step in her progression as well if Juvisy want to find a way past the likes of Lyon, PSG and Montpellier.
Olympique Lyonnais
The champions had probably one of the best teams in Europe last season and they have only strengthened that squad as they bid to repeat their treble. Lyon has lost the services of long-time servants Lotta Schelin, Amadine Henry and Louisa Necib but the club has wasted no time in finding replacements for those players.
They have brought in German international Dzsenifer Marozsán, former PSG players Caroline Seger, Jessica Houara-d'Hommeaux, Kenza Dali and Kheira Hamraoui, and New Zealand goalkeeper Erin Naylor. With so many new players in the squad, one wonders how they will keep all these players happy with their playign time and how head coach Gérard Prêcheur will find a strong starting eleven that has the right level of balance to challenge for all three club titles once again.
He will not have to face this decision just yet as a few of his new signings have injuries that need to be managed and will probably not start the season full fit. There will be some starting players that will not be dropped however such as Hegerberg, captain Wednie Renard and goalkeeper Sarah Bouhaddi but it seems as though the rest of the eleven will be open for the players to compete for.
Olympique de Marseille
Newcomers Olympique de Marseille will know that the task ahead of them will not be easy. The previously promoted teams, bar Albi, have not managed to stay in the division past one season and Marseille will aim to be the next team that manages to find the staying power to remain in D1 for another season at least. Head coach Christophe Parra has brought in the likes of Kelly Gadea from Montpellier and Lalia Dali-Storti from AS Saint-Etienne to try and give his team some D1 experience to lean on when the season begins and throughout the season in the hopes that they will help keep the team from relegation once the season ends.
FC Metz
Led by head coach Gérôme Henrionnet, FC Metz are also newcomers to the top division in France after gaining promotion from teh second division. Their hope, as it is with most newly promoted teams, is to stay in the league and not dro out immediately after reaching the top division.
Metz have a relatively inexperienced team that has mostly played in the youth division or the lower leagues of France's football system so they will have to rely on full preparation and tactical training to try and gain points rom those around them in the league. Estonian goalkeeper Getter Laar could prove to be the difference between safety and relegation for Metz but she will need help from those in front of her to try and stop as many goals as possible from being conceded.
Montpellier HSC
Perennial third place finishers Montpellier will want nothing more than to finally finish in the European positions once this season is finished. Swedish internationals Sofia Jakobsson​ and Linda Sembrant will be critical in getting Montpellier over that last hurdle while head coach Jean-Louis Saez will be hoping that new arrival Clarisse Le Bihan will help Jakobsson up top and help Montpellier score enough goals to topple PSG and move into second place at the end of the season.
After finishing as the runner-up in the Coup de France, Montpellier will now have the self-belief to try and win a title for themselves as they look to place themselves in the conversation as one of Europe's elite teams. Saez will also look to Marie-Charlotte Léger to have another fine season in front of goal to help Montpellier make the next leap in their progression as a team.
Paris Saint Germain
Always the bridesmaid and never the bride seems to be PSG's story so far in their history. They always seem to be one step behind Lyon, whether it be in the league, in the cup tournament or in the Champions League and it is something that former Lyon head coach Patrice Lair will try to change during his time as PSG's new head coach.
PSG have also lost key personnel to their rivals, and the likes of Anja Mittag to VfL Wlolfsburg, and many wonder how that will affect team morale going into this season. PSG can still rely on the services of goalkeeper Katarzyna Kiedrzynek, who had an excellent 2015/2016 season, captain Laura Georges and forward Marie-Laure Delie to try and help them close the gap on Lyon and they have also managed to sign Spanish midfielders Verónica Boquete from Bayern Munich and Irene Paredes which will help cover the loss of Seger and Hamraoui in midfield. There are continual questions being asked of how the administration seems to be running things behind the scenes at PSG which may play a part in why they have lost so many players during the summer. If they can solve those issues, PSG may finally remove Lyon from the top of the table and win a league title for themselves.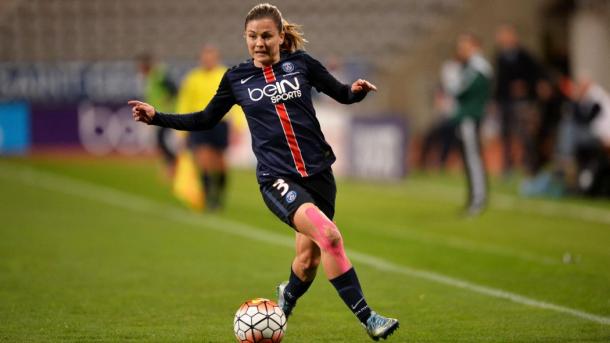 Rodez AF
Rodez AF were clearly the story of last season as they managed to climb up the table to finish fifth overall, picking up a credible one-all draw against Juvisy along the way, and going out of the Coup de France at the semi-final stage. Head coach Nicolas Bach will point to that and use it as motivation to try and get his team to finish in a similar position once again. Led by captain Marine Haupais and helped with goals by Anaïs Ribeyra and Flavie Lemaître last season, Rodez will be looking to repeat their feat and keep themselves away from any future relegation battles.
AS Saint-Étienne
AS Saint-Étienne will be looking to keep the ship steady after another mid table finish last season. They do not have the resources of the top teams and have to rely on shrewd signings and picking points off those around them to stay in the chasing pack that usually dominates the top division. Head coach Hervé Didier knows the task ahead of him is simple, stay the course and continue to establish Saint-Étienne as a regular fixture in the D1. Anything less than that will not be accepted by teh club's president or administration.
AS Soyaux
Head coach Jean Parédès and his AS Soyaux side have similar ambitions to those of Saint-Étienne. Their aim is to also stabilise the club and not get drawn into a relegation scrap during the season. Soyaux finished in seventh last season and a similar finish is what the club will be aiming for this season. Laura Bourgouin is a key player for Soyaux and if she can keep playing well, Soyaux can continue to be a team that is synonymous with top division football.
Season predictions
This is Lyon's title to lose. They have players in every position that would start for most, if not all, other teams in Europe and look set to dominant women's football once again. PSG may put up a fight here and there but the quality that Lyon has added this season should prove too much for PSG and when they meet up during the season, expect Lyon to come out on top in those matches.
As for the relegation battle, the newly promoted teams do not seem to have enough in them to avoid the drop and many expect them to not last past this season despite putting in a good effort to avoid relegation.