Isabell Herlovsen's four goals sealed yet another win for LSK Kvinner, while Kolbotn and Stabæk continues to be in a close battle for third place in the Toppserien. Elsewhere, Urædd got their first win of the season, and narrows the gap to Medkila.
LSK continues to march on towards the title
At the top of the table it is status quo after a round where LSK and Avaldnes dominated with big wins against Medkila and Trondhaims Ørn respectively. LSK hosted Medkila at LSK-hallen, and after 17 minutes Isabell Herlovsen gave the 230 spectators something to cheer about when she made it 1-0.
Herlovsen topped the goal scoring chart before this game with 21 goals. This was a 10-goal margin down to her teammate Emilie Haavi in second place, and without giving too much away, this distance would be much bigger after this game. Herlovsen went on to score her 23rd goal of the season after 41 minutes, which gave LSK a 2-0 lead at half time. Four minutes after the break, Herlovsen completed her hat-trick.
Nine minutes before the end of the game LSK made it 4-0, and there's no points for guessing who it was. Herlovsen popped up again, and with her fourth goal the game, she now has 25 goals for the season.
Avaldsnes missed the last round of games, as they were out in Europe trying to qualify for the Champions League. They did that with ease, and as a result they were awarded a round of 32 match-up against reigning Champions Olympique Lyonnais. In their returning game to the league Trondheims Ørn awaited.
Avaldsnes has two games in hand on LSK, but also 10 points up, so if they were to remain in the hunt for the title, a win today was a must. Trondheims Ørn was in 9th place, but also with the knowledge that not a lot of points separated them from 6th place. However, once the ball was in play, it was obvious Avaldsnes would run away as winners.
It only took 15 minutes before Avaldsne's topscorer Cecilie Pedersen netted her 10th goal of the season, to make it 1-0. Seven minutes later Brazilian defender Bruna Benitez made it 2-0, and four minutes before the half ended Elise Thorsnes made it 3-0. The second half didn't have any goals, so it finished 3-0 for Avaldsnes.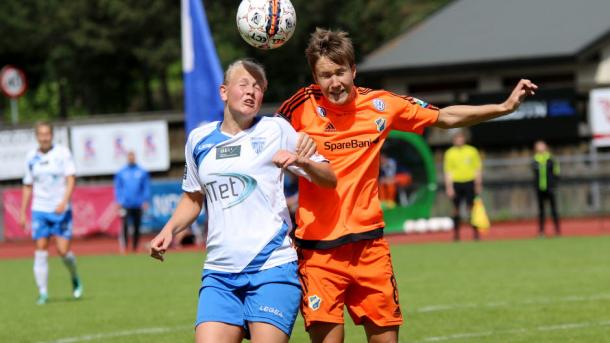 Fight for third continues to heat up
Going into this round the two combatants fighting it out for third were only separated by goal difference. Stabæk, who has plenty of league trophies in their cabinet, was the one with the advantage, having scored just a handful more goals than Kolbotn. After this round, the only thing that has changed is the goal difference that separates the two. Stabæk showed their class by beating 10th placed Vålerenga 5-0.
Marie Dølvik Rasmussen got the team of to a flyer when she netted her first goal of the day in the 35th minute, and just a minute later Ida Elise Enget followed this up by scoring Stabæk's second. The 238 spectators that had showed up at Nadderud saw the home team make it 3-0 right before the break, when a scorcher from distance saw Ingvild Isaksen celebrate her recent call-up to the Norwegian national team, with a goal.
A special moment for Isaksen who has been sidelined because of injuries for the better part of two years. In the second half, Dølvik Rasmussen made it a brace, when she scored to make it 4-0 in the 57th minute, before Cathrine Dekkerhus sealed the win in injury time. 5-0 to Stabæk who won't let go of that 3rd spot easily.
Not to be outdone by Stabæk, Kolbotn got their biggest win of the season, when Klepp was outclassed in a 7-0 win. Swedish midfielder Fanny Andersson gave Kolbotn a perfect start when she scored her first goal of the season in the 13th minute, and right before the half time whistle, Andrea Segtnan Thun made sure it was 2-0 at half time. Seven minutes into the second half the 155 spectators at Sofiemyr Stadion saw Cecilie Liane make it 3-0 for the home side.
Just five minutes later Rachael Axon converted a penalty to make it 4-0, before Segthan Thun netted her second to make it 5-0 in the 60th minute. Defender Ina Gausdal scored her fouth goal of the season to make it 6-0, before the one who started it all, Fanny Andersson, completed the rout with her second goal of the day to make it 7-0.
Almost status quo in the middle of the table
With Vålerenga, Trondheims Ørn and Klepp dropping points, there was room for Sandviken, Røa and Arna Bjørnar to create some distance in the middle of the table. Sandviken were just three points ahead of Vålerenga four spots lower down in the table before this round, but with a game against Røa on the cards, points were far from guaranteed. Røa is in a bit of no man's land.
They're placed fifth, but not close enough to be part of the fight for third and even if they have a played a game more than the rest of the teams they have a good distance down to the teams below them. However, they know that Arna Bjørnar has two games in hand, and could pose a threat to their fifth place. In front of 158 spectators the two teams shared the spoils, and while both Røa and Sandviken would have wished for more, that result still means they earn a point on their rivals. Elsewhere Arna Bjørnar was up against Urædd in the last game of the round, which saw the biggest upset of the round.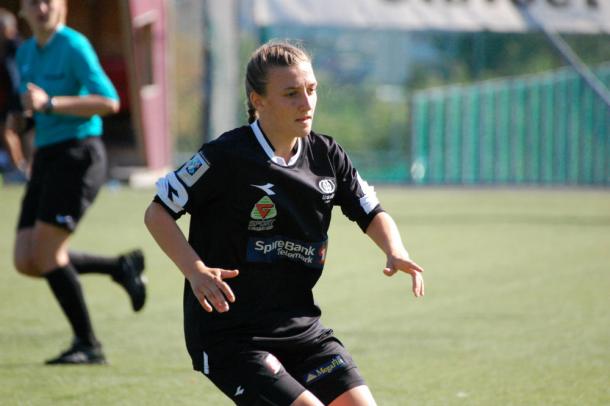 Urædd get their first win of the season
Urædd and Medkila have both been left behind at the bottom of the table, with Urædd drawing the short end of the stick. With Medkila's heavy 4-0 defeat to LSK, Urædd could, however, cover some ground (they were four points behind before this round). The difference between finishing last and second to last is a big one. Finish last and you're automatically relegated, finish second to last, and you'll have to play for the spot.
Urædd entered the round with a goal difference of -53, having only scored five goals in 15 matches, but against Arna-Bjørnar it looked like a different Urædd side. In the 21st minute the 130 people who showed up for Urædds game got something to cheer about when Siw Døvle put the ball in the net. Døvle scored 14 goals for the side last season, but this was her first goal this term.
Urædd would have to wait until the dying minutes before they could seal their first win of the season, but in the 89th minute their second goal came courtesy of Ingrid Bergland. Urædds first win of the season was a reality, and with that the bottom of the table has opened up. Medkila now only have a one point advantage down to Urædd. For Arna Bjørnar this means that they stay in 8th place.