Manchester United striker Anthony Martial admitted that he had a "very difficult" Euro 2016 campaign but refused to make any excuses as to why that was the case.
The Euros was pretty disastrous for me, says Martial
Martial only played 69 minutes for France at the Euros and failed to make any kind of impact but he could have if he was given more of a chance. Didier Deschamps though choose his other attacking options which worked so Martial never really got a chance.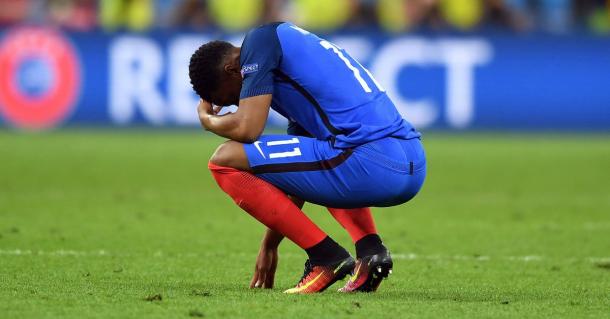 The striker has for the first time reflected on the whole experience and didn't want to offer up any excuses as to why things didn't work out for him and that he wants to put it all behind him.
Speaking to French TV, Martial says that it was a "very difficult Euros" in more ways than one as "we didn't manage to win the title" and the coach only played him for "69 minutes" so "it was pretty disastrous." The striker continued to say that things like that this "happens" though and that he is "young" and willing to "learn from that."
Martial needs to up his game after the international break
The striker knew that he didn't perform when he was given the chance saying "I should have been better" as he failed to make an impact on the pitch to make the team much better. Last season Martial played a lot for United which he wasn't used to saying "It was the first time I had played so much" but he says that this "is not an excuse" as he just couldn't get going.
Unfortunately for Martial, he has had a poor start to the new Premier League on the back of a poor Euros and is now at threat of seeing himself outside of the starting eleven for the Manchester derby this weekend.
The striker though has a good mentality and shouldn't let the disappointment affect him for too long as he looks to come back and repeat his brilliant form of last season. He has already started this by scoring during the current international break against Italy in a 3-1 win for his country