Footballers are rich and, frankly, spoilt. Yet too often, football fans and football critics alike forget that wealth and challenges are not mutually exclusive and while football is "just a game," it still requires an enormous amount of effort. One footballer who has earned plaudits because of a challenge overcome in the opening month of the Premier League season is Antonio Valencia, Manchester United's right-back.
Right-back is a loose term, given Valencia was bought by Sir Alex Ferguson in 2009 as one of multiple possible replacements for the ultimately irreplaceable Cristiano Ronaldo. Explosive pace and frequent deliveries into the box made up for Valencia's defensive irregularity. It's 2016 now and, although three years of poor performances have got us here, Antonio Valencia has become one of the stand-out full-backs in the Premier League, somehow.
Valencia's transition began many years ago
It is, of course, the early stages of the league season, but that should not hold back praise for a remarkable transformation from Valencia.
The beginning of Valencia's change from explosive right-winger to reliable right-back was under Sir Alex Ferguson, infrequently filling in for an injured or suspended Rafael Da Silva in the 2011/12 season. Then, he played five times at right-back, he'll reach that number already if he plays in the Manchester derby on Saturday. His attacking contribution from right-back in that season wasn't unimpressive, scoring once and assisting once. Yet it was difficult to feel comfortable upon seeing the Ecuadorian in the starting line-up. In fact, watching a one-footed Valencia, a problem that still needs sorting, with his poor positioning, come up against threatening wingers was a terrifying prospect.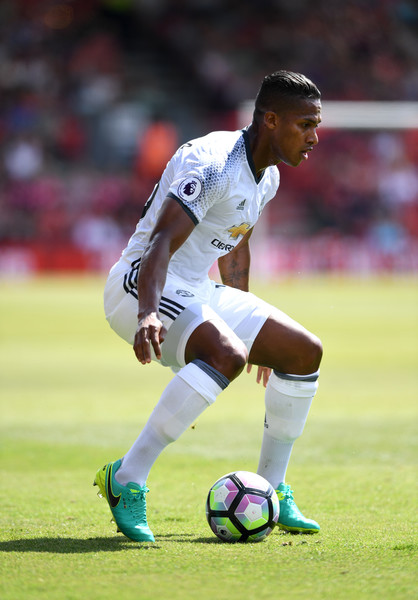 In Ferguson's final season, Manchester United's 20th title victory, Valencia's role at right-back was reduced as Rafael became less inclined to go in for rash challenges and stayed injury-free. Playing twice (as a right-back) in the Premier League and once in Europe, Valencia stayed at right midfield for the majority of the season. Under David Moyes, Valencia, again, didn't have a huge impact at right-back but was a frequent substitute in that position.
Valencia's right-back transformation sped up under van Gaal
Louis van Gaal continued the revolution, partly inclined to do so due to injuries and his dislike of Rafael, and partly because Valencia's attacking contribution as a right winger had been decreasing since his debut season at Old Trafford. 2014/15 was the first time Valencia played more games as a defender than a midfielder, United's first choice right-back. Playing alongside a suspect defence, constantly changing due to injuries, Valencia wasn't convincing. Nor was he convincing as understudy to Matteo Darmian last season, hence such great surprise when Jose Mourinho began the season with Valencia as first choice.
Yet Valencia has proved the football world wrong. Potentially the arrival of Mourinho has led to Valencia regaining his confidence. Now, ahead of the biggest fixture of the Premier League season, the possibility that Valencia could miss the Manchester derby on Saturday is seen as a huge blow to United, despite Italy's right-back Matteo Darmian being a potential replacement.
Valencia has never been blindly criticised or used as a scapegoat like Marouane Fellaini, but he's had critics from within United's fanbase, and plenty of them at times. Yet he's stayed quiet off the pitch, worked hard on the pitch, and clearly worked immensely hard to adapt to a new position which he has made his own. Valencia at right-back has been one of Mourinho's many revelations in these opening weeks of the season. It is a credit to the Ecuadorian's character and determination, his footballing ability and mental ability, ploughing through three seasons where he has often been seen as a weakness in the United side and coming out the other side, a nominee for August Player of the Month in the Premier League. Hats off to you, Antonio.