Manchester United midfielder Juan Mata has revealed that there has been a friendly rivalry gearing up amongst the Spain players involved in the Manchester derby this weekend.
Mata says that derby is a very 'special game'
Mata and David de Gea are with the Spain squad while Nolito and David Silva are in the squad representing Manchester City. All of these players are likely to start the game at the weekend and they have been talking about it while they have all been together.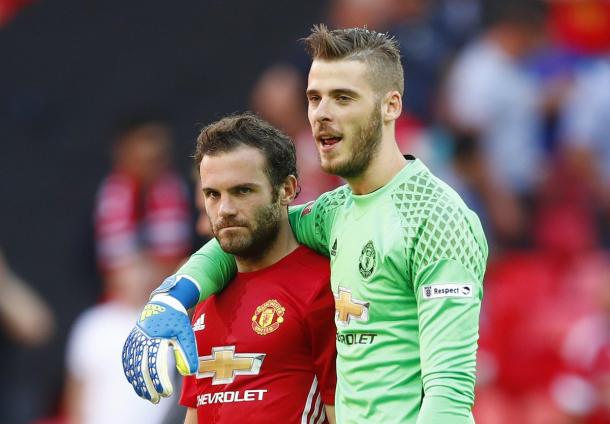 The Manchester derby at Old Trafford will be the first time Jose Mourinho and Pep Guardiola experience the match which promises to be something special.
Even though the players have been focused on international duty Mata says that they have exchanged jokes as the highly-anticipated match approaches.
Mata said "all of us are fully aware that this is a very special game" as the derby is the biggest game for both clubs. The midfielder though says that "these are just three points and don't get too crazy" as there are more games in the season even though every single player wants to win the derby.
Mata reveals that there have been jokes in Spanish training about the derby
The Spanish playmaker continued to talk about both Manchester clubs start to the new Premier League season saying "both teams have started the Premier League well" and along with that "the expectations are high" as everyone starts to believe that both clubs have a real shot at the title this season.
Mata revealed that "David de Gea and me have been joking with Nolito and Silva" about the match in training "although the truth is we are focused on the national team games" but when they are finished all the players "will have plenty of time to think about this exciting derby" which will show how much both clubs have improved from last season.
The first Manchester derby of the season gets underway on Saturday 10 September at 12.30pm at Old Trafford and with it being so early into the season it will be interesting to see which club can keep up their perfect start to the season.