Sunderland midfielder Jan Kirchhoff made his long anticipated return to competitive action in the 1-1 draw against Rochdale but couldn't help his side suffering an embarrassing defeat via penalties.
Sunderland travelled south for their first round game in the Checkatrade Trophy, and despite having three senior Black Cat players in the line-up, they could only manage a draw in normal time despite taking the lead through Elliot Embleton.
Good news all around
Kirchhoff made his first start of the season after he had been sidelined with a hamstring injury which he suffered during the pre-season tour in France.
It was his first chance to impress David Moyes at the Crown Oil Arena last night in the 1-1 draw against Rochdale, with the hosts earning a further point after winning 4-2 on penalties.
However, Kirchhoff wasn't the only Black Cat named in the line-up as, new signing Jason Denayer who signed on a season-long loan from Manchester City was named as well as Billy Jones who made his return from a hip injury.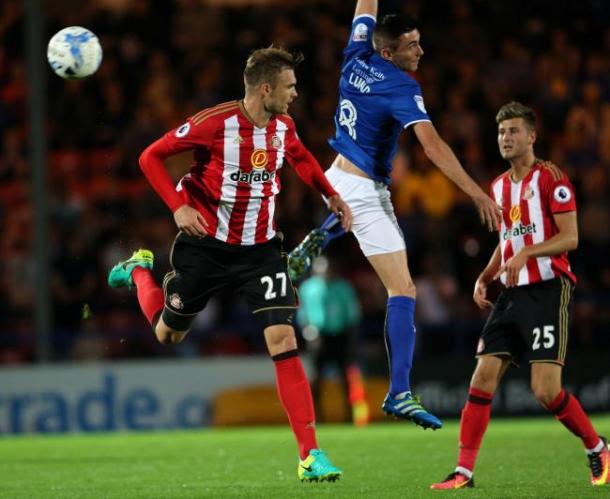 Kirchhoff completed the 90 minutes of the game unscathed of injury and looked delighted to be back on the pitch in the Sunderland shirt.
Speaking to Sunderland's official website, the midfielder said it was good to be back in action
"It was good for me to get some game time after getting back on track," said Kirchhoff.
The feelings after the game were good and Kirchhoff said that he is ready for "the next challenge" which will be making a comeback in the Premier League.
Feeling good
With the need to be fit enough as "quickly as possible" it will take time for Kirchhoff to recover, making sure not to reinjure himself. But so far Kirchhoff hasn't had any "problems" and that is "important."
The game against Rochdale came at the "perfect time" because playing the full game is better than training or playing in a friendly according to the German, and with the game being "very competitive" he admitted it was great for his "personal fitness."