Tottenham Hotspur chairman Daniel Levy has spoken of his plans to incorporate games from the National Football League once the new stadium opens in 2018-19.
The 10-year partnership which was announced a couple of months ago means Tottenham will host two regular season NFL games at the 61,000 seater stadium.
Now, Levy has expanded on Spurs' link with the NFL, saying that one day he could see the stadium being home to both Tottenham and an NFL franchise.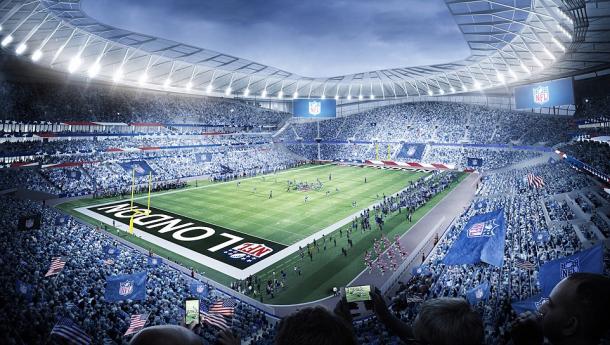 Dedicated NFL pitch and facilities a big part of Northumberland Devevlopment Project
The dedicated NFL plans have always bee a big part of Levy's idea to move into the largest club football ground in London.
Specifically designed to enable NFL teams to feel at home when visiting for fixtures, things such as seating, media zones and the dressing rooms are all intended to meet the standards of american football rosters.
Players from both sports will be welcomed to the field as they are accustomed to, with Levy revealing that there is a "dedicated soccer entrance and the other side is a dedicated NFL entrance."
Playing surface master plan could allow for sporting double-header
One of the biggest design innovations for the stadium is a synthetic playing surface for NFL games which is housed under the retractable grass pitch used for Spurs matches.
The playing surface is interchangable within two hours, which means that the idea of playing both an NFL and Premier League fixture on the same day at the new stadium is not out of the question.
Levy said on the idea of a double-header that it is "certainly realistic." The businessman added that the idea would be extremely exciting "from a television perspective" to have the two biggest sport's leagues in the world share a stadium on the same day.
The 54-year-old said that one of the biggest reasons he wanted to build the new stadium was for the link they could create with the NFL, who already have a strong fan base in London thanks to the ever-developing International Series.
Levy commented on how tennacious he was to get a deal across the line with the NFL, saying that he kept going back to them asking questions about what they would need the stadium to incorporate for them to move in. From the feedback he recieved, Levy said that "Basically we had a checklist of all the various things we wanted to achieve (for the NFL), and then at the end of the day it was the best solution (to share the staium)."