After an action-packed opening to the 2016-17 Frauen-Bundesliga season, what will matchday two have lined-up?
Jena hoping to upset Bayern
After watching the champions pass up chance after chance last weekend, USV Jena will fancy their chances of denting Bayern Munich's start once more on Saturday. On the other hand, Jena started the season with confidence and in clinical fashion. Lucie Vonkova's double secured a hard-fought 2-0 win over Bayer Leverkusen.
For Bayern it wasn't a case of a poor performance across the board that saw them draw with SC Freiburg, quite the contrary. Thomas Wörle's side were superior for almost the entire game and Melanie Behringer's penalty gave them a deserved lead, only for Hasret Kayikci to make them pay for those missed opportunities to secure a 1-1 draw.
With no fresh injury concerns for either side, both will be at full strength for what could be a close encounter.
Top two go head to head as Turbine welcome Frankfurt
After taking over from the legendary Bernd Schröder, Matthias Rudolph has the unenviable task of following one of the key figures in German football. However, his tenure got off to the perfect start on the opening day as Turbine Potsdam secured a 3-0 triumph at Hoffenheim. Tabea Kemme got a brace, with Felicitas Rauch also scoring.
Mandy Islacker scores goals for fun. Simple. The 1. FFC Frankfurt forward, after being handed the Torjägerkanone before the game, went on to put three past Gladbach as a signal of intent to keep a hold of the award. Frankfurt cantered to an 8-0 win and despite losing key players over the summer, will want to keep up this sort of performance.
After the disappointment of last season, for very different reasons, both sides will be keen to get the upper hand in one of the biggest games of the campaign.
Gladbach face tough Sand test
Borussia Mönchengladbach's Frauen-Bundesliga bow couldn't really have gone much worse, especially after finding themselves 5-0 down at half-time to Frankfurt. They will need to rid that performance and memory from their minds as soon as possible, though, with another tricky opponent waiting in the wings.
Colin Bell's return to the top tier of German football didn't take long, and he showed why he is so successful in what has become his second home. SC Sand are the beneficiaries of his footballing brain this time and Bell kept up their infectious team spirit and tight defence to secure a 0-0 draw with VfL Wolfsburg.
Even though both teams are winless, this game should go the way of Sand; Bell will be desperate to get his first three points on the board.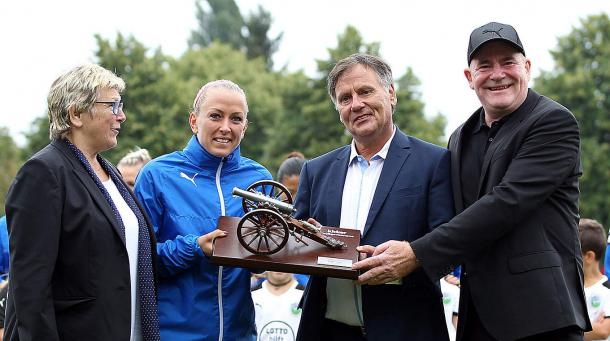 Freiburg ready for battling Duisburg
The celebrations at the end of their game with Bayern told the story, as SC Freiburg celebrated a well-earned point in Bavaria. It wasn't easy and Laura Benkarth was called into action on more than one occasion but Kayikci's header gained them the share of the spoils that their effort deserved.
MSV Duisburg fought admirably in their derby day opener against Essen, although a goal on the stroke of half-time killed their ryhthym going into the second-half and they eventually fell to a 3-0 defeat. It certainly wasn't the ideal way to start the campaign, yet there were positives for Inka Grings to take from the game.
This could be a similar game to their last, as Duisburg just aren't at the level quite yet to compete with the teams at the top end of the table.
Essen keen to keep up winning start against Hoffenheim
Everything is positive around SGS Essen at the moment. Lea Schüller is showing just why she is thought of as one of the nation's top prospects, Linda Dallmann and Jaqueline Klasen earned their first Germany call-ups and that all stemmed from a 3-0 win over Duisburg. Coincidentally, all three players got on the scoresheet.
The same can't be said of TSG 1899 Hoffenheim, however. A very disappointing display at Potsdam saw them slip to a three-goal defeat and create very little going forward. With Freiburg, Jena and Wolfsburg following this fixture, any points here would be a much-needed boost ahead of a tricky run of fixtures.
Given the opening day performances from both sides, it is hard to look past anything other than a home win; especially if the Essen attack clicks again.
Wolfsburg meet Leverkusen with both searching for first win
Last but not least, Ralf Kellermann's VfL Wolfsburg will be hoping to pick up their first three points and goal of the season on Sunday. With Anja Mittag, Caroline Graham Hansen, Alexandra Popp, Ramona Bachmann, Zsanett Jakabfi and Tessa Wullaert all in their side, a return to the AOK Stadion should see them firing once more.
For Leverkusen, in spite of their summer arrivals, things didn't go according to plan in their opening game. While Wolfsburg picked up a point, Bayer were downed by Jena. They came close to an immediate equaliser and pushed hard throughout, though that crucial breakthrough never came.
With the visitors still gelling as a team, this looks likely to be the game where Wolfsburg will start the ball rolling this season.