Jürgen Klopp is keen for his side to harness what promises to be a scintillating atmosphere when Liverpool take on Leicester City at the newly-redeveloped Anfield on Saturday.
The Reds host the reigning Premier League champions for their first home game of the season, spending the first three league games on the road as their home stadium underwent a revamp.
But the Main Stand, adding an extra 8,500 seats to increasing the capacity to over 54,000, is now fully completed in time for Liverpool's clash with the Foxes.
With Anfield prepared to enjoy its biggest attendance in near 40 years due to the redevelopments, Klopp is expecting an atmosphere that he hopes his players can relish.
Speaking at his pre-match press conference to preview the game, Klopp told reporters that he visited Anfield earlier in the week for the first time since the last home game of the previous campaign, a draw with Chelsea in May.
He called the build "really, really impressive" and lauded the constructors for an "outstanding job", adding: "I've got no idea how somebody could do something like this, but when you stand in front of it, it's really amazing."
Klopp added that the club are in "a good place" as they prepare to welcome "a good opponent", as he congratulated them for their title triumph last season and said it was "really well deserved."
"They've still good, but it's now another season," continued the German, alluding to the fact Liverpool will play their "first home game" with "8,000 more in the stadium" which he referred to as "more power" which they must "use" to their advantage.
Reds have "wonderful opportunity", says Klopp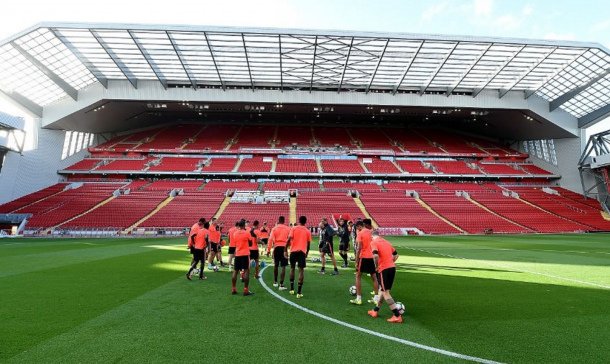 Liverpool's Boxing Day victory over Claudio Ranieri's men last season meant they were one of only two top-flight clubs to get the better of Leicester, winning 1-0 thanks to Christian Benteke's strike.
While Klopp warned that the visitors will be equally as dangerous this weekend, the clash is a good chance to return to winning ways after a defeat and a draw in their last two outings.
He explained that Leicester are "still good, still lively, still aggressive [and] well organised" as he spoke about their "one big strength" being their counter-attacking ability and being "very direct" on the break.
The Reds boss said that they have had to "prepare for this" as he told journalists that Leicester's style is "not about pressing in their build-up" because they "don't give you that opportunity" but "they don't defend that deep."
Klopp suggested that they played similarly on Merseyside last season, calling it "one of their biggest qualities" to be able to "stick to their plan" although it is "not their only plan."
He acknowledged that they "really can" also "play football" as he said that giving Riyad Mahrez the ball means it's "not a counter-attack then."
"They defend well and have a lot of good players," Klopp added, saying that Leicester are "good at set-pieces and throw-ins with Christian Fuchs."
He hinted that his side have worked on countering Leicester's threats in training, insisting they "know about it" and have had "nearly two weeks to prepare" - adding that they "will be prepared" after their final days of training beforehand.
Klopp spoke about his side being "the only team" to have three successive away games to kickstart the season, adding that after the international break, to have four points as their "base" means they have "a wonderful opportunity" to get back to winning ways against Leicester.
Reds boss: My players can all still improve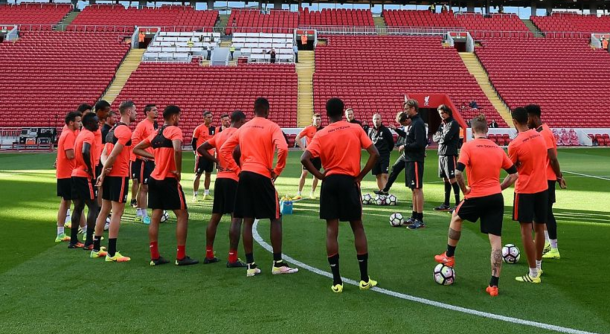 Reflecting back on their first three games of the campaign, Klopp admitted that his side have "shown different things against different opponents."
He noted that they "deserved" their win against Arsenal for a "really good 30 minutes" after the break, in which they scored three of their four goals.
And he declared that they even "played well" against Burnley, but said that the reason for their 2-0 defeat was because "14 or 15 times" they lost their "nerve with the last pass in dangerous areas."
"We could have won or lost at Tottenham," Klopp continued, talking of their final game before the international break, calling it "a fair result" to draw because his side "didn't play enough football" and "were too direct trying to close the game" in the second-half.
The German said that they "should not lose at Burnley" but that they "could have drawn one of those games" against the Clarets or Arsenal, so they would still "have four points."
He admitted that their points total "doesn't feel too good" but also isn't "really bad" because they are the only team to have "played three away games" which he called "a tough start" that they "cannot ignore."
"We have to develop things," Klopp said. "Nobody is playing at their best at this stage."