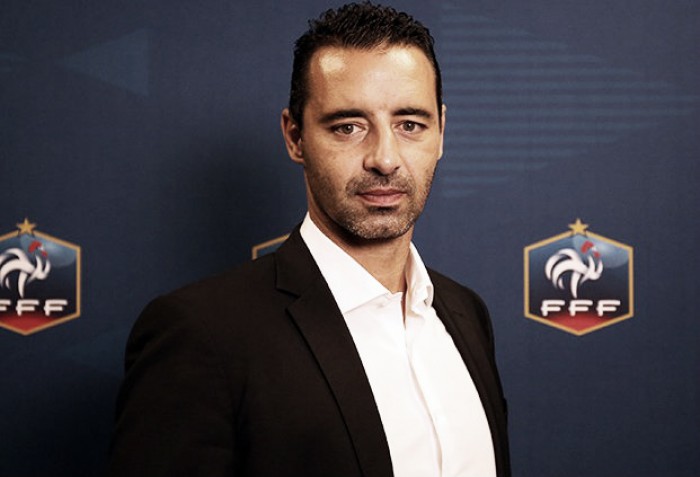 On Friday morning, the French Football Federation announced that Olivier Echouafni would be the new head coach of the women's national team.
That confirmed the rumours doing the rounds that Philippe Bergerôo had been sacked from his role.
Echouafni has signed a two-year deal with France, taking him through until late 2018, and will have his first press conference on Wednesday.
The FFF also made clear that the squad for the upcoming games against Brazil and Albania would be announced after this weekend's Division 1 Féminine action.
Who is Echouafni?
As far as women's football goes, the former midfielder has very limited experience.
But what he does bring is that crucial in-game grit that perhaps France have lacked at crucial stages. With 391 Ligue 1 games under his belt, Echouafni has it in spades.
With Olympique Marseille, OGC Nice and Stade Rennes to his name as clubs during his playing career, the 43-year-old's time as a manager hasn't lived up to that just yet.
Echouafni was in charge for a single season at AC Amiens and then moved to FC Sochaux at the start of the 2014-15 season.
He won only a third of his games in charge there, and has been out of work ever since he was sacked by them in September 2015.
Can he get the golden generation fire?
Bergerôo has finally paid the price for failing to get the most talented group of French players into the real shake-up of the international tournaments.
The most recent attempt to finally claim major honours was scuppered by Canada, as they fell at the quarter-final stage of the Rio 2016 Olympics.
France were agonisingly close to edging out Germany in the Women's World Cup a year previous, but penalties proved their downfall.
With no significant change in their fortunes since Bruno Bini's time in charge, it seemed a matter of if and not when a change would come.