At points it was like watching Rocky Balboa and Apollo Creed go for each other's throats in Rocky II. The Manchester United and Manchester City players gave everything for 90 minutes and more, but City's brilliant start to the game ensured they came away with all three points.
Jose Mourinho will have learnt a lot about his team today, even more than he has in the first three games of the season.
Muted tactical change a necessity for games like this
It is not often that Mourinho gets his tactics wrong but there is a sense that he (and most of Manchester) underestimated the work that Pep Guardiola had done in his short time at Manchester City.
Ever since the arrival of Paul Pogba there have been discussions as to what to do with the talented midfielder when the big games come along, especially in relation to his and Wayne Rooney's positions on the pitch.
Jose persisted with playing Rooney in the number 10 position and Pogba alongside Marouane Fellaini as a central midfield pairing. It was a decision that back fired.
With Pogba playing with the freedom that he craves, which means that he goes wherever he believes he can influence the game, and Rooney pushing high up alongside Zlatan Ibrahimovic, it meant that most times it was left to Marouane Fellaini alone to counter the slick movement of Kevin De Bruyne and David Silva in particular as City threatened to run riot in the first 40 minutes.
It was not until United reverted to a three-man midfield with Pogba in the most advanced position and Ander Herrera alongside Fellaini that they looked a much more solid proposition. You can only wonder what difference it would have made if Jose started the game with this set up. The engine that Herrera provided alongside Fellaini was sorely missed in an abject first 40 minutes by United and Pogba's box to box dynamism thrived more with the additional insurance in midfield.
One suspects that when the next big game comes along, Mourinho will be opting for that three-man midfield, with two central midfielders supporting Pogba rather than the flat two behind Rooney which he has favoured to this point.
Marcus Rashford a must
In the big games, you want your best players on the pitch and despite his age, Marcus Rashford is one of Manchester United's best players.
Mourinho has almost bent backwards to accommodate Rooney in his set up but that desire should be directed towards the younger Englishman. The issue has always been that Rashford's best position is currently being occupied by Ibrahimovic, who scored again today. But given his value to the team there must be provision made to accommodate his talents.
His class was there for all to see when he came on in the second half and, but for his shot deflecting off an offside Ibrahimovic, he would have levelled the game for United. His ability on the ball, his running, dribbling and overall confidence was sorely missed in a poor first half showing by the hosts as Henrikh Mkhitaryan and Jesse Lingard struggled to come to terms with the challenge ahead of them.
It is likely that Rashford will start in the Europa League game in midweek and that Jose will continue to share the number nine position between him and Ibrahimovic as the season goes on, but when the big games come by the young striker must be in the line up going forward.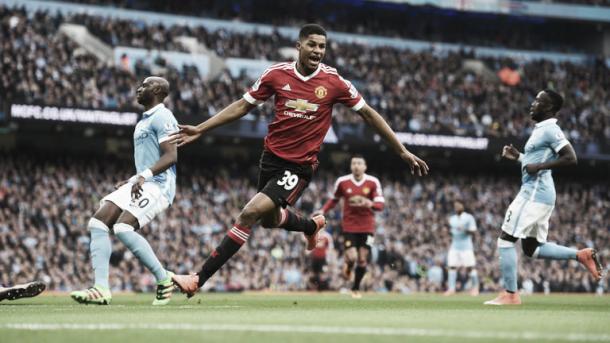 Mkhitaryan has an 'Evra' moment
United legend Patrice Evra's first game for the club was a Manchester derby and he was so poor, so out of pace that he was pulled off by Sir Alex Ferguson at half time. It was an eye opening welcome to English football. But Evra, to his defence, did not allow that experience deter him. He instead used it to motivate himself to the point that he became a favourite and indeed a cult figure amongst Manchester United fans.
Those of a red persuasion will be hoping that Mkhitaryan's United career follows a similar trajectory. The Armenian captain, who United fans have been pining for since the season started, showed his class at times but had a derby to forget and was hauled off at half time in favour of Herrera.
Mkhitaryan was very light weight and did not seem to be at the right physical level as he was bullied by Aleksander Kolarov and the other City players for most of the first half, while also failing to close the opposition effectively when they were in possession.
It could be that the Armenian was yet to fully recover from the injury that he picked up on international duty. Either way, after his manager alluded to having been "disappointed with the performances of some of his players',' he will have to knuckle down and work even harder to win his manager's trust again - just as Evra did to superb effect. Manchester United fans will be hoping he goes down a similar path as the French defender.
United need Anthony Martial back (and the real Memphis Depay too)
There was a big Anthony Martial shaped hole in the United attack as they struggled to breakdown their city neighbours. The French international, who had little to no pre-season following Euro 2016, has had a difficult start to the season but United need him to start firing again.
His pace and clinical finishing were clearly missed, especially in the first half as United counter attacked to no avail. At the start of the second half, when the hosts were on top and threatening to equalise after the introduction of Rashford and Herrera, there was still a sense of missing one more player with pace and directness to really finish City off.
Martial did eventually enter proceedings late in the game, but by that time United had reverted to playing long and hoping for a favourable drop of the ball.
If United are to pose a similar threat in an attacking sense as their rivals did in the first half, they need Martial to come back to his form of last season and they need Mourinho to somehow resurrect the career of another signing from the previous season, Memphis Depay.
If Martial and Memphis hit form alongside Rashford and with Pogba behind them, they will be a force to be reckoned with - one that may even be a more impressive watch than Pep's City in full flow.
Pep has the advantage…. For now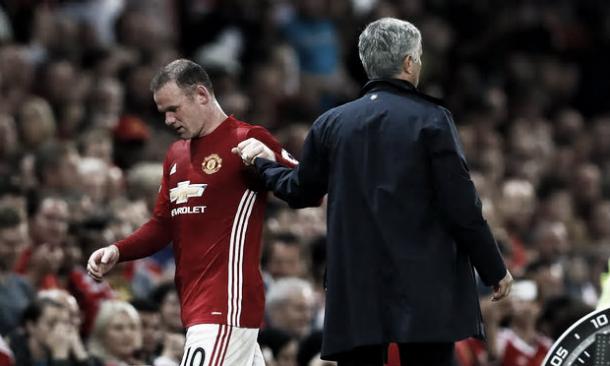 In his post-match press conference, Jose Mourinho agonised over poor refereeing decisions and players who had let him down on the pitch. While he had valid points on both counts, in terms of the progression of the teams, it is Pep Guardiola's City side that looked the more accomplished.
The Sky Blues are clearly playing in the image of their manager and particularly in the first half it was breath-taking at times. Manchester United however, based on evidence of today's showing, still have some work to do to deliver the pace and power symbolic of Mourinho's best teams.
Some of the problems are of Mourinho's own making. For example, one imagines that had Guardiola been Manchester United manager, Rooney would have received a similar treatment to that the Catalan maestro dished out to Joe Hart and Yaya Toure. Not that Rooney was poor today but more that his presence in the side affects the team's balance which, in the big games in particular, is easily exposed.
Guardiola has shown a ruthless streak to get his City side to play and perform in the manner that he wants, perhaps it is time Mourinho did the same.
So the first Manchester derby has been played and has lived up to all the expectation and hype preceding it. Manchester City won the battle, Jose will be hoping that Manchester United win the war.