Arsene Wenger has admitted that he believes that Jack Wilshere has what it takes to become Arsenal captain and, looking beyond his playing days, manager.
Speaking ahead of Arsenal's last-gasp win over Southampton, Wenger praised the qualities the midfielder has, currently plying his trade out on loan at fellow Premier League club Bournemouth. The Frenchman was adamant that this was not the start of an endgame at Arsenal for Wilshere, 24, and will look to extend the England international's contract upon his return at season's end.
"Certainly one day he will be in my seat," Wenger spoke, whilst sporting a trademark smile, before adding "He has a real football brain and understands football".
Wilshere's loan move was inspired by numerous factors, one being his exclusion from Sam Allardyce's first England squad for the start of the World Cup Qualifying campaign. Another was Wilshere's want for first-team football, with Wenger unable to promise the academy graduate a regular starting berth, even more so after the arrival of £34 million man Granit Xhaka, who has impressed thus far.
"I am convinced he was hurt by [not being named by Allardyce]," Wenger declared. Wilshere's inclusion in England's maligned UEFA EURO 2016 squad was met with raised eyebrows, due to his lack of playing time - only managing to make a handful of cameo appearances at the back end of Arsenal's season.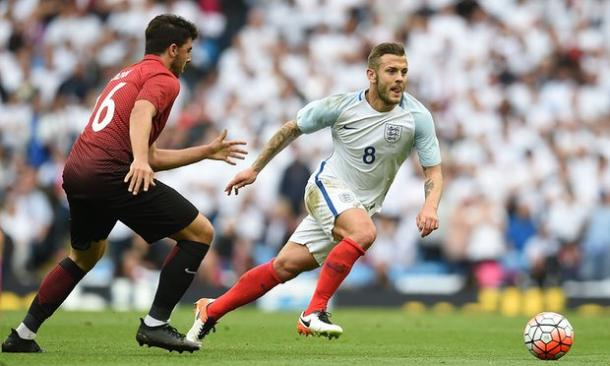 Keen to get game time
Wenger also noted that it was imperative for his health that he played Premier League football, due to the injury worries that plagued his early career, and have kept on persisting since. The last time Wilshere played a full 90 minutes of football for the Gunners, was in a 2-1 Capital One Cup loss to Southampton, two years ago this month.
"We have let him go for health reasons. He is not yet completely at his physical level," Wilshere made his first competitive appearance for Bournemouth in their narrow win over West Brom yesterday, playing 27 minutes without trouble as a substitute.
"What is at stake for him, is just playing. I hope he plays 40 games this season and comes back here and plays for us. His main problem overall is being capable of playing every week." Wenger admitted "If he plays, he will play really well, because he cannot play badly. And the first person to be happy about that would be me."
The notion of a contract extension will be welcomed by Wilshere, with Wenger waxing lyrically over the talent he possesses, and has shown in all to brief glimpses over the eight years since his debut against Blackburn Rovers: "We have all been his age, wanting to play football but we didn't have his talent." Wenger added "You can imagine what he must feel like. It is very frustrating."
Wilshere's attitude has been called into question previously, most pertinently when he was caught smoking at a pool party in LA two years ago, when recuperating from a disappointing World Cup campaign. He was once again caught red-handed in February 2015, pictured holding a shisha pipe in London nightclub, but has since apologised for both these occurrences.