Jürgen Klopp reflected on a performance he felt typifies what he expects of his Liverpool team after they thrashed Leicester City 4-1 in their first home game of the season, but suggested that they can still improve further.
The Reds played host to the reigning Premier League champions to unveil Anfield's new Main Stand, adding over 8,000 extra seats for the ground's highest attendance since before 1980.
And they went on to mark the historic evening in memorable fashion, goals from Roberto Firmino and Sadio Mane giving the hosts a comfortable lead on the half-hour.
Lucas Leiva's error gifted Jamie Vardy a goal before the break and threatened to let Leicester creep back into the game, before Adam Lallana's arrowed strike into the top corner at the Kop end helped re-establish Liverpool's two-goal lead.
Firmino rounded off the scoring late on, capitalising on an empty net after Mane had rounded Kasper Schmeichel on the counter, to open the new-look Anfield in style.
Win was "more than deserved", insists German
After full-time, Klopp called it a "really exciting moment" for the club, insisting that they came into the game knowing they "had a job to do" and said: "That's what we did, against a strong opponent."
The manager insisted the three points were "deserved" for how Liverpool were "physically strong" as well as how "clear", "hard" and "flexible, quick, creative" they were.
He joked that while his side "scored wonderful goals", they conceded a "not-too-wonderful goal" due to Lucas' error, admitting that they then "had a few minutes when you saw what can happen in a football game."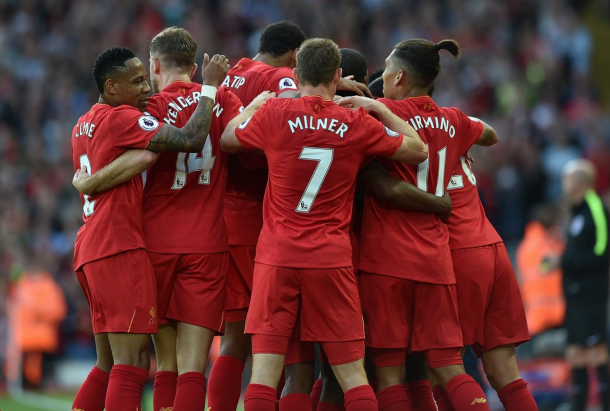 Klopp spoke about his half-time team talk and how he laid out the "challenge" at hand to his side, insisting to his players when they "are good" they "are really good."
"This is our challenge, not only today, [but] for the whole season," he told journalists, talking about the "wonderful opportunity" they had - and took advantage of - against the Foxes to show that they have learned to survive difficult moments in a match.
He explained that Claudio Ranieri's men are "really difficult to play against", but because of "the second balls" rather than their "pressing."
He said that this is because Leicester are "so tuned" and "apart from one player" played with the same side which helped them to the title last term, insisting that made it "very difficult" for Liverpool who "were not tuned" having had to "change a very decisive position" only the previous day.
Klopp noted Dejan Lovren's black eye, which meant he had to make way for Lucas at centre-back, saying that while the Brazilian is "a wonderful character" it was "the most difficult game" for him to come into, "especially when you don't play 500 games in a row."
"But we came through it together," he added. "And in the end, it was more than deserved, I would say."
Klopp: That's the kind of performance I expect of us
The German once again refused to highlight individual performances, when asked about the likes of Sadio Mane and Daniel Sturridge, saying: "I love these players. [But] what about Adam Lallana? What about Joel Matip?"
He explained that he is "really on the side of the players" and that for Liverpool's bad performances, he is solely responsible while the players are "responsible for our good performances."
But he said that, while he praises his players when they play well, he doesn't "like too much" after a game in which "everybody could see that we were good that we celebrate it like something really special happened."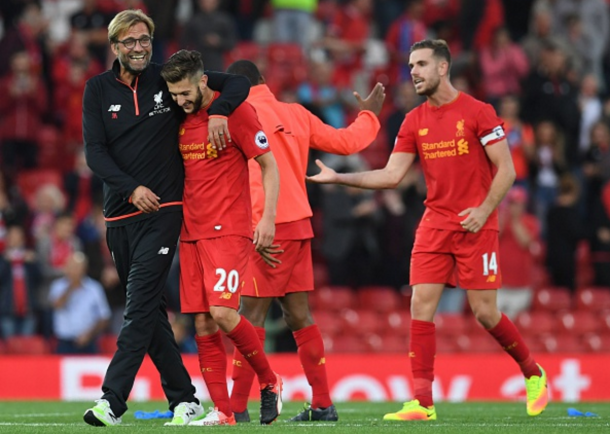 "That's what I expect from us," continued Klopp, on what how his side played, insisting that they "have to show it" regularly and that they "will see how often" they can show it throughout the course of the campaign.
But he said that they should not think about their "absolute standard" or any "negative things" because this year's Premier League, he believes, is "so unbelievably strong and competitive" that they must "be there" at their best "every day" and in every game.
Regardless, he said that Liverpool "were good" even with Philippe Coutinho on the bench, Divock Origi an unused substitute and with "a few players injured" such as Lovren, Emre Can and Ragnar Klavan.
He felt that it was "still a good team [performance]", but one which they must demonstrate on a more regular basis, saying that they "have to show this" and they "have to perform.
Reds boss insists his side should still aim to improve
Klopp said that such a performance from his Liverpool side helped to demonstrate why he didn't do an abundance of business in the transfer market, his last signing in Georginio Wijnaldum back in mid-July.
The Reds boss declared that they had "a minimum of 30-35 minutes at Arsenal" which, until then, he had not seen from his players in terms of "the kind of movements and clearness" they had in the final third and how they were "really so strong and quick and clear."
He spoke about the questions he was forced to field in press conferences, in which there was "a little bit of doubt" about whether Liverpool's squad was sufficiently strong enough for the season.
"It's our job to prove that we are as strong as I think we are. Today, we showed it in a few moments," Klopp declared. "But I hope we can do better. I'm not interested in setting standards until we have reached the final standard."
He said that it was "good" and "especially good enough" against Leicester in particular, meaning they "really deserved the three points" and look forward to another "real challenge" against Chelsea on Friday for which they "have to be prepared" to face "not a lot of space."