Sadio Mane felt that Liverpool's resounding 4-1 victory over Leicester City on Saturday was satisfying for everyone involved, despite admitting that they could have scored even more goals.
The Reds netted four in a single Premier League game for the second time already this season as Roberto Firmino's brace, added to strikes from Mane himself and Adam Lallana, helped them to victory in their first Anfield fixture of the campaign.
The Senegalese winger was once again in fine form, scoring one and laying on another for Firmino late on, and insisted that his early form on Merseyside has been aided by his "fantastic" teammates.
The 24-year-old explained that Jürgen Klopp's side were all "really happy" in the changing rooms afterwards, having downed the champions in such fashion, and told the club's official website that it was "important" for them "to win."
He said that he didn't think that Liverpool's performance was their "best game" but insisted that they "deserved to win" because they "created many chances" and "could have scored two or three more goals."
However, though they squandered opportunities to beat Leicester even more comprehensively, he felt that "everybody is satisfied with the performance."
Mane insists the excellent start to his Anfield career is thanks in part to the quality of his teammates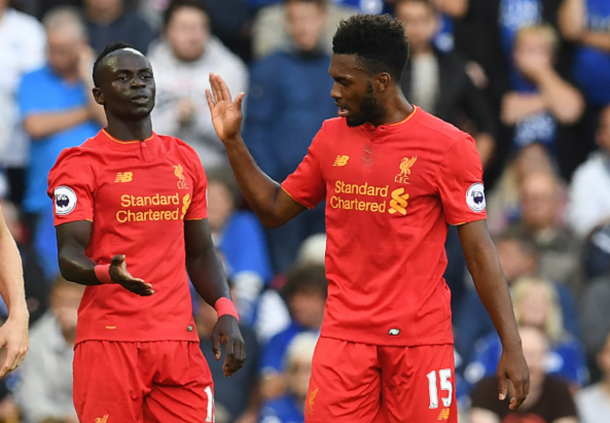 The Reds' No.19 has shone since signing from Southampton in the summer, scoring twice and producing three assists in four appearances, and hailed the influence of their talents in the final third for helping him to seamlessly fit into the side.
He said that it was "easy" for him to "adapt" his football to the Liverpool side because players such as Daniel Sturridge, Firmino and Lallana are "very, very fantastic footballers" who are easy for him to "play with."
"I'm happy for that," continued Mane, who also hailed the atmosphere inside Anfield as the club's new Main Stand was officially unveiled to take the attendance to over 54,000.
Mane said that the supporters played "a very good part" for the players and "helped" them "through the difficult times" in the match, adding that they are "very happy with that" and saluted the fans for being with them "until the end of the season."