Week 16 saw a new twist in the title race as an unlikely source slowed down the league leaders in the Damallsvenskan. With six matches to go, it's still anyone's game but after this weekend, one team has the advantage and will look to grab the opportunity wth both hands in the coming weeks.
Rosengård stumble against Vittsjö
The now former league leaders, FC Rosengård knew that they would need to continue to win their remaining matches to prevent any other rival from being able to leapfrog them to the top of the league. Vittsjö GIK were in no mood to accommodate Rosengård and kept the final result of their home game against the then table toppers as a nil-nil draw.
Both teams decided not to rest any players after their midweek league matches but it proved to make no difference for Rosengård as they could not find a way past a resolute Vittsjö side. Even with a side featuring the likes of Marta, Ella Masar and Lieke Martens, Rosengård could not find the goal they desperately wanted to keep their title challengers Linköpings FC below them in the table. Take nothing away from Vittsjö as they withstood all that Rosengård threw at them to gain a credible draw this weekend.
Rosengård are now in second, one point away from the top but a game behind the new league leaders. They will be hoping that Lotta Schelin will be available again quickly as they now begin to chase down Linköpings in the next few weeks. Vittsjö finds themselves in seventh, level on points with Göteborg FC but lower down due to goal difference.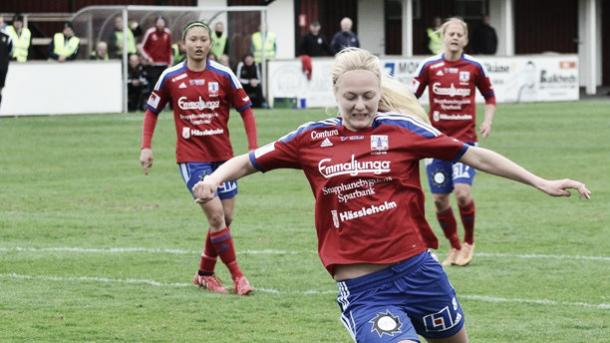 Linköpings take charge of the Damallsvenskan
After watching Rosengård drop points before their own kick-off time, Linköpings FC knew that a win would take them to the top of the table and with a game in hand. The home side had no problems finding the goals in their two-nil win over Kristianstad DFF.
Stina Blackstenius got the first goal of the match and continued her personal battle with teammate Pernille Harder to finish as the Damallsvenskan's top goal scorer once the season ends. Kristine Minde got the second for Linköpings not long after the second half started to push the home side to the top of the league and with a game still in hand to play over their rivals.
Kristianstad are still two points away from the relegation zone but will be looking nervously over their shoulder as the season winds down. They will need to start picking up points again before those below them somehow manage to find their run of form or Kristianstad will see themselves dropping down to the second division at season's end.
Piteå IF struggle against Umeå IK
What should have been a straight forward or easy win for Piteå IF against relegation battlers Umeå IK ended up as a one-nil win. Umeå held on until the 87th minute when Felicia Karlsson found the breakthrough for Piteå. This was surprisingly even game as both teams tried to stay tactically sound but still push for opportunities to score a goal to win the game. Unfortunately for the away side, Piteå was the team that managed to convert one of their chances and get all three points.
Piteå, on 28 points, stay in third and fourteen points away from second. Unless the top two teams have an unlikely collapse, Piteå's focus will be on consolidating third place and stay ahead of the other teams in the league that are trying to move up the table. Umeå remain bottom with nine points but they can take heart from their performance this weekend and know that if they can pick up points here and there, they can make up the three points that currently separate them from safety.
Malbackens pick up a big point against Eskilstuna
Another surprising result from Week 16 was Eskilstuna United's goal less draw against the other team in the relegation zone, Mallbackens IFF. Like Piteå, Eskilstuna should not have struggled to score against a team that has conceded 37 goals this season but they did and found themselves on the end of a nil-nil draw at home. Nothing Eskilstuna came up with could get by a stubborn Mallbackens back line who are fighting for survival and know that every point counts at this stage of the season.
Now Eskilstuna find themselves in fourth, one point away from Piteå and even further away from the top two teams. Mallbackens will gladly accept this draw as even though they are still in eleventh, they are now two points away from safety and with six games to go, they will know that they have a great opportunity to dig themselves out of the relegation zone.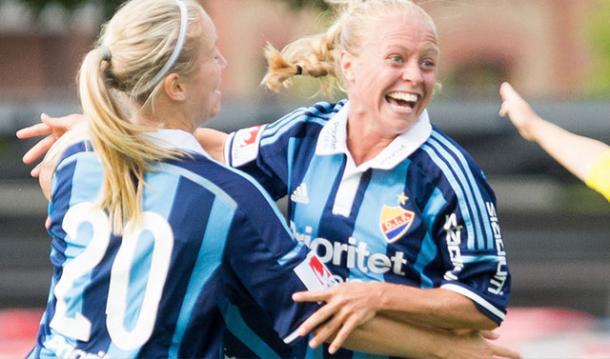 Djurgårdens wins the mid table clash
Djurgårdens IFF were up against fellow mid table side Göteborg FC this weekend and the home side were the victors with a two-one win. Hanna Lundqvist got the first goal of the day in the 25th minute and Mia Jalkerud extended Djurgårdens' lead in the 69th minute.
Pauline Hammarlund, who is having an outstanding season for Göteborg, got one back for the visitors but it was not enough to prevent the loss on the day. The two teams are now fifth and sixth respectively with Djurgårdens staying ahead of Göteborg by two goals. Neither team has title aspirations but they will want to finish as high up the table as possible.
Kvarnsvedens win against Örebro
The last roundup of Week 16 saw KIF Örebro win away at Kvarnsvedens IK by two goals to one. Tiffany Weiner and Tabitha Chawinga gave the visitors a two goal lead in the first half and Örebro maintained that lead until the half time interval. Julia Spetsmark got one goal back for Kvarnsvedens in the 54th minute but it ended up being the only goal that the home side could find.
Both teams are trying to put some distance between themselves and the relegation battle and currently stand six and five points away from Mallbackens respectively. As of right now, both teams should escape the drop but if either team continues to drop points, they may well find themselves fighting for their Damallsvenskan lives in the coming weeks.