Matchday 2 in the Frauen-Bundesliga continued to throw up some surprises over the weekend. Many expected results happened but some teams prevailed to leave the start of this season as intriguing as it could get at this point.
Turbine lead the way after two games
At the beginning of this season, not many people believed that 1. FFC Turbine Potsdam could compete with the top three teams in the Frauen-Bundesliga. This weekend, Potsdam proved their critics wrong and sent out a signal that this team, led by Matthias Rudolph is now a completely different prospect from previous incarnations by beating their opponents by three goals to nil. A tough home match against 1. FFC Frankfurt was on the cards for Potsdam and after Frankfurt's big win last time out, many thought that this would be another win for Frankfurt but Potsdam had other ideas.
Laura Lindner got things started for Turbine Potsdam in the third minute and the home team kept their lead going into half time. In the second half, Potsdam turned it on and goals by German international Tabea Kemme in the 78th minute and Svenja Huth one minute later, sealed the deal for Potsdam. Frankfurt had no answer to the attacking threat that Potsdam posed and could only watch as Huth in particular, ran the show for the second week running for Potsdam. Postdam now sit at the top with six points from two matches while Frankfurt have dropped from first to seventh after their loss this weekend.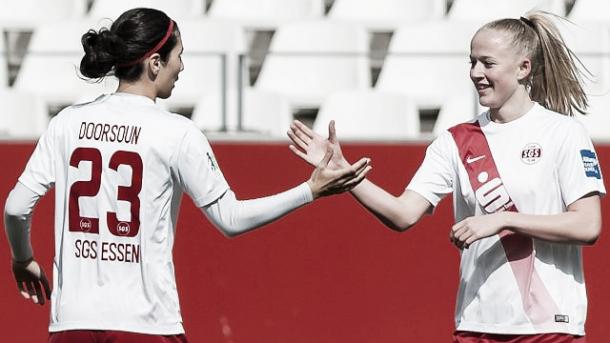 Essen stay in second, overcome Hoffenheim
SGS Essen knew that a win against 1899 Hoffenheim would keep them right at the top of the table and the home side made sure of it by managing a one-nil win over Hoffenheim. The home side had to wait until the 68th minute for Lea Schüller to come up with the winning goal after Hoffenheim had stayed firm and compact to prevent Essen from being able to create enough clear cut chances on goal.
Schüller, who was earmarked to have another big season for Essen, needed to be at her best once again to help her team get all three points against the newly promoted side. As for Hoffenheim, although they still have not managed to pick up points so far this season, they are proving to be difficult to beat and if they can maintain their stingy defense, they will most definitely have a chance to stay within the top division when the season ends.
All they need to do to move up the table from ninth, is to find the goals that will accompany how well their defense has been playing.
Freiburg continue to their good start, dismantle Duisburg
SC Freiburg took heart from their solid away draw at current champions Bayern Munich and put on a great show for their first home match of the season. New promoted MSV Duisburg were no match for the home team and could not stop them from putting five goals past them. Lena Petermann was the pick of the Freiburg players and she started of her day with the first goal of the game in the sixth minute.
VfL Wolfsburg loanee Lina Magull then put her name on the score sheet three minutes later and from then on, it was all Freiburg. It took until the 55th minute for Petermann to find the back of the net again for Freiburg's third after the home side had failed to put away previous chances in the first half. Petermann could not stop scoring and got her third in the 64th minute before Hasret Kayikci got her second of the season in injury time.
Freiburg stay in third with four points but they can look back at these two results as a great start to their season as they look to get themselves into Europe at the end of the season. Duisburg are second from bottom after two games, having conceded eight goals. They will need to find a way to stop leaking so many goals if they do not want to be relegated after one season in the Frauen-Bundesliga.
Wolfsburg recover and win against Leverkusen
After a disappointing draw in their opening game, VfL Wolfsburg got back on track with a two-nil win over Bayer 04 Leverkusen at home. Wolfsburg had to fight against a very resilient Leverkusen outfit and did not break the deadlock until the second half. New signing Anja Mittag opened the scoring for the home team in the 55th minute and opened her account this season after her return to German football.
Swiss international Ramona Bachmann followed up Mittag's goal with one of her own in the 57th minute that gave Wolfsburg all three points on the day. Head coach Ralf Kellermann will be happy with how his team stayed focused and did not become impatient in the face of Leverkusen's bunker tactics and he will be even happier with Mittag's first goal as well.
Wolfsburg are in fourth after two games and will look to push on now to get to the top of the table and challenge for the title. Leverkusen are in ninth now after losing two games in two and will want to change their fortunes quickly as they try to establish themselves in the Frauen-Bundesliga.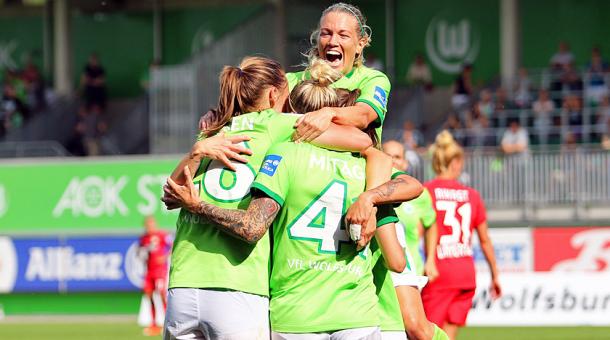 Business as usual resumes for the champions
Bayern, like Wolfsburg, were looking to rectify their opening season draw by winning away at the very difficult prospect that is FF USV Jena and the champions picked up a much needed three points by winning with a solitary goal. Dutch international Vivianne Miedema finally found a way through in the 69th minute for the only goal of the game, much to the delight of head coach Thomas Wörle. It wasn't pretty from the champions but they knew that they needed a win today to stop their title contenders from getting too far away from them this early in the season and they got the win they wanted.
After the loss, Jena drop down to eighth, level on points with Frankfurt but one position lower due to goal difference. Bayern on the other hand, are now in fifth, again due to goal difference but two points away from league leaders Potsdam and plenty of time left in the season to make up ground.
Sand struggle to overcome Mönchengladbach
SC Sand were expected to win against Borussia Mönchengladbach even though they were the away side but the home side proved to be a stern test for Sand and they could only manage a one-nil win over the newcomers to the first division.
Laura Feiersinger got the only goal of the game in 35th minute however, Sand's lead became perilous when in the 84th minute, Silvana Chojnowski was sent off after picking up a second yellow card. Sand held on for the victory but they will know that they will have to improve if they expect to get any points against the tougher teams in the first division.
The loss does not improve Mönchengladbach's position in the table and they remain at the bottom on goal difference. Sand end Week 2 in sixth with four points and will look to climb the table starting next week.