Manchester United midfielder Marouane Fellaini believes that the Manchester derby was lost in the first half as the Red Devils weren't aggressive enough.
Fellaini feels the team wasn't agreesive enough against Manchester City
United lost the highly anticipated derby to Manchester City 2-1 at Old Trafford, with goals from Kevin de Bruyne and Kelechi Iheanacho coming in the first half. Pep Guardiola's team could have scored much more in the first 45 as they managed to open up United on a number occasions but failed to take their chances.
Fellaini, therefore, speaking about the match after the final whistle described the first 45 minutes as difficult because the team wasn't aggressive enough in winning first and second balls, which Guardiola's team done well.
Speaking to MUTV, Fellaini said that "everyone is disappointed today" knowing how big the game was for all of the players but he went on to say that "this is the fourth game of the season" and now it's time to "focus on the next game and be ready".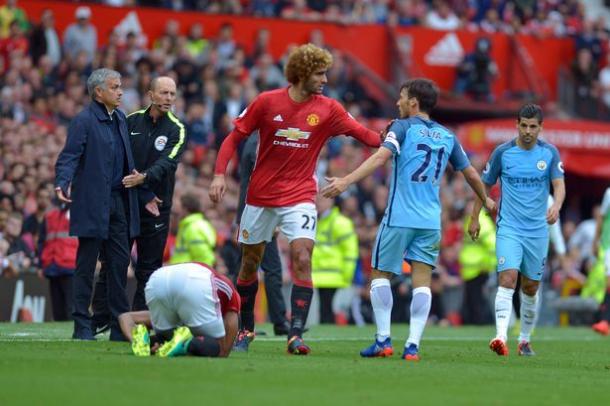 Fellaini continued, adding that the "first half was difficult" as the team just didn't get going until Zlatan Ibrahimovic's goal before half-time. The midfielder feels that the problem was that "we needed to be more aggressive to win" but the team weren't and they were punished. Fellaini though admits that the "attitude was better in the second half" and this almost resulted in the team coming away with a draw.
We must bounce back, says Fellaini ahead of a busy week
Now it is important for the team to focus on the upcoming games against Feyenoord in the UEFA Europa League on Thursday and against Watford in the Premier League on Sunday. Fellaini has been one of Jose Mourinho's best performers and he says everyone must focus on these upcoming games.
Fellaini believes that "we have 34 more games" in the Premier League to go so it is important that "we win our next game." The midfielder though says that the team need to "recover quickly because we have a game on Thursday and Sunday" which gives the team a couple of chances to bounce back from the latest defeat.