Manchester United manager Jose Mourinho has confirmed that Marcus Rashford will start against Feyenoord in the Uefa Europa League on Thursday night.
Mourinho confirms that Rashford will start versus Feyenoord
Rashford has made a huge impact since he broke into the senior squad back in February. He has also made a big impact when Mourinho has brought him on as a substitute already this season leading to many people asking for him to be given a start.
Mourinho agrees with this, saying that Rashford is "absolutely brilliant" and that he will start for the Red Devils in Rotterdam on Thursday evening.
After the loss to Manchester City on Saturday Mourinho admitted "for me the next big game is Feyenoord" and for the people asking whether Rashford is going to play, Mourinho confirmed "he is going to play" and that this is the "only thing I can say". The boss went on to explain that he trusts Rashford "completely" and that he knows his "future will be absolutely brilliant".
Mourinho continued on to express that Rashford is "mainly a number nine" and that if "you want to play him in different positions" then it is important that we "work him" as we need to "improve him" but Rashford's "big personality is there" for everyone to see that he wants to continue improving.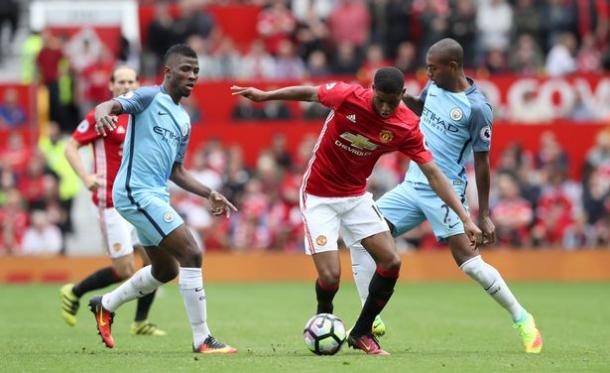 The result would have been different against City if Rashford had started, says Mourinho
Last campaign Rashford scored nine goals in 18 appearances and is already off the mark this season after getting a crucial winner against Hull City where he made a massive impact on the game. In the Manchester derby, Rashford came on as a half-time substitution and Mourinho lauded the teenager for his display as he improved the team a lot when he was on.
Mourinho said that "against City, I felt they had fragility on the sides" which the team failed to take advantage of in the first half but when Rashford came on Mourinho feels that he "gave us in the second half what we didn't get" in the first half. The boss went on to add "the kid gave us what we had needed" and if it was like that from the start then "we would be here now speaking about a different result".