Sunderland slumped to their third defeat of the new Premier League season last night, as a Romelu Lukaku hat-trick ensured that Everton took all three points back to Merseyside and embarrassed the hosts in the process.
Defeats early in the season have become something that Black Cats fans are accustomed to, and it certainly looks as if the club could be in for another season of struggle under David Moyes. Here's our five talking points from the game...
Defoe isn't a target man - so why is he being treated like one?
Whether it is due to a lack of ideas in midfield or whether it is something the players have been told to do, firing long balls towards Jermain Defoe's head when he is marked by two central defenders much taller than him is an exercise in futility. Yet in every game this season Sunderland's players have been treating the goal poacher as if he were a towering target man with a well known aerial threat.
Playing the ball in behind or into the striker's feet is the only way to involve him in the game, with last night's performance showing how anonymous he can be if you don't play to his strengths. He will never be a player heavily involved in build-up play, but if he also isn't involved in finishing off that play then you have a real problem.
Should Moyes play two up top when Anichebe returns?
Leading on from the last point, Moyes may now have a question in his head that needs answering, should he play Victor Anichebe and Defoe together or stick with Defoe as the lone striker. Defoe has continued his goalscoring form in away games when Sunderland have a licence to play on the counter, leaving him with more space in behind the defence but at home it has been a completely different story.
Perhaps pairing the finishing ability of Defoe with the physicality of Anichebe would provide the former with more space in and around the box given that the opposition defenders would have an extra man up top to worry about, as currently Defoe has very little support in attack.
Anichebe may not be the best goalscorer in the world, but what he can do is afford Defoe a little more room to work with by taking the central defenders out of the equation even if it is just for a few seconds. With the lack of penetration in this Sunderland side at the moment, Moyes may have little other choice but to go with two strikers in the near future.
Watmore is still better suited to starting from the bench
Duncan Watmore has been a consistent starter so far this season, but his performances have been average at best and it seems as if defenders in the Premier League may have found him out in a similar way to James McClean during his spell at the Stadium of Light.
The 22-year-old is no longer a wildcard and is now a well known player in the Sunderland squad, so defenders know that his main asset is his speed whereas his technical ability is not quite as polished as it could be. This makes him a good option to have coming off the bench, as his pace can cause real problems against tired legs in the last half an hour of games, as shown on various occasions last season.
Moyes does not seem to have taken a liking to Wahbi Khazri however, and the fact both Lynden Gooch and Watmore are ahead of the January signing in the pecking order could be a sign that the Tunisian will not feature much this season.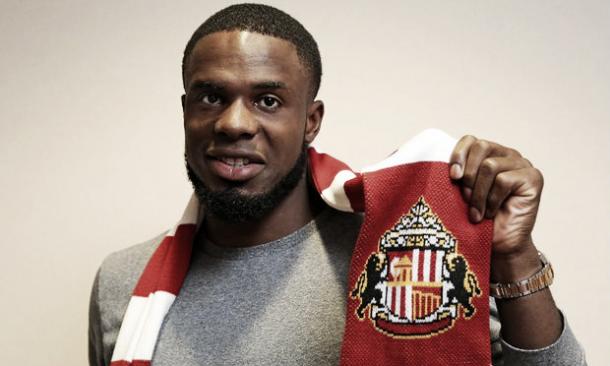 Any new central defensive partnership needs time
For aroud 55 minutes last night, Papy Djilobodji and Lamine Kone were the standout players for the home side and had Lukaku under relative control. Once the Belgian netted his first however, the floodgates opened and for all three of his goals he was inexplicably left unmarked by the two defenders, who seemed to be lacking communication wise.
Any new partnership at the back needs a little time to work as both players aren't always able to simply click and work together instantly, and the first portion of the game did show promise, even if things took a turn into more comical territory for much of the second half.
There is no covering over the fact that the collapse of Sunderland's defence last night was shockingly poor, but fans will remember how poor Younes Kaboul was last season before becoming a key factor in Sunderland's survival.
Lack of physicality in attack makes Sunderland one-dimensional
One thing that the most successful teams in every league across the world possess is the ability to change to a plan B when the preferred tactic is not coming off as initally hoped. This is something that Sunderland simply do not have, as almost all of their attacking options are not players that you would describe as physically imposing.
Everton displayed this last night, as Lukaku possess immense strength allowing the ball to be played long to him if necessary whereas pace on the wings in Yannick Bolasie and Kevin Mirallas allowed the Toffees to play the ball in behind if they saw the opportunity to do so.
WIth Adnan Januzaj, Gooch, Watmore and Defoe in attack last night there was no shortage of pace in the Sunderland side, but there is a noticeable lack of physicality and this rendered the Black Cats awfully predictable in their efforts to break down the Everton defence. This is not something new, as part of the reason Everton have such as good record against Sunderland in recent times was that they had Marouane Fellaini dominating the midfield area with his physical presence whilst Sunderland had no response to the big Belgian.
Physicality is something that the newly signed Anichebe will provide if he starts, and despite his admittedly poor goal scoring record spectators should not ignore the different style of play that he will bring to this one-dimensional Sunderland team.