Manchester City defender Lucy Bronze was at her ever solid best on Sunday afternoon as her side took another step towards winning the WSL 1 title with a 1-0 win over Arsenal.
After the game she was kind enough to speak to VAVEL as she hailed the display of the team as Steph Houghton's deflected free-kick off Jane Ross was enough to settle proceedings at Meadow Park.
Another vital three points
The equation for Man City after winning yesterday is simple, all they have to do in their next game is avoid defeat and they are crowned WSL champions. Meadow Park is usually a tough place to go and get a result, but City did exactly that yesterday to take them one step closer to the league, and Bronze was quick to recognise how important the win was, "To come away with three points away from home was huge for us, knowing that we've got two games now, we can win one and that's the league settled for us.
I think it was really good, especially against a team like Arsenal who arguably could be up there fighting for the title with us as well." Arsenal have overall been quite disappointing by their standards in the League this season, but for City, their performances have been excellent
Defensively they've almost been unstoppable, something manager Nick Cushing praised, but Bronze claims they have been working on that aspect even more so recently; "With the Champions League this year that's something we've been building on in the past few weeks. We can all play nice football and keep it like Arsenal and Chelsea do but we need another side to our game and playing against Arsenal was a good way to do that."
Pursuit for the WSL title
For most of the season the WSL has looked a foregone conclusion, with the Citizens a class above anyone else in the division. Last season they were just beaten to the title by Chelsea, something Bronze claims her team have used to spur them on in 2016; "the disappointment from last season comes into it," before saying, "you just have to keep your head down and do what you've got to do."
There hasn't been any real pressure applied and even when it's got to the business stage that they're at now, nothing is phasing this City team. They've been able to get on with their football with little distraction, and it's a characteristic of this City team Bronze picked out as being significant, "that's what the likes of Liverpool and Chelsea have done in previous years, you can't effect anyone else unless you're playing against them, so I think it's important to take each game as it comes."
It was a level headed response from a player that's been there and done it before with one of the teams she mentioned, Liverpool. But of course Bronze is not the only one who is inspiring this City team to greater things, "Although we've got quite a young and inexperienced squad, a lot of them have quite mature heads on their shoulders, and the likes of Steph [Houghton] and Jennifer Beattie and people like that have won titles before."
Man City now have the chance to secure the title against their main rivals Chelsea in their next game, and it will be one everyone is looking forward to with anticipation, especially Bronze, "You couldn't have asked for a better setting really, we're at home in our stadium that we love, playing against the team that pipped us to the post last year. If we get to win it there and lift it in front of our crowd that would be really good."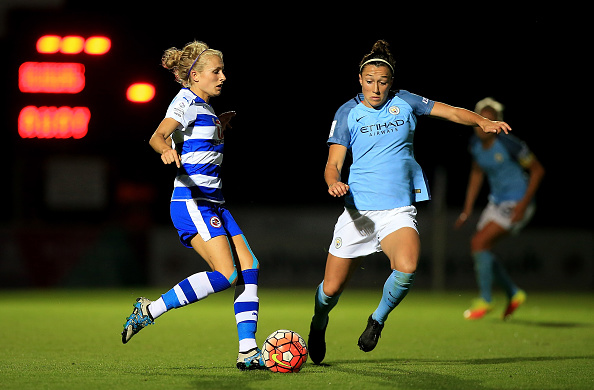 Things to look forward too
Aside from the near certainty of winning the league, Manchester City still have plenty to look forward too, and they could win two trophies in the space of two weeks.
After the clash with Chelsea at the end of this month, they face Birmingham in the final of the Continental Cup, meaning they still face the potential of winning the double this season which is definitely exciting Bronze "To be able to have the chance to lift that trophy is another thing to look forward to.
It's at our stadium which some people may say is a little bit of an advantage, but it's just the way the wind blew and luckily for us we get to play in the stadium we love playing on, on a great pitch."
As well as that they also have a UEFA Women's Champions League campaign to gear up for, with the first leg of their last 32 match falling just after the Continental Cup final as City take on Russian side Zvezda Perm.
Despite the toughness of the Champions League, Bronze is sure that their preparation will be just right, "We're playing top teams in the run up to this, we played Arsenal last week, Arsenal again this week, we've got Chelsea, then we've got our cup final so it's good preparation going into a big game."
Finally, reflecting on Man City's chances in the competition this year Bronze said "Obviously being at home first is a help for us, especially not knowing a lot about the team we're playing against.
The trip away is going to take a lot out of us with 20 hours flying and playing in midweek, but thankfully for us we haven't got a game in-between so we have a lot of time to prepare. Hopefully that goes in our favour."
The future is definitely bright for Manchester City, now they just have to finish the job. A first WSL title looms, and they could be about to win the Continental Cup again. That's all before the excitement of a Champions League campaign takes over the team.