Following their narrow loss at home to Durham, VAVEL spoke to Millwall goalkeeper Sarah Quantrill and manager Lee Burch about the match and the Lionesses remaining fixtures.
Lack of finish
With just one goal in the game, the hosts grew into the second-half and once again were left giving a strong team a run for their money, with the team growing game by game, Quantrill is optimistic about the future:
"We're certainly got things to work on, we've got a solid formation and know how we want to play it's just getting more games under our belts and putting things into practice and hopefully we can start getting the results we want."
With a number of good chances to restore parity – and even go on and win the game – in the second-half the finishing was left wanting. Pushed to the back foot in the first-half, confidence seemed low and even when asserting themselves after the break, individual self-belief was lacking when the Lionesses found themselves in golden goal scoring positions:
"Think it comes down to confidence, in training scoring isn't a problem at all but we get into games and players put too much pressure on themselves and that's where things are going wrong. Once we get one goal then they'll start raining in, it's just all about getting that first goal.
Looking at today, some teams have been rolled over by Durham and we've stuck in there, and in the second-half we've had the better chances. The difference is literally just taking our chances and killing teams off."
Clearly better than their results this season, new boss Lee Burch has already had a strong impact in the side:
"He's been a massive boost since coming in, he's the one that's set the game plan, he's always positive; there's no negatives. Even just in training, he's been great, we know how we want to play now, we know what we want to do, we've just got to be more clinical."
Results and performances to build on
Notably, since his appointment, Millwall won their first game since the opening weekend when they bested Watford 2-1 last month. Other than three big points, Quantrill was aware of the boost the win gave to the entire team:
"We needed that win, that really helped to lift everyone and we tried to push on and build on that today but obvious Durham are a good team so it was hard to progress on further but we've just got to kick on. We've got Watford again in a couple of weeks, so we've got to crack on from there."
With the reverse fixture around the corner, the goalkeeper laughed off the idea that the Golden Girls will be out for revenge, but is looking forward to the derby:
"Obviously no one likes to get beaten and it's always a grudge match when we play Watford, so it will definitely be a good one but for us it's just about getting out there and getting the three points so we can keep building."
With just one goal in the game, a sublime Beth Hepple free kick, Quantrill was willing to take it on the chin, but left rueing the unsaveable shots she's faced this year:
"As a goalkeeper you always want to keep a clean sheet so it can be pretty frustrating but when you see someone put one in the top corner like that it's like, fair enough and teams always seem to get worldies against us."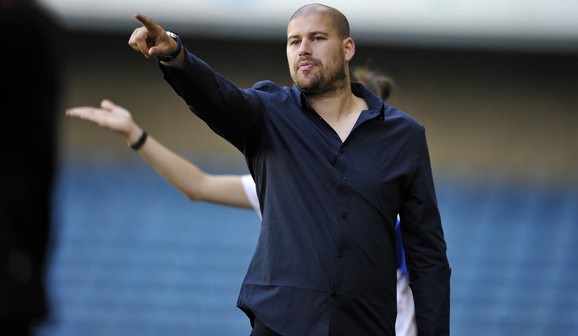 Our reporter at the game also spoke to boss, Lee Burch who was full of praise for his side and their continued improvement.
A game of two halves
The game was far from a white-wash with Millwall the dominate force in the second-half, despite failing to take any points from the game Burch was focused on the positives, happy his side executed the game plan well:
"It took a while for us to get into the game in the first-half but for me, we dominated the second-half. Our game plan was set and we made it really hard for them to play through us and create clear-cut chances, even in the first-half when they had the edge they still didn't work our keeper that much. They had lots of corners and we dealt with all of them and unfortunately it's a great free kick that's undone us and we spent the second-half trying to claw it back."
Aware his side took a while to get into the game, Burch isn't too concerned but knows they'll have to start brighter in subsequent game:
"We already know that we're going to go away as a staff and just look at why it's happening. I think we other teams come here to the Den because it's such a great ground they're always really up for it and want to produce their best. Durham obviously don't want to drop any points, they're in the ascendancy so they've come here full of confidence – the same as Bristol.
"I'd be more worried if someone like Watford – a team below us – came here and dominated us from the beginning. So taking our time to get into the game against top sides like Bristol and Durham isn't something I'm too worried about, but going over it is something we want to remedy."
The familiar theme of finishing once again came up and on another day, with a touch more luck the Lionesses would have had a goal to celebrate but true to form, Burch could only praise the performance of his squad:
"We've had the better chances today, anyone watching can see, even in the first-half; Amber [Gaylor] has had a strike from distance, Ash [Hincks] has had a really good chance, in the second-half we've had three or four that've just rolled past the post. Yes, they rattled the bar from a corner but they've had so many, they were going to get something eventually, but our keeper has made less saves than theirs."
He went on to say, "The girls understand that it doesn't matter who they're up against, they've got to take their chances and that's really what today has come down to and that's why it was only 2-1 against Watford. We really should have been further ahead and even the Bristol game, we had a couple of good chances to take something from that too. I'm happy that we're creating chances but we've just got to start taking them."
For even casual fans, the progress Burch has made in a short space of time is palpable, the manager certain that there's still much more to come and the steady progress will continue:
"Every game, whether the Bristol game, or the Lewes friendly, the win over Watford and here today, we've taken strides forward every game. Everyone who's here could see that that wasn't a team down at the bottom against a team fighting for promotion, that was a top, top level game today.
"If you didn't know the league you easily could have thought it was the other way around, and we've absolutely thrown the kitchen sink at them and they've played the game well and seen it out. They're a good side and they're up there for a reason but we've shown today that we're not far away from these top teams and our league position isn't a true reflection of the ability in the side."