Jürgen Klopp is relishing the challenge of his Liverpool side taking on a Chelsea team that he believes resembles the same which ran away with the Premier League title two years ago.
Antonio Conte took over at the Blues in the summer and has reinvigorated the same club that finished 10th in their miserable defence of the title just last term.
The Italian has revamped the squad, including the inspired addition of combative midfielder N'Golo Kante, as well as bringing in Michy Batshuayi, Marcos Alonso and David Luiz in a £115 million haul.
With three wins and a draw from their first four games, the second-placed Londoners remain just one of four unbeaten teams in the league and represent arguably the toughest test Klopp and co. have faced yet.
But following wins against Arsenal and reigning champions Leicester City, and a draw against Tottenham Hotspur, the Reds have good reason to believe they can take the game to Chelsea at Stamford Bridge.
Regardless, Klopp is preparing for a tough encounter on Friday night at the same venue where he won his first league game as Liverpool manager back in October last year.
Reds must be ready for "a real challenge" - Klopp
Looking ahead to the game in his pre-match press conference on Wednesday, Klopp declared himself "very excited" as he explained that matches against Chelsea at Stamford Bridge are "a special thing" and "always will be."
He said that Conte's men "are a strong side in this moment" and spoke about their performance at Swansea City, where they drew 2-2 last time out, insisting: "Everybody who saw it saw [knows] they could've won this game. They were competitive, physically strong and have learned from the experience of last season."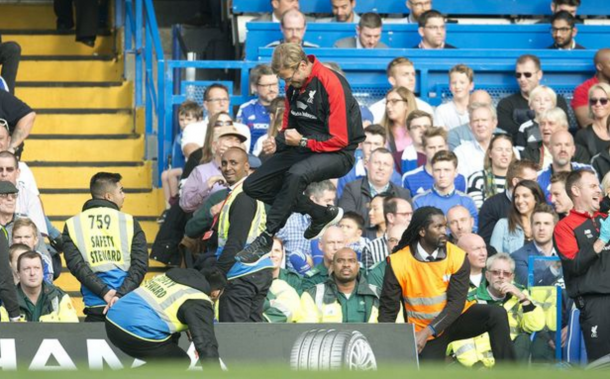 Klopp suggested that Chelsea are now more like the team that were champions two years ago after "a difficult year" which he said was "not a Chelsea season", saying that they are "back on track" after changing manager.
"We must be ready for a real challenge," warned the German, who acknowledged that their opponents not only "defend well" but "attack quick and strong."
He admitted that it is "not the easiest job in world football" to play Chelsea away from home, but insisted his time still "feel quite confident" that they can "do something there" and come away with a result.
German challenges side to get at Chelsea
Klopp was asked about his and Conte's touchline antics - given how renowned the pair are for getting emotional in their celebrations.
The Reds boss insisted that, like he himself, Conte is "involved in the game" and called him a "great" and "successful" manager - even naming the former Juventus boss "something like the Pep Guardiola of Turin."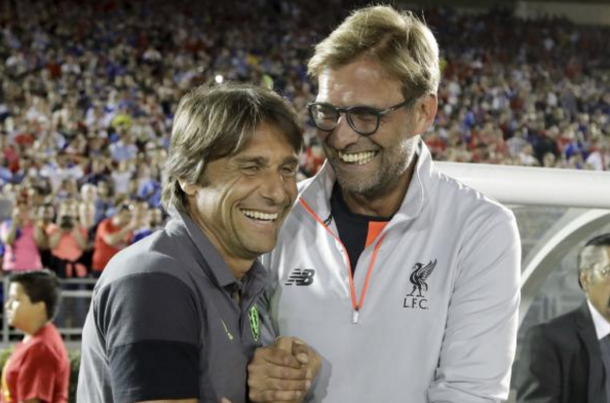 He also noted Conte's "very successful" work with the Italian national team, calling it "quite impressive" what he has done in his career up until now, particularly the "special kind of play" which he created at Serie A giants Juve.
But Klopp refused to only praise his opponent, suggesting that while they have "respect" for Chelsea - he thinks the hosts will be "the same" and know that Liverpool are "not easy to play."
The manager added that he is "looking forward" to the game, in which he wants his side to "go there and try everything" because they want to "create real problems" for Chelsea and "be strong and get a result."
Klopp hints visitors will need to double up on Hazard
Diego Costa has been the player most regularly in the headlines for Chelsea so far this season, having fired four goals to make him the league's joint-highest scorer after four games.
But rather than focusing on one player, despite acknowledging the threat of Costa, Klopp insisted that Chelsea boast a strong squad - with his side particularly needing to pay special attention to Eden Hazard.
The winger was out-of-form for much of last season but was still able to produce an excellent solo performance in the 1-1 draw between the two sides at Anfield in May, scoring a stunning individual goal at the Kop end.
Klopp mentioned that Hazard was "in outstanding shape" in the last meeting, but said his side "did not defend him too well" and "left the specific player in the challenge with him alone" which was neither "too nice or smart."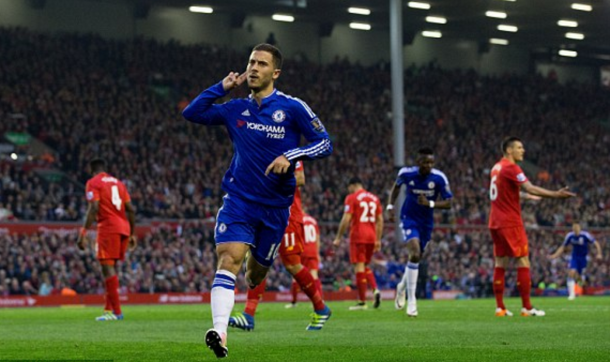 "We have to do better as he [Hazard] is back to 100 per-cent," he continued, also saying that Chelsea have "a lot of key players" such as Oscar, who "plays his new role really well", Willian and the combination of Kante and Nemanja Matic who he said are "lively, physically strong and [have] experience."
Klopp said that his side "need to improve" because Conte and co are "so experienced" and "can play a game where nothing works" but they "always stay cool" and remain level-headed to give themselves the best chance of winning.
"We are much younger and we need good moments in a game to take the next good moment," he added, insisting that experience - provided it is used "right" - can help make a team "stronger."
He said being "more experienced" is Chelsea's "only real advantage" over them, but insisted he cannot wait for the "challenge", adding: "Stamford Bridge is a good place and Friday night is a good time to play football."